A Trip Around The World to Romania
A trip that includes lots of wine and Dracula's castle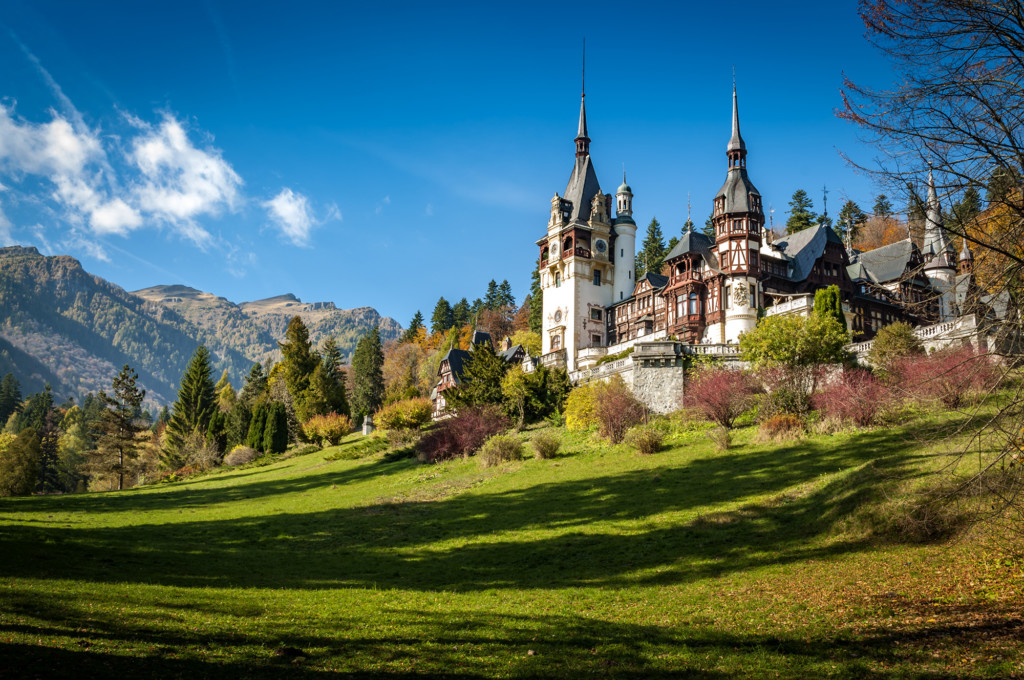 We know what you're thinking: a wine-focused tour through Romania, Maldova and Transnistria? Why not visit France, Italy or Chile?
You're also thinking, what and where is Transnistria?
We have the answers for you, and we think you'll be impressed.
My companion, Steven, and I recently took a nine-day trip to this region of southeastern Europe, and we returned with an appreciation and a better understanding of the region's natural beauty, its castles, sheep, cuisine (Ever eat an ostrich?) and, most of all, its wine.
We encountered warm and generous people, and we visited the supposed home of a fictional person who wasn't known particularly for his hospitality: Dracula.
Maybe you'd like to go on a virtual nine-day visit of your own.
If so, hop aboard!
Day 1
Steven and I landed in Bucharest in the morning and awaited Rasvan, our travel guide with tour operator Cultural Romtour. That night, we enjoyed some terrific Romanian wine and began to hear about the country's wine-making traditions, some of the oldest in the world. Romania boasts a wide range of grape varieties and consistently ranks among the world's top 15 wine-exporting countries.
Day 2
We found the drive to our first destination, Peles Castle in Sinaia, breathtaking. I had the windows rolled down as we swerved through the Carpathian Mountains, whose sounds and smells reminded me of my native Utah. Originally built in 1873 as a summer retreat and hunting lodge for King Carol I and Queen Elisabeth of Romania, the building holds one of the finest art collections in Eastern and Central Europe, including paintings, statues, furniture, arms and armor and oriental rugs.
Not too far down the canyon was Azuga Rhein Cellars, where we stopped to enjoy lunch, a sparkling wine tasting and to tour the facility. I found it interesting that the facility continues to hand-turn its bottles as part of the fermentation process.
We ended our day in Bran, Transylvania, to visit Bran Castle, also known as Dracula's Castle. Built on a cliff in the 14th Century as a defense against Ottoman raids, this fortress is worth the hike up an extremely steep hill. The structure is said to have fit the description of the castle that author Bram Stoker described in his novel "Dracula," and it's indeed a creepy place: The site includes a museum that once served as a torture chamber.
Souvenirs? We saw a scary amount. Vendors lined the streets outside the castle and sold hats, sweaters and memorabilia that had a bite to them.
Day 3
We took off in the morning on a beautiful countryside car journey to Sighisoara. On the way we stopped in Fagaras to have lunch with a friend of Rasvan's, Chef Daniela Graura, who prepared a meal based on traditional and new Romanian recipes. We became quick friends over the appreciation of food. Neither of us spoke each other's language, so thank goodness for Rasvan, who translated and made it easy to connect.
We indulged on truffle mushroom soup, eggplant hummus, scalloped potatoes with prosciutto and fresh sliced tomatoes from the garden. I asked Daniela about the herb in the dish. She said it was cimbrisor, also known as wild thyme. I found it so much better than any thyme I'd ever tried. Of course, chef Daniela paired everything with Romanian wines.
We enjoyed hearing her tell stories about her dedication to her village and about her children's cooking school, which teaches nutrition and culinary skills. What an inspiration and treat this afternoon was to us.
We continued our day with a visit to Cincusor Fortified Church, a beautiful medieval citadel. Driving through the countryside, we saw one heard of sheep after another, always with a shepherd. Rasvan told me that the sheep belong to multiple families and they take turns watching them. The herds that I saw included hundreds of sheep. Maybe a dozen or so belong to each family.
I wanted to grab one and put it in the back seat, but Steven told me that might not be such a good idea.
Day 4
We continued our way through the impressive sheer limestone walls of the Bicaz Gorge in the eastern Carpathian Mountains. Rasvan informed us that this is the region's roadside marketplace, so we stopped. I found the most beautiful all-white cowhide that was 12 feet across, prompting me to wonder how big this cow was when it was alive. After a little negotiation, I walked away with it for roughly $250, about a quarter of the asking price for a similar one that I saw in Destin. I felt great about this buy, as I know the farmer used every square inch of this cow and that it wasn't raised just for the hide.
We stopped at the Varatec Monastery for a private lunch cooked by Romanian Orthodox nuns, who also served blessed wine and sherry. Our lunches tended to include sherry. Locals there claim that it "cleanses the pallet," but I think it grows hair on your chest. It was so strong that even Steven couldn't finish it. He must have gotten all of his chest hair from somewhere else.
The lunch included homemade soup and smoked trout. The sisters grew all vegetables for the soup on the monastery grounds. They also raised and caught the trout there.
We spent the late afternoon in Iasi, an important historical, economic and cultural center in northeastern Romania. We spent the night at Hotel La Domenii, the site of a beautiful vineyard and farm of chickens, birds and rabbits. For dinner, I ate ostrich for the first time. It was delicious but guilt-inspiring: The next morning, I visited what I'm sure were its brothers and sisters.
Let me say one more thing about ostriches. They're massive, and you don't want to mess with them. Eat them, but don't mess with them.
Day 5
We began our journey to the Maldovan city of Soroca, known for its sizable Roma minority. Roma people often are referred to as Gypsies, a term that some consider derogatory.
Rasvan brought us to the home of a Roma community leader, who explained through Rasvan that we needed to "break bread" before any conversations commenced. He poured us half-fermented wine that his wife had made, along with fresh fruit and shots of vodka. He shared with us his dreams for his people and pointed to strong signs that his community soon would have a stronger political voice. I plan to stay apprised of developments there.
We ended our day with the Hanganu family at their bed and breakfast in Lalova, Moldova, in the mountains overlooking the Dniester River. This historical site celebrates life long before the cell phone or air conditioner. Fresh air — and fresh air only — flowed through all six guest rooms, and wood stone ovens kept the rooms warm at night.
Our hosts showed us the cellar, where their own vegetables lined the hallway
walls. The back of the cellar featured
Mr. Sergeii Hanganu's masterpiece: jars and jars of homemade liquor. Moonshine? Hardly. Various fruits were in those jars. I recognized watermelon, cranberry and cherry, and the jars also included different varieties of cherries, plums and apricots.
This stuff tasted as good as the ostrich — but maybe with a stronger kick.
Day 6
We began our day visiting Epoca de Pirate, a winery and cellar in Branesti, Romania. Set inside an old limestone mine, the cellar and soon-to-be underground hotel and spa features endless majestic caverns of perfectly etched stone. Wine racks built into the rock lined the halls, with endless bottles stored at 55 degrees Fahrenheit, often cited as the ideal temperature.
We attended a private luncheon with wine pairings, and we thoroughly enjoyed the experience and the atmosphere. We had no internet access or cell service, so everybody engaged in the moment and experience with each other.
We stopped for lunch in Old Orhei, a quaint Maldovan town where the locals live and dress as if it were 100 years ago. Then we hiked up to an Orthodox cave monastery called St. Maria Dormata, which has been preserved for centuries. I found myself in another place and time — and in awe of the Moldovans' dedication to preserving history and tradition.
Day 7
There would be no resting on the seventh day for us, as Rasvan had another idea in mind — you guessed it, wine. We visited Chateau Vartely for a wine tasting and then stopped at Cricova, an underground wine city — yes, city. We then arrived in Chișinau, Maldova's capital, for a wine festival that featured over 100 wineries in highly elaborate setups. Each winery set up walls, tables and chairs that matched the winery brands and color, giving guests a virtual visit to each winery.
We ended the day eating and staying at Vinaria Et Cetera, a new bed and breakfast with an adjoining winery and farm. We took tours and enjoyed farm-to-table cuisine, including the best rabbit I have ever had. We found this the most luxurious property of the trip and a great place to end our seventh day, with a full night's rest.
Better yet, I awoke to find no sign of my dinner's fuzzy-tailed brothers and sisters.
Day 8
Our final tourist day of the trip, we crossed into Transnistria, a self-declared republic that broke from Maldova. Make sure you have a travel guide when visiting. This separatist region has its own border crossing and currency, and it doesn't appear particularly enthused about visitors, but we're glad we went.
We visited a caviar processing plant that harvests black caviar of sterlet, bester, Russian sturgeon and beluga and observed the cultivation of sturgeon, including the "milking" of the roe.
The fish are pregnant for about two years before they are ready to "milk." This facility allows each fish to be pregnant up to seven times, or approximately 14 years. In a conservation effort, the facility then recirculates the fish into the wild.
Fun fact: Beluga sturgeon can live up to 118 years, we learned.
Day 9
We drove back to Bucharest so we could catch our plane the following morning.
What an adventure this trip was. Steven and I experienced such diverse people and cultures on our out-of-the-ordinary travel expedition. I'll carry the memories, the faces and the places forever. People greeted us warmly, with lots of meat, sherry, wine and stories that helped us understand people from another place — a people who value friends, family, food and — you bet — wine.
Thank you, Romania, Moldova and, of course, our new friend Rasvan. We love you!