A Star Attraction
Capt. Steve Wilson of Destin's Own Southern Star Dolphin Cruises Enjoys Sharing His Love of The Ocean with all Emerald Coast Visitors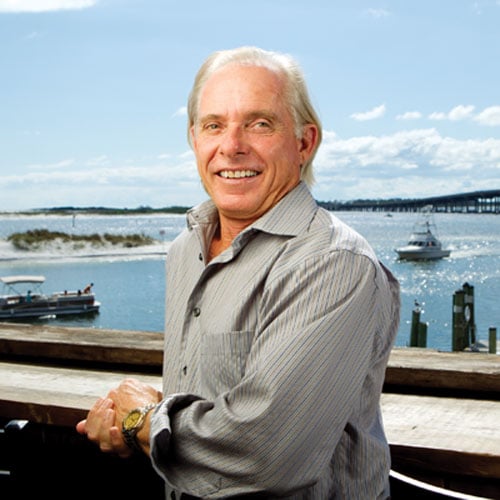 He's sailed through monster-sized waves, battled against harrowing winds and even faced down an engine room fire. Over the course of more than 20 years of sea service, Capt. Steve Wilson has skidded across more than 300,000 miles of ocean as the captain of ocean-going tugs, government vessels and specialty ships.
"I've sailed into every deep draft port on the east coast, west coast, Gulf of Mexico, Caribbean, Panama and Central America. I have sailed through 50-foot seas and hurricane-force winds. I have experienced a major engine room fire at sea, and these experiences have tempered me with salt and steel," said the 57-year-old sailor.
But those days of high seas adventure are far astern. These days, Wilson is quite content to peacefully cruise Destin's emerald waters in the Southern Star, the 149-passenger, glass-bottom boat that's perfect for bringing vacationers face-to-face with dolphin and other denizens of the deep.
Seventeen years ago he and his wife, Wendy, moved from Ocean Springs, Miss., to Destin to pioneer the resort town's premier dolphin cruise. They're located at the HarborWalk Village Marina.
"Destin was ideally suited to us," Wilson said. "It was a growing marketplace, and geographically the Gulf of Mexico was available for dolphin watching and good weather, and the Choctawhatchee Bay was available for dolphin watching when the weather really didn't allow it. If it's rough in the Gulf we can cruise in the bay and harbor and accomplish our goals. Destin is one of the most beautiful places God ever created, and that's an extra bonus."
Since they've been in business, they've logged more than 8,000 dolphin sightings and remain a beloved attraction.
"It doesn't matter what country guests are from or what language they speak, dolphins are international and everyone loves them," Wilson said. "I never tire of seeing the dolphins and never tire of the joy they bring."
Wilson recently talked to EC about his life and work, and what's in store for future guests.
EC: Tell us about Destin's original dolphin cruise vessel.
SW: She's a big, beautiful double-deck boat and is custom-built. I designed her along with help from my family. She was built in 2000, built of aluminum and cost over a million dollars. She offers a full snack bar with soft drinks, hot dogs, T-shirts and souvenirs. In addition to the dolphins we listen to music, and we invite children to the bridge to meet the captain and even steer the ship.
EC: What is it about dolphins that people love so much?
SW: I don't really know. Maybe it's the perpetual style they always seem to have. Maybe it's their freedom. Or maybe it's just the memories (passengers) have; in my case, going back to watching Flipper. Maybe it's some of the stories we've heard about them, saving lives, doing miraculous things. Whatever it is, it never seems to grow old.
EC: What kind of sea life have you
encountered?
SW: During our summer season you may see anything. We've seen green turtles, leatherbacks, loggerheads and the rare Kemp's Ridley turtle. We've also seen stingrays, spotted eagle rays, sharks and even on occasion we will see manatees. Seeing manatees is the icing on the cake.
EC: Tell us about your sunset cruises.
SW: We have some of the most glorious sunsets in the world, and that is the first cruise to sell out in the summer season. You get to see dolphins as well as the most beautiful sunsets in the world.
EC: What's on the horizon?
SW: We have a new dream, and that's to bring something new and fresh into the Destin marketplace. This spring, in addition to the Southern Star Dolphin Cruise, we will offer a pirate ship-themed cruise. We have put together a two-hour interactive entertainment cruise for children. From the time they board The Buccaneer until the time they disembark, they will "sword fight," have water gun battles, a treasure hunt and have more fun than they've ever had in their lives. ec