A Single Barre Workout Sure to Keep You Lean and Mean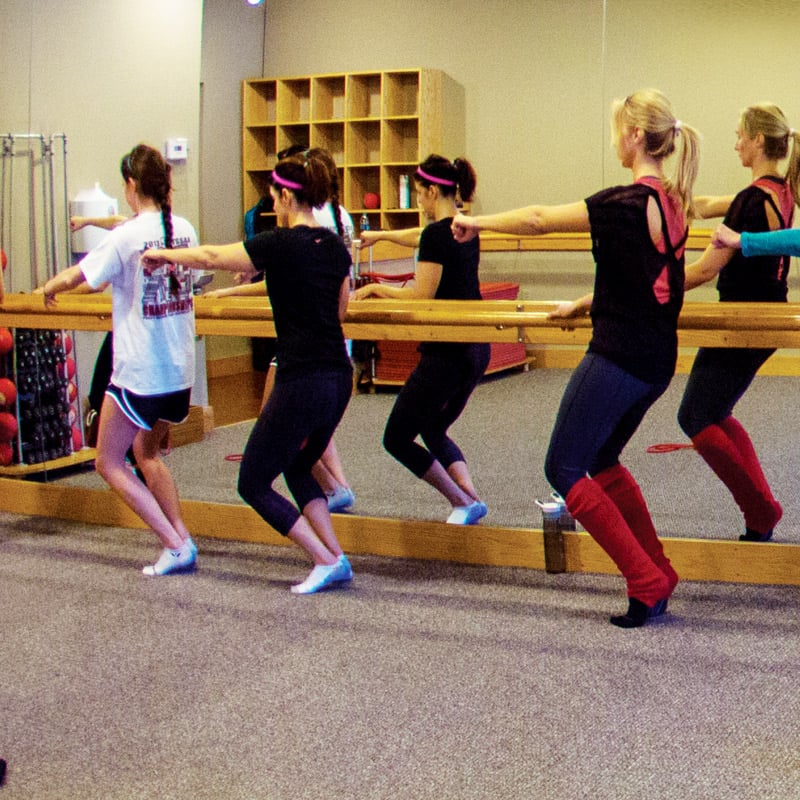 If the words "ballet barre" remind you of ill-fitting leotards and boring music, the new take on barre may surprise you.  
Ashley Singleton, 27, a lifelong fitness devotee, has been doing Pure Barre since she first tried it seven years ago while in college. She fell in love with the LTB (lift, tone, burn) mantra and opened her first Pure Barre studio four years ago in Santa Rosa Beach. In August she opened a second location in Destin's Paradise Isle shopping plaza (next to Olive). Singleton offers the same 55-minute Pure Barre class throughout the day, so if you cannot come in the morning you can jump in an afternoon session and get the same work out. Several other studios, such as Destin Pilates and SoWal Pilates, offer barre-based fitness classes as well. And if you are not a "class person," you can order various barre-based instructional fitness DVDs online.
It's universally agreed that dancers have beautiful bodies — long, lean, athletic and feminine. So it goes to reason that an effective way to achieve a dancer's body is by doing a ballet barre-based workout. Pure Barre is just that. The technique utilizes the ballet barre to perform small isometric movements working each muscle to fatigue and then stretching that muscle right back out. 
There is no impact so the workout is safe, and fitness trend followers like Lorraine Christen — a local dance and Pilates instructor in Destin — say it is effective … and addictive. "You're going to feel it immediately. You're working things you haven't worked in a traditional workout," she says. "At the same time, it's a challenge. Many say it's the hardest workout they've ever done, so it's not your mama's Pilates," she jokes.
Luckily, you do not have to be a dancer to begin. "Your feet are in the first position and you use a ballet barre, but that's it," Christen explains. 
And if you are not as fit as the prima ballerina next to you, you need not worry. Christen assures there are modifications for every fitness level. "You need to listen to your own body. Set your own personal goals rather than compare yourself to someone else. Your only focus should be on good form. If you tire, you can do what we call 'reset' and take a breath and then get back into form," she says. 
There are several variations of barre to try, such as Xtend Barre, Booty Barre and BarreAmped to name a few. Some are higher energy with more cardio, and others incorporate more battement  — a ballet movement involving a big kick with one leg. Still, every barre class contains the same core elements: small movements that challenge you to use different muscles you don't normally use.
The deep knee bending plies, for example, work your entire leg from your toes to the tip of your hips. Balancing with the barre also improves your stabilizing muscles and strengthens your core. Some of the exercises are done at the ballet barre, and others are done either standing or on the mat. The entire workout is designed to keep your heart rate up so you burn plenty of calories.
Any new fitness trend can be intimidating; especially one based on classical dance, but Christen assures it's for you if "you're tired of your old routine and want something new." She first tried it as a mom of two looking to tone and tighten. "I wanted to lift everything up, and this is perfect for that," she says.
Like every fitness class, the first step is simply showing up. To make the most of class, you should come well hydrated, bring "sticky" socks to avoid slipping and wear comfortable clothes. Christen advises just two more things to make the most of unleashing your inner ballerina: "Come with an open mind, and be prepared to sweat!"