A Product of Passions
The Grand Marlin was born at sea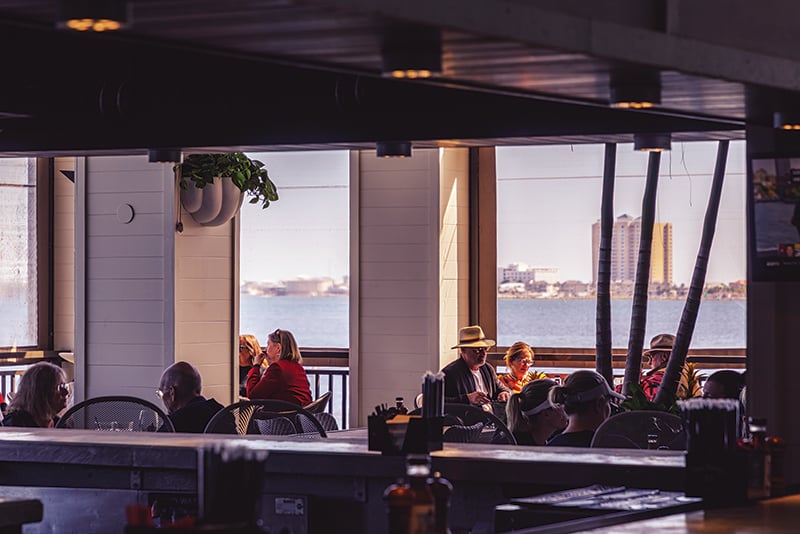 A powerful, majestic blue marlin greyhounding across the water's surface, battling to escape a fisherman's line — it is the scene that inspired a Pulitzer Prize-winning tale, The Old Man and the Sea, published in 1952 and written by Ernest Hemingway, a big-game fisherman, himself.
Decades later, a 2008 billfishing adventure off of St. Thomas inspired the award-winning Grand Marlin restaurant. The friends who joined in the trip share a passion for fresh seafood, the open sea and carefree Caribbean living, and in 2010, they opened the restaurant's doors.
Fresh seafood from the Gulf, 360-degree water views and a spectacular 1,228.5-pound blue marlin hanging in the dining room are this tale's headliners, but there are many details as to how it all began. Figuring prominently in the narrative are executive chef/operating partner Gregg McCarthy and president/operating partner Bryan Housley, who dreamed for a decade of opening a restaurant together before they made it a reality.
The pair used to meet at Ray's on the River in Atlanta most every day for lunch. McCarthy and Housley were impressed by the restaurant's dedication to quality food and excellent service.
"They had land in Pensacola and offered to put a restaurant there to bring Bryan and me together. It took me 30 seconds to agree," McCarthy said.
Digging into menu creation and concept, McCarthy drew on influences from St. Thomas and from New Orleans, whose flair is evident in Pensacola's architecture and lifestyle. But finding the freshest ingredients for every dish was paramount.
"If softshell crabs are not in season, we won't serve them. We look locally for snapper, grouper, shrimp and all the Gulf offers. But when king salmon is running in Alaska or halibut on the East Coast, we want to offer them to our guests," McCarthy said.
McCarthy and Housley wanted to offer an experience that is both upscale and casual.
"We didn't want to be another place serving fried food. We wanted to utilize my talents with fresh fish, and different toppings you wouldn't normally see on the beach, but still maintain that beachy feel," McCarthy said.
A commitment to the highest quality ingredients and top-notch service with a laid-back Caribbean vibe keeps the seats full at The Grand Marlin. One dish, the grouper piccata, has its own fanbase.
"I'm famous for saying we've sold enough grouper alone that it's probably paid for our building," McCarthy said. "We pan-sear it with browned butter and crispy capers we've dropped in the fryer. I could stand there and eat an entire jar of those capers — they're crunchy, somewhat buttery, with that fried popcorn flavor."
But when McCarthy comes for dinner, he opts for the special of the night.
"Whatever's running out there, whatever the fisherman says we should be serving, that's what I order," he said. "We just did a dish with Florida rock shrimp, which I absolutely love. The radiatori (pasta shaped like a radiator) comes dressed in a light pesto cream, tossed with fresh vegetables, and the rock shrimp — so delicious!"
As the seasons change, so does the menu, but favorites like the grouper and seafood gumbo with its dark, smoky roux maintain their positions as staples. And if you're not in the mood for seafood, the chicken and dumplings with roasted baby carrots, caramelized cipollini onions and pillowy ricotta gnocchi makes for a delicious alternative.
An 80-plus-bottle wine list lends plenty of options for pairing, and island-inspired cocktails from the bar are made for tropical toasts raised by diners celebrating another cotton-candy sunset over Pensacola Bay.
A second Grand Marlin restaurant is located in Panama City Beach; that one is on the water, too. It overlooks Grand Lagoon.
---
Hours of Operation
The Grand Marlin has locations in Pensacola Beach and Panama City Beach and is open for dinners and Sunday brunch. The North Drop Bar is located on the second floor at the Pensacola Beach location. More information, including menu and prices, is available at TheGrandMarlin.com.
---
The Grand Marlin Grouper Piccata
Serves 4
Ingredients
Parmesan Crust
⅔ cup panko breadcrumbs

¼ cup grated parmesan

1 teaspoon Italian parsley, chopped

½ teaspoon granulated garlic

½ teaspoon kosher salt

¼ teaspoon ground black pepper
Grouper Piccata
Four, 6-to-8-ounce grouper filets

Salt and freshly ground black pepper

1 cup all-purpose flour

2 eggs, lightly beaten

2 cups parmesan crust (see above)

4 tablespoons finely chopped parsley

4 tablespoons unsalted butter

2 tablespoons fresh lemon juice

2 tablespoons drained brined capers, minced

4 teaspoons fried capers

Lemon slices for garnish
Instructions
1. In a stainless steel bowl, combine all the ingredients to make the parmesan crust.
2. Season both sides of the grouper with salt and black pepper. Place flour in a stainless steel bowl. Place eggs in a separate stainless steel bowl. Dip the grouper filets first in flour, then in the egg and then into the parmesan crust mixture.
3. Over medium heat, pour about 1/3 cup of oil into a non-stick skillet, add the breaded grouper filets to the pan and cook 3 minutes on the first side (until golden brown) then carefully turn to the other side and cook for another 3 minutes.
Tip: If the grouper is very thick, you can have them butterflied to flatten them out for more even cooking, or place them in a 350-degree oven to finish. Cook until the fish is at about 135 degrees. They will be just cooked with a moist translucent texture. Do not overcook as it will be dry and tasteless.
4. Remove the grouper from the pan, and add in the butter. Heat until the butter begins to brown.
5. Remove from heat and stir in lemon juice, chopped parsley and capers. Pour sauce over fish and serve. Garnish with lemon slices.
---