A Pizzeria Capone Might Have Liked
Award-winning chef Jim Shirley adds to his collection of restaurants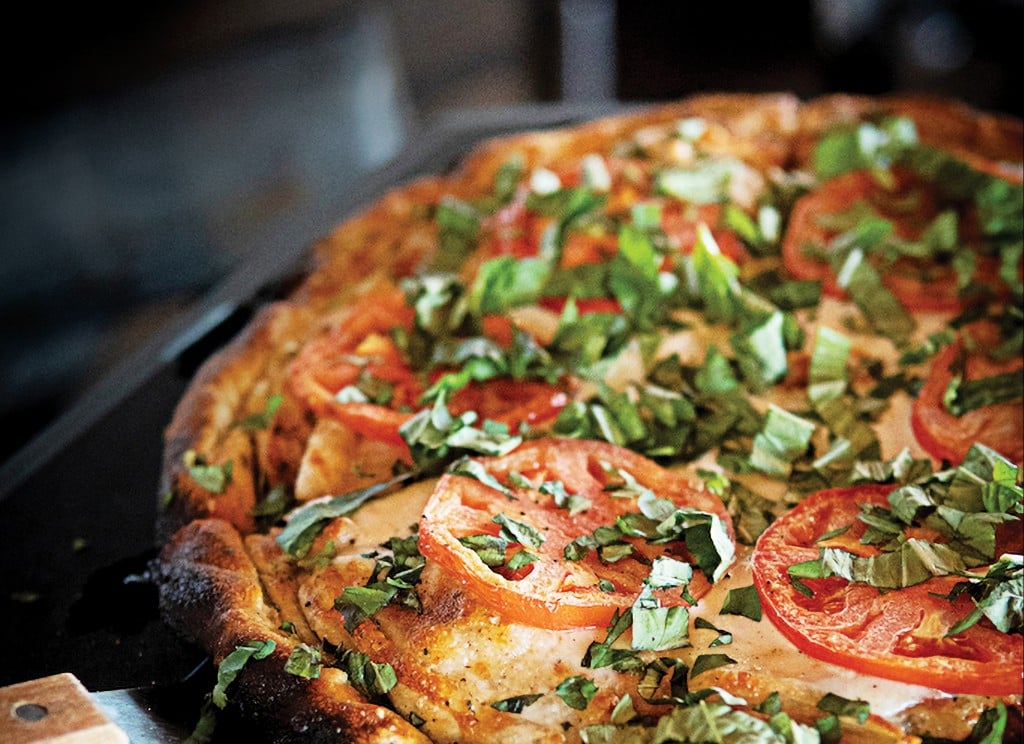 As I bellied up to the bar at Farm & Fire Southern Pizzeria, the only thing that tethered me to South Walton was the view of the 331 Bridge over Choctawhatchee Bay beyond the restaurant's sleek, sash windows.
The eatery's alabaster, honeycomb-tiled walls, the churning gears of a steampunk clock, a cocktail infusion tower and barrels of aged bourbon and tequila transported me to the clandestine speakeasies of the Prohibition Era.
I was almost disappointed that my seat neighbors weren't a pair of cigar-puffers in pinstripe suits with a flapper between them, but instead a trio of colleagues in business casual attire, about two drinks in and halfway through a tray of roasted chicken wings.
"These are phenomenal," the woman who should've been Clara Bow said of the wings, which were bathed in a lemon juice, olive oil and fresh herb and garlic marinade. "It's the peppers and cheese they put on top that really makes them."
I may have ordered them myself, but bar manager Damon Williams intervened, suggesting that I begin with an aperitif. A gin girl myself, I looked past the menu's offerings of smoked Old Fashioneds, melon balls and Arnold Palmers to the tumeric sour, a concoction of house-infused orange turmeric gin, bitters, sour mix and egg white.
Williams, clad in a dark waistcoat and derby hat and looking every bit the bootlegger, really sold me as he made navigating about his chemistry lab of a bar look as effortless as pouring water from the tap.
"This drink is what I like to call a happy accident," Williams said, garnishing my frothy, Dreamsicle of a glass with a fresh orange slice. "The molecular blender we use to make this can't use a fruit base, so we needed a root. We experimented with ginger, but the taste was off. The turmeric we just happened to have lying around worked."
And work it does as the citrusy, yet piquant bite of the root adds an extra dimension of warmth and relish to the classic gin sour. Its velvety, whipped-egg-white-and-simple-syrup topping is the first thing to hit your lips. And, it does not dissolve, allowing one to comfortably nurse it through Farm & Fire's daily, 4–6 p.m. happy hour.
Apart from a cocktail menu that Jay Gatsby would have endorsed, the main draw of the establishment is its Southern-inspired menu of farm-fresh salads and starters, fire-baked pizzas, fish and meat specialties. The creation of local restaurateur and award-winning chef Jim Shirley (he of The Bay, The Great Southern Café, North Beach Tortilla Co. and other establishments), Farm & Fire proudly showcases its approach. At its entrance, diners encounter homemade dishes, locally sourced goods and 800-
degree, coal-fired ovens.
The glassed-in dining room supplies a family-friendly atmosphere but one that also will work on date night. I spied several couples watch the sun disappear as they shared meals of Tuscan ribeye or free-range chicken with fire-roasted veggies.
I opted for pizza after listening to the gentleman next to me painstakingly adding ingredients to his dream slice from a "build-your-own" list of veggie and meat fixins, gluten-free crust and "white" pizza options.
My pie, a house specialty with a pleasingly charred and chewy crust, was loaded with creamy, herbed ricotta and portions of Farm & Fire's popular starter dish, the ground beef, pork and veal meatballs.
Out of six generous slices, I wasn't ashamed to have devoured three. Then, on my way out, I knew I wasn't done yet. The market tempted me with sumptuous towers of cheesecake, cannoli and chocolate confections.
If Gatsby had been waiting for me outside, I wouldn't have said no to a ride home in his canary yellow Rolls-Royce.
As long as he promised not to touch my tiramisu.
At this writing, Farm & Fire had morphed due to the pandemic from restaurant to strictly a market but planned to restore normal operations as soon as possible.