A Night of Chills
Paranormal Cirque brings magic, horror and more to the Capital City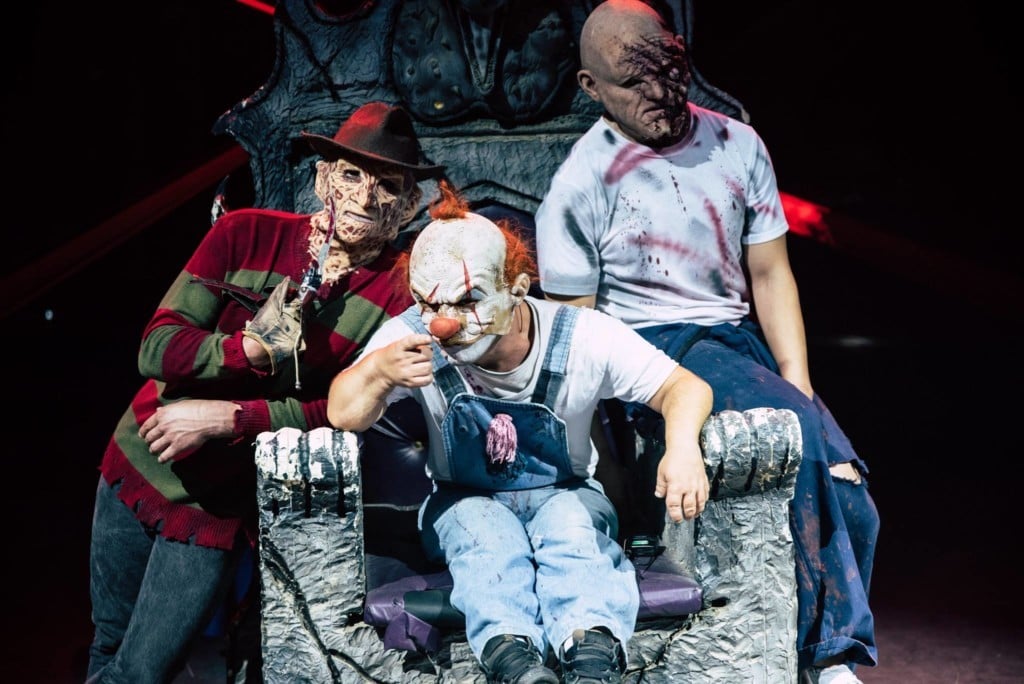 The first thing you might see is a shirtless man with a chainsaw, yelling loudly and randomly. He approaches you aggressively and unglued, as though you and everybody within 20 feet of you remind him of the person who stepped on his pet spider.
You continue into a smoky foyer, where you get a stronger sense of doom and maybe a bag of popcorn to go with it. You proceed through a dark tunnel, where agents of death taunt you and ask you what in the devil's name you're doing with your life.
You walk briskly toward the arena. If you find yourself documenting your experience with pen and pad, an ax-wielding zombie might ask you, as she asked us in a tone reminiscent of the Wicked Witch of the West:
"What are you doing? Writing your will? Ah ha ha ha ha ha!"
Gulp.
This is what you paid for. And the real show hasn't even begun.
You've bought a ticket to the Paranormal Cirque, where you engage directly with a self-described "new show with breathtaking implications always poised between fun and the most uninhibited fear that will transport you to a dark world inhabited by creatures with incredible circus art abilities."
The Paranormal Cirque is more than two hours of screams, scares, caskets, tricks, magic and gymnastics. Under this Big Top, the Grim Reaper is the lion tamer, and the juggler aligns only with a vein.
Chiseled performers don't defy gravity — they roll with it. They cheat death from up high, and they bring a whirl of gracefulness to a night of gruesomeness.
It's not for children. It's rated R for language — "fatality" is hardly the only F-word — for naughty finger gestures and for a theme that oozes sexuality.
You'll find yourself laughing — and maybe even a part of the show. Take the skit in which a man of the crypt hilariously tries to film a love-triangle murder scene with participants plucked from the audience.
You'll find yourself surprised and perplexed. The show brings Houdini to the haunted.
You'll find yourself uncomfortable. As you wait for the show to begin, you might feel something pressing against your back. You might turn around in your seat and find a big red nose in your face.
It's Diablo Clown. You know this because after you ask him his name and he only stares at you, you hand him your pen and pad, and he writes: Diablo Clown.
After the show, Diablo Clown joins the other cast members near the entrance for farewells and photos.
Because you're a risk-taker, you go looking for the shirtless man with the chainsaw, who identifies himself as "Mommy the Dogman" and tells you the truth about himself.
"I like scaring people," he says. "I'm sorry. It's my job."
Paranormal Cirque: March 1–3 in Tallahassee; March 7–10 in Panama City; March 14–17 in Pensacola. You can find information about tickets here.