A New Wave of Denim Has Arrived
Forget the flares and skinnies, your classic jeans are getting an update.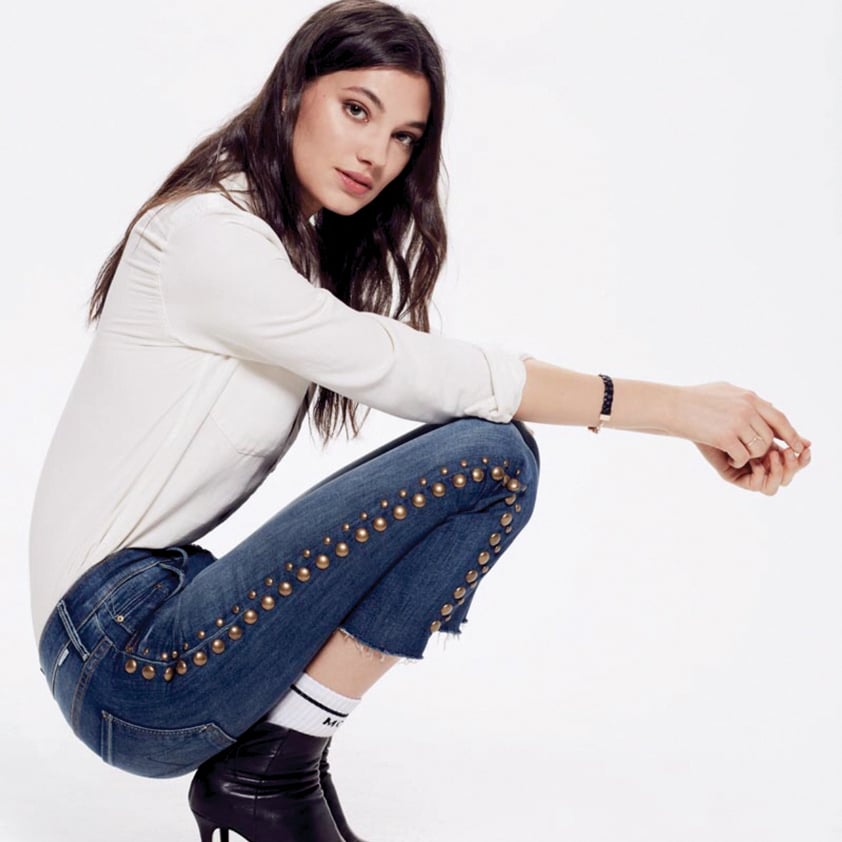 Eternal, practical and downright comfortable, denim entered the closets of America in 1873 and never quite left.
For Catherine Walega, owner of Indigo Watercolor, denim and its brilliant, blue hues represent the interaction between fashion and the natural world.
"The indigo plant has long been used for its rich blue dye qualities," Walega explained.
"The leaves from the plant are soaked in a large vessel — typically a vat placed in the ground. When they're fermented and exposed to oxygen, it produces beautiful shades of blue. It's really a metaphor for us humans … we all come alive with breath."
This fall, denim is revitalizing our wardrobe by tossing convention to the wind.
We're going bolder than your beloved jean jacket and "big kid" overalls and into some uncharted territory.
Don't freak out. I'm not talking the Britney Spears/Justin Timberlake denim abomination that terrorized the American Music Awards in 2001.
But, that's not to say we aren't borrowing a little inspiration from the past.
A little '70s flair — that is, flare or wide-leg jeans — slim and flatter your figure while accentuating the leg.
"Denim keeps coming back because of its functionality and versatility," Walega said.
"Even acid-wash is back. But, you can also look for denim in mustard, burgundy and olive green. Stark, dark colors and details, like a contrasting top stitch, a bold tuxedo stripe up the side or buttons and fringe embellishments are also making an appearance. We call it 'Novelty Denim' for fall 2018."
With the bold, floral embroidery, eccentric prints and dramatic distressing that comprise Novelty Denim, I have to wonder if Levi Strauss is rolling in his grave over the debasement of his traditional work garment.
I like to think he would appreciate the incorporation of denim into shoes this fall.
Durable, opaque denim adds subtle texture to flats, booties and fashion sneakers. It's a fun way to break up the monotony of leather and suede.
But, at what point does it become too much of a good thing? Denim on denim: trendy or fashion faux paus?
"Denim on denim is trendy," Walega insisted.
"Personally, I love it. I think you either need a good contrast of dark and light, or you need to have a perfect matching set. It's edgy and a perfect day-to-night look."
She suggested pairing denim with a crisp, white shirt for a timeless look, and a pop of red lipstick to seal the deal.
The congruity of denim allows you to go bolder with your makeup, and it supplies the perfect backdrop for statement jewelry.
"I think we love denim so much for its versatility," Walega mused.
"And the more denim is worn, the softer it gets. We all have those favorite pieces in our wardrobes that have been with us for years … the go-to item we grab when we want to evoke a certain mood. It's a fabric that, with a good cut and proper fit, can even hide some of our sins. "And who doesn't like that?"