A Namesake Legacy
The Studers and the Watsons leave a lasting impact on Sacred Heart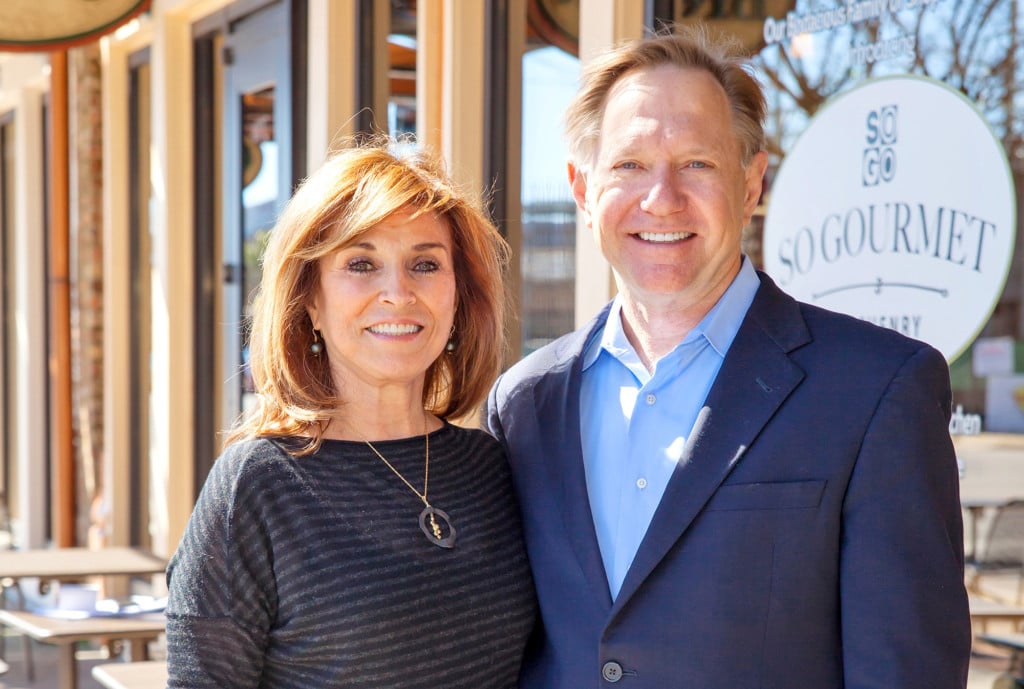 No, Quint Studer says. A donation to an organization couldn't possibly give him pride.
"I don't like the word 'pride,' '' he says.
Studer, a Pensacola business leader and philanthropist, says the major gift that he and his wife gave to Ascension Sacred Heart's new state-of-the-art children's hospital in Pensacola, Florida, leaves him with gratitude.
"I'm grateful — grateful for the opportunity to make a difference," he says.
The Studer Family Children's Hospital is making a difference, providing top-of-the-line technology and visionary medical and emotional care for children and families of Pensacola and Northwest Florida.
Officials at Ascension, one of the leading nonprofit healthcare systems in the U.S., hail the new children's hospital as a testament to Pensacola and its donors, including its top investors: Quint and Rishy Studer, and professional golfer Bubba Watson and his wife, Angie.
As a gesture for those gifts, the hospital carved the Studer and Watson names and legacies onto its new building and entrance road for patients, families and visitors to see. To get to the Studer Family Children's Hospital, you must turn onto Bubba Watson Drive. The hospital's address: 1 Bubba Watson Drive.
The Studers and Watsons call themselves friends and Pensacola residents and supporters. They say they saw the Studer Family Children's Hospital as a natural place to put their hearts and money.
"I wanted to give to something that (will be) helping kids and families for years and years to come," Bubba Watson told the Pensacola News Journal in 2017.
"Our goal is to help every child have the best chance to succeed," Quint Studer says.
Studer says he and his wife remain uncomfortable having their name on the hospital and that they didn't ask for that in return for their gift. But Susan Davis, the president and CEO of Sacred Heart Health System at the time of the Studers' donation, thought it would help spur fundraising, Studer says.
Studer has been a leader and thinker in healthcare his entire adult life, including as founder of the Studer Group, president of Pensacola's Baptist Hospital and past board chair of the Sacred Heart Health System. Leaders in healthcare and other industries trumpet one of his seven books, "Hardwiring Excellence: Purpose, Worthwhile Work, Making a Difference," as an organizational guide to customer service and excellence.
As somebody who knew the industry and numbers, Studer understands why a children's hospital in a community of Pensacola's size might not succeed.
He calculated that the average children's hospital in the United States serves a population of 1.4 million children. With a metropolitan statistical area population under 500,000, Pensacola didn't come close to such a demand. Studer also observed that most children's hospitals are attached to a large academic medical center. That's not the case in Pensacola.
Yet Davis, the Sacred Heart Health System CEO at the time, saw the need for a new Children's Hospital that was larger and better able to provide more advanced, less fragmented care than the existing Children's Hospital built 23 years ago. That building had reached its capacity in offering children's health services, including intensive care.
For a new hospital, Ascension committed $55 million to an $85 million fundraising goal in which $30 million would have to come from donors.
Studer decided that he would help, he says, "because Susan Davis asked me. I have great respect for Susan. I just thought, 'Could she really pull it off?' "
In late March, Studer wrote in a guest column for the Pensacola News Journal in which he said: "I greatly underestimated Susan's determination, Ascension's commitment to this area and the generosity of the community … I am so happy I was wrong."
Empathy perhaps played a role in the Studers' decision to give. In 1995, their youngest child, Michael, was seriously hurt on a camping trip in South Dakota and spent seven days in intensive care.
Studer says he and Rishy spent virtually all their time at Michael's side, with no place in the hospital to eat, rest, shower or spend time alone with their young daughter without feeling as though they were leaving their 8-year-old son.
The hospital that bears the Studer name provides all the amenities and comforts that the South Dakota hospital lacked.
"They did the best they could, just like every adult hospital does," Studer said of the facility that cared for Michael, who recovered. "But it's not the same. If you're in a children's hospital, it's a whole different ballgame."
When it comes to helping Pensacola, including its children, you'll find "yes" in the Studers' DNA. They've supported scholarship programs at the University of West Florida and Pensacola State College. Their donations and projects have helped create a vibrant downtown that includes The Bodacious Brew, a popular coffee shop and eatery that adjoins another of the Studers' businesses, The Bodacious Olive.
With the Studers' help, downtown Pensacola also features a scenic waterfront baseball stadium that serves as home to the Pensacola Blue Wahoos, a minor league baseball team owned by the Studers and the Watsons.
Studer points to the mission and vision statements of the Studer Family of Companies, the umbrella entity of organizations including Studer Properties, the Studer Foundation, the Studer Community Institute and the Blue Wahoos: "to improve the quality of life for the people in the Pensacola Metro Area" and "to make the Pensacola Metro Area the greatest place to live in the world."
The Watsons share that vision. The Bubba Watson Foundation aims to "enhance the everyday lives of people in need with a particular emphasis on helping and inspiring children, young adults and those associated with the U.S. Military."
Watson, a winner of two championships at The Masters, has pointed out that he and his sister were born at Sacred Heart Hospital and that his father underwent cancer treatments there.
"In my business, winning a trophy is great," Watson told Emerald Coast Magazine in 2017. "I do that, and on Sunday night, I'm a hero. But, as of Thursday morning, when the next tournament starts, people are looking for the next hero. So, you begin to ask yourself where you can best put your love and use your connections to provide for generations to come."
Watson and Studer have made their appreciation for each other known, yet Studer says the Watsons' donations for the new hospital came without his influence.
"This is completely Bubba and Angie on their own," he says.
Studer adds: "Bubba and Angie are very wonderful, loving human beings, and I think this is important to them."