A Land of Green and Gold
Green Bay offers great lake, great food and storied franchise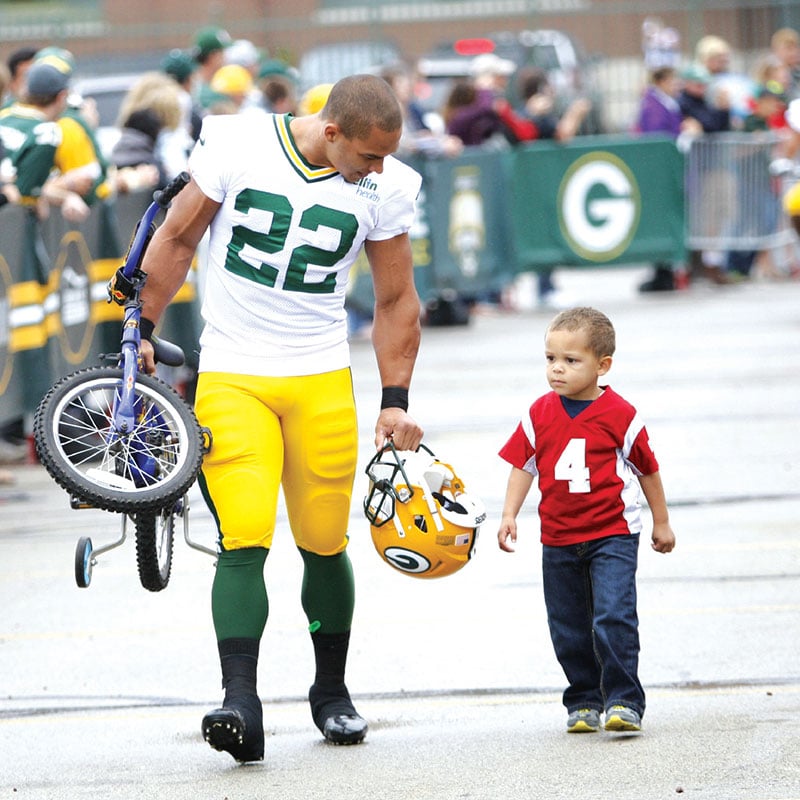 The South is steeped in college football tradition, and fans sporting collegiate colors pervade the Emerald Coast year 'round.  
In Green Bay, Wisconsin, the football fans wear green and gold, and they tailgate on Sundays — often in the snow. But Packers fans are cut from the same pigskin as a pair of in-state rivals, and they live and breathe on blind faith and fierce loyalty to their beloved team — and vice versa. When a Wisconsin Cheesehead talks about "my team," it's literal: the Packers are the only nonprofit, community-owned National Football League team.  
For 85 years, the smallest of the NFL's franchises has so indelibly imprinted itself on the minds and hearts of Green Bay's residents that it might as well be part of their genetic code. 
The waiting list for season tickets is the longest in the NFL, more than 120,000 names; the population of Green Bay is just 105,000. Add your newborn to the list and they just might celebrate a thirtieth birthday at Lambeau Field.
The Packers' training camp is generally held during July and August, attracting visitors from Wisconsin and far beyond. Fans line up at 7 a.m. on practice days for a quarter-mile or more along a street leading to the camp. Thousands stay and watch the practice, which is followed by an autograph session reserved for fans 12 and under.
Lambeau Field boasts a recent multi-million dollar expansion and enhancement. Stadium tours permit football fans behind-the-scenes insight, and at the Packers Hall of Fame Museum you can attempt the Lambeau Leap popularized by former FSU player LeRoy Butler. Also on site are a 20,000-square-foot pro shop and a fine dining restaurant, making for a full day of activities and experiences for young and old. 
As dominant as the Packer presence is in Green Bay, there are other things to see, do and enjoy.
History buffs will discover that Green Bay is Wisconsin's oldest settlement, dating to the 1600s when Europeans made it a center of hat-making activity. In the 19th century, Green Bay was established as a key military base that stopped aggressors from penetrating the interior of the United States via the Fox River. A visit to Heritage Hill State Historical Park brings nearly 300 years of history into focus. The living history museum comprises 24 historical and reproduction buildings on 50 acres along the Fox. Four areas offer different representations of life for early settlers: Fur Trade, Fort Howard, Growing Community and Ethnic Agricultural.
Courtesy Greater Green Bay CVB
The Meyer Theater hosts live performances; it was added to the National Register of Historical Places in 2000. 
Green Bay is home to the National Railroad Museum where visitors can climb aboard the armor-plated train that shuttled Gen. Dwight D. Eisenhower and his top advisors across Europe during World War II. Other exhibits include a 1924 Pullman sleeping car and a 1955 Aerotrain developed by General Motors. Numerous interactive displays capture the history of the railroad industry, and the Children's Discovery Depot is hands-on fun for younger visitors.
At city-owned Bay Beach Amusement Park, you can ride a small-scale passenger train along the water's edge and the length of the park, past its 20 other rides. This slice of Americana has been entertaining families since 1892 and is the ninth oldest continuously operating amusement park in the United States. It still boasts free admission, and rides cost just one dollar or less.
Take a break with local wildlife at the Bay Beach Wildlife Sanctuary. Admission and parking are free at this unique gem, a 600-acre urban wildlife refuge. Observe free flying native ducks and geese as well as nesting bald eagles, egrets, herons and other birds against the backdrop of Resch Falls, cascading 3,500 gallons of water per minute 25 feet off massive dolomite stone ledges. There are interactive exhibits for guests of all ages. Other habitats house additional waterfowl, song and shorebirds, flying squirrels, owls, mink, wolves, cougars, bobcats, otters and more. 
Pick up the pace at downtown's Farmers' Market On Broadway, a summer staple for 13 seasons. Every Wednesday thousands of locals and visitors shop with more than 200 vendors in an open-air market. Several blocks of fresh food and handcrafted goods share the street with live music, street foods and a vibrant social scene. There is another large farmers' market available downtown on summer Saturdays. Pedestrian-friendly downtown Green Bay is in the midst of a revitalization program with new hotels, refurbished theaters, fabulous restaurants and a river walk taking center stage.
Three or four days pass quickly here and leave you wishing you had more time to explore. And, with temperatures in the 70s, Green Bay can be a great escape from Florida's summer heat.   
---
Jillian Fry contributed to this story.