A Haven of Hope
Fisher House of the Emerald Coast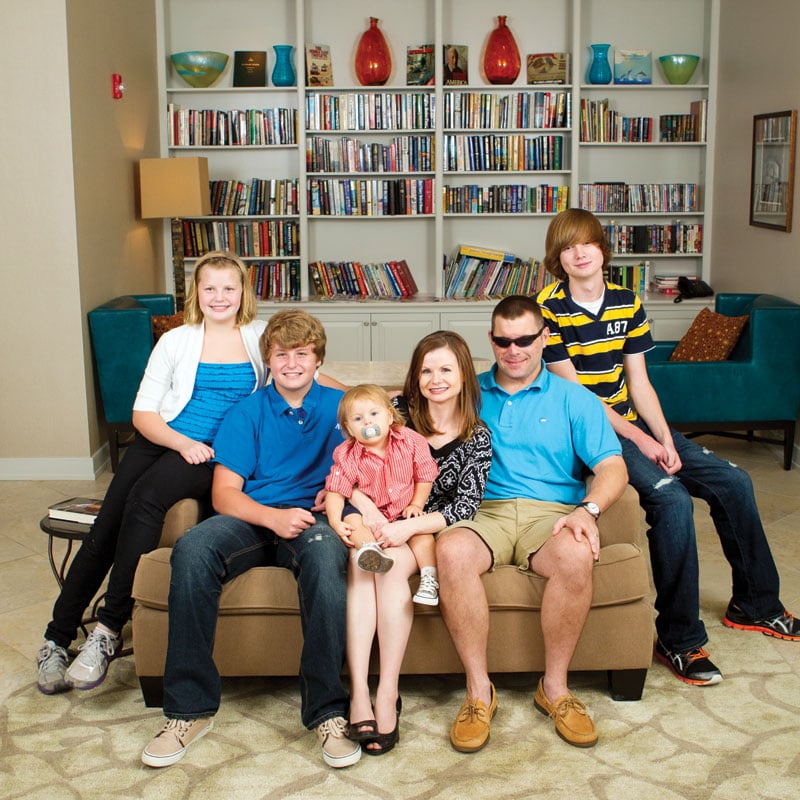 When the Gulf War began, it brought the needs of wounded soldiers to the immediate attention of Americans, reminding us all of the sacrifices they make every day in pursuit of securing safety around the world. As more and more soldiers came home in need of medical care, their families were among those most deeply impacted by the horrors of war. Quite fittingly, the Fisher House program was begun in 1990 in an attempt to provide the families of hospitalized United States soldiers with the comforts of home.
During the past 20 years, the Fisher House program has grown immensely in both attention and support, opening houses at each major military medical center across the nation. After visiting a facility at Wright-Patterson Air Force Base in Dayton, Ohio, base commander Col. Dean Clemens came back to Eglin Air Force Base with a plan to open a Fisher House for the families of soldiers and veterans being cared for at the USAF Medical Center on Eglin. A determined Clemens then handpicked Magnolia Grill owner Tom Rice to help him get the plan in motion. Rice, a native resident of Fort Walton Beach, is a retired 1st Sergeant in the Army. Personal military experience drives this project home for him, so his role as president of Fisher House has been a natural fit.
Since opening in September of 2010, the House has hosted more than 700 guests, offering an environment of comfort and support when it is needed most. The House, with 12 suites; a sizable dining room spacious enough for 25 to 30 people; a large formal living room; restaurant-sized kitchen; capacious and well-equipped laundry; and a family room opening onto a covered patio, can accommodate several families at a time –– whether they stay for days or months. The House is also fully handicap accessible, with the intention of accommodating the needs of visiting service members who might be in the midst of physical rehab.
Though wounded warriors and their families are given priority at Fisher House, the facility's rooms are provided free of charge to "anybody and their family that has served," says executive director Kim Henderson. As a constant presence at the House, Henderson has become very familiar with these families and the circumstances that bring them to the facility. "I love what I do. I get to see these families on a daily basis, and they're not all the tragic stories …"
Some of them have been exceptionally inspirational. One such case is the Hale family, who now reside at the Fisher House while Aaron Hale is in the process of recovery from injuries sustained in an IED (Improvised Explosive Device) blast. "The shrapnel hit him directly in the face …[His] right eye was completely taken," says Kelly Hale, Aaron's wife.
A long surgery to repair his eye just enough so that he could distinguish night from day was unsuccessful. Nonetheless, Aaron perseveres. "He's pretty amazing," says Henderson. "He's not letting it take control over him," adds Kelly. "He's come a long way, and he's doing incredibly."
And it's not only her husband who has faced challenges. With four children ranging in age from 19 months to 16 years, the Hales have had to learn a new way of living. "There were moments that I would use the word 'struggle,'" says Kelly. "There are moments that I've used other words. Each day is a new adventure for us, each day is a new journey. We're learning how to live with this new lifestyle."
A big help has been the presence and support they have received from Fisher Houses across the country. "Being in Fisher House has been very comforting," Kelly acknowledges. "I never felt alone. I always have that constant surrounding of the other families and the managers. They're always there, and they're always smiling at you, and they always want to make sure that you're okay. It takes a certain, special person to run a Fisher House. Not just anybody can do it."
This is high praise coming from someone whose family has undergone such trials over the past year. As Aaron continues to undergo his recovery and additional surgeries on his eyes, face, ears and skull, he will take on a new role as an instructor at the Naval EOD (Explosive Ordnance Disposal) school on Eglin.
Kelly, who grew up in Pace, is happy to be back in the area. The Hale family recently learned that they will be receiving a home from the joint efforts of Building Homes for Heroes and JP Morgan Chase. It will be especially equipped as a Smart House for Aaron's needs. In addition, Aaron and his family were honored with the opportunity to dine with the Obamas at the White House on the Fourth of July.
As the needs of military service members gain greater attention, so too will the needs of their families. These Fisher Houses, in their mission to provide a "home away from home," offer help during a time when proximity is healing to both patients and their family members. "It makes a huge difference being in a Fisher House," Kelly emphasizes. "It's not our home, but it's a second home. It's a pretty fantastic place to be. Not only because it's comforting, but also because you have some amazing people. No matter what you're going through, you're going to have comfort. They really care."
Each House represents the support of the community, a "thank you" for all the ways we have been served as a nation by our service members and the families that serve alongside them.
How You Can Help
There are several ways you can support the Fisher House of the Emerald Coast.
Donations are tax deductible and can be made online at fisherhouseemeraldcoast.org or mailed to: Fisher House of the Emerald Coast, P.O. Box 2007, Eglin AFB, Florida 32542.
Volunteers are also greatly needed. Download an application online.
For more details on how you can help, call (850) 883-8072.