A Glass Act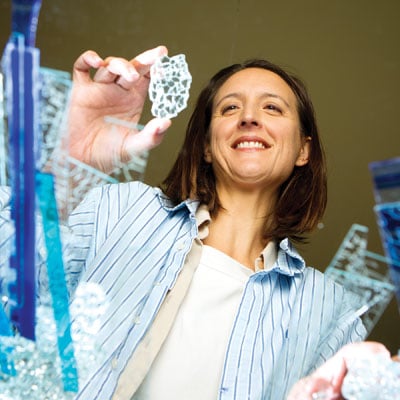 Unlike glass artist Mary Hong, the art form she works in is fragile and, according to her, people are afraid of it.
Hong, who owns Wired Glass Studio in Destin, admits to dabbling in many art mediums. And though she creates everything from paintings, nightlights and jewelry all from glass, her current passion marries her fascination with glass with her intrigue of found objects on the Emerald Coast. The result is dynamic, glass-encrusted mosaics that turn surfboards and paddle boards into stunning art storyboards.
Having lived in Hawaii for 14 years, the coastal theme is a natural for Hong, who moved to Destin in 2004. So is being an artist. "I have been an artist since I was two," she says. "I've gotten to make art every day." Hong credits her sense of color to her interior design degree and her ease of composition to her graphic design talent.
A lifelong traveler, Hong says it was a trip to Athens, Greece, that fired up her passion for glass art. A serendipitous stroll into a bead shop captivated her imagination, and lessons from a master bead artist helped seal her fate. "I love glass. It's shiny, sparkly and ever changing with the light," she says.
Art shows have given Hong welcome visibility. Her first show was the Destin Festival of the Arts, where she was honored with the People's Choice Award in 2011. At press time, she was planning to apply to the 24th annual ArtsQuest, Fine Arts & Music Festival in Seaside slated for May 11–13. "You get to talk to the people who buy your art and get feedback," she says. "The camaraderie with fellow artists is wonderful."
It's crystal clear that Hong is one shining example of the thriving art scene on the Emerald Coast.