A Dose of Johnny C
He aims to be an info-tainment source for all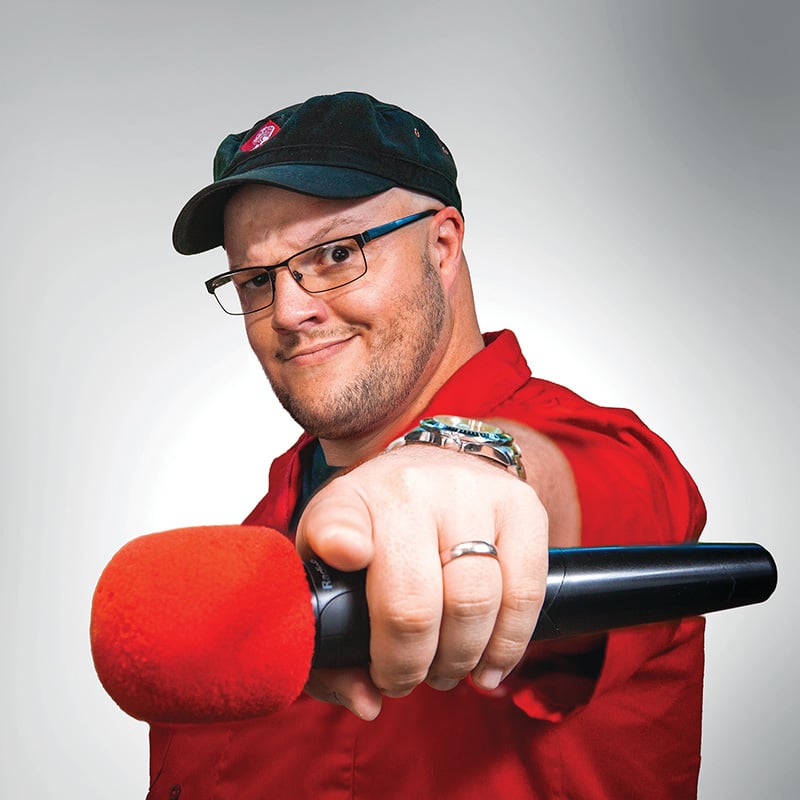 If you've been to any of a number of events along the Emerald Coast in the past few years, it's almost a given you've heard his unmistakable voice radiate through the speakers.
There's an exuberance in his delivery that comes from deep within his soul. If you are not familiar with the name John A. Alexander, that's OK. More than likely, though, you are familiar with Johnny C, the one-man-band behind Dose of Johnny C and Jack of All Trades Productions. 
Johnny C, who may come across as a outsized personality, is not an invention of Alexander, who grew up in DeFuniak Springs and graduated from Walton High School. He is the genuine article.
"I'm a character in myself," Johnny C says while sitting on the outside patio at World of Beer, where he calls out trivia questions on a weekly basis. "I'm a ham. But I'm just me."
From hosting trivia and emceeing local events to officiating weddings and scripting videos and podcasts, Johnny C is doing what he always wanted to do. He comes from a caring, supportive family and is happily married to his wife, Kirsten, the woman of his dreams. He's a new homeowner, and his business, which he started in 2013, has survived and grown through its early years.
It's taken a tireless work ethic and the desire to succeed for Johnny C to turn the corner. 
While working for Golf Week TV, Johnny C found himself on assignment in Albuquerque, New Mexico, where he was scheduled to cover the NCAA Women's Golf Tournament. Traveling down Route 66, Johnny C received a call that would change his life. The company was downsizing and his services were no longer needed. 
"The fact that I was on Route 66 at what was the beginning of the Great Recession was kind of ironic," he says. "A few weeks later, I packed up my apartment in Orlando and came back to live with my folks."
At the time, Johnny C was 24 years old and admitted that he's not a "polo and khakis" kind of guy. He was ready to be out on his own and do what speaks to his essence.
From substitute teaching and working at MIX 103.1, Johnny soaked up valuable experience and built connections in the community. But he's always been the artsy type. 
"I basically love to put together various components and express myself creatively," he says. "I can do that with a camera and a microphone." 
The goal for Johnny C is to become a sought-after "infotainment source." He's already earned the moniker, "Voice of the Emerald Coast."
To learn more about Johnny C or to watch his Dose of Johnny C videos, visit doseofjohnnyc.com.
---
Johnny C Gives Back
Whether it's Relay for Life, the Walk for Aproxia or the Community for Cops event, giving back to the community and raising awareness is something Johnny C always makes time for. Quoting John F. Kennedy, Johnny C said he abides by the saying, "Ask not what your country can do for you — ask what you can do for your country." Johnny C attributes his desire to give back to his parents. He emcees charity events at no cost.
---