A Cuban Take on Christmas Eve Dinner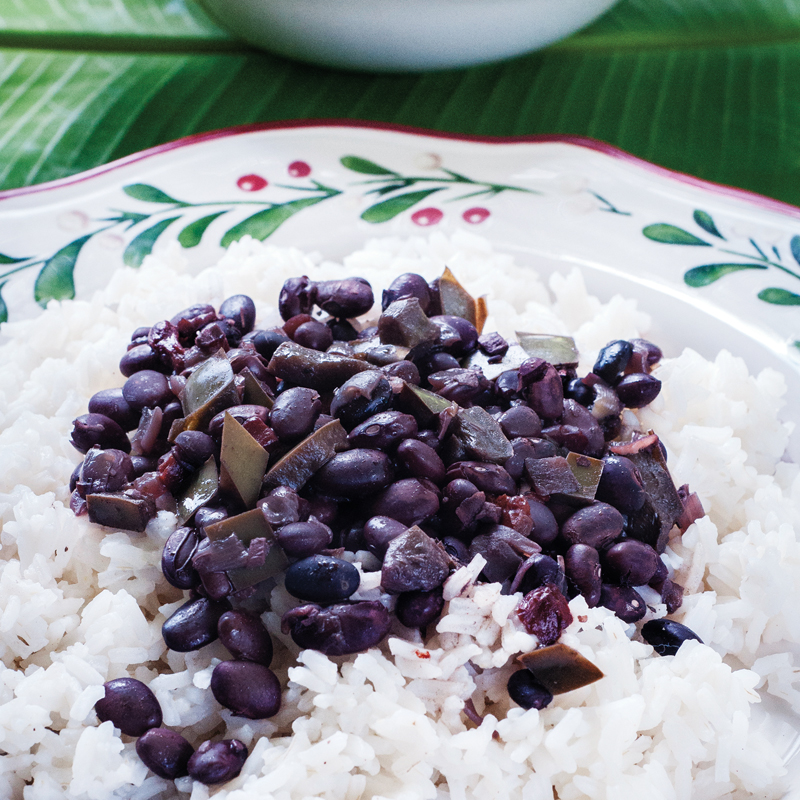 Every family has its own way of enjoying the holiday season. Celebrations can vary across cultural backgrounds, religions and even television preferences. (Festivus, anyone?)
My family still observes the traditional Cuban Nochebuena dinner on Christmas Eve, albeit modified a little. Traditionally, the meal centers around a lechón — pork roasted whole over hot coals. Since there are only three of us, my family goes for a smaller pork roast. Side dishes and desserts vary, and there are numerous options to choose from, including tostones (small discs of fried plantain with salt), amarillos (sweet plantain, baked to tender perfection), yucca and flan (a baked, syrupy custard). But my family's favorite is a big, traditional plate of frijoles negros — black beans, served over rice.
Nochebuena is celebrated throughout a large portion of Latin America and Spain. Common features are the midnight Mass and a post-Mass feast (for those who maintain the religious side of the holiday). Nochebuena fare can vary by region: Peruvians often serve turkey and tamales, while the Spanish often finish their meal with turrón (toasted sweet almond nougat). Here's my family recipe for the lechón's side dish, black beans, which actually makes a tasty, nutritious meal any day of the year.
---
Ingredients
2 cups black beans
3 cups of water, or enough to cover beans
plus 2 inches
¼ teaspoon oregano
¼ cup of olive oil
1 onion, diced
1 large green pepper, diced small
1 small jar finely diced pimento
6 cloves of garlic, minced
1 bay leaf
2 teaspoons salt
⅛ teaspoon ground cumin
¼ teaspoon ground black pepper
¼ cup dry sherry
¼ cup of red wine vinegar
Preparation:  Can be made in pressure cooker or Dutch oven.
The night before: Rinse the beans, removing any that are shriveled and making sure there are no stones (some beans have not been prewashed). Soak the beans in enough water to cover the beans, plus 2 inches. Add half of the green pepper (remove pulpy center and seeds). The beans should soak at least 8 hours. If you're in a time crunch, you can bypass the soak by boiling the beans for 30 minutes without the green pepper, but it's not the best.
Before cooking, drain the beans, setting the inky water aside. Keep the green pepper and dice with remaining half to use as indicated below.
Heat the pressure cooker or Dutch oven and, when hot, briefly toast the oregano in bottom. Be careful to not let it burn. As soon as it is toasted, add olive oil, onion and garlic. Sauté. When onion begins to look translucent, add green pepper and cook until tender, then add the pimento. Stir briefly.
Add the beans into the sauté mix, stir for a few minutes and then add the water. The reserved water may need to be added to make a full 3 cups for pressure cooker, OR enough to cover the beans plus 1 inch in a Dutch oven. Add the bay leaf, dry sherry and vinegar. Mix well. 
Pressure Cooker: Cook at 15 pounds pressure for 35–40 minutes. Turn off heat and let the pressure go down on its own.
Dutch oven: Bring to boil and simmer for 2 hours or until tender. Let beans rest awhile before serving.
---
Note: It's preferable to make the beans the day before, then reheat. Just prior to serving, add a little red wine vinegar and olive oil and stir. Serve atop rice with chopped onion and cilantro, if desired. It's also great on yellow rice or served with avocado.