9 Creative Ways to Encourage Your Kids to Read More Books
And you won't have to bribe them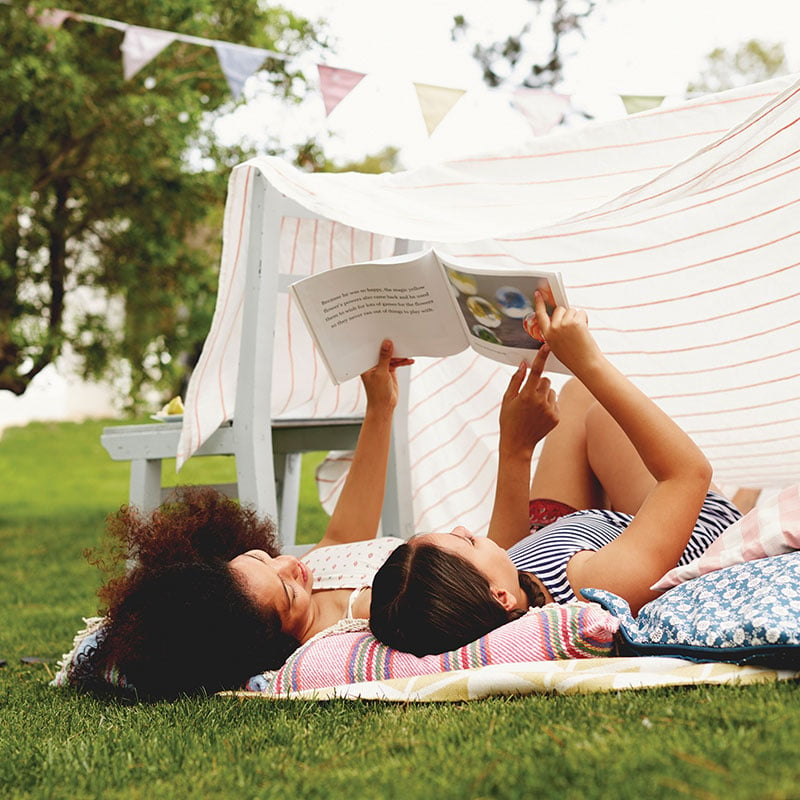 In his timeless novel, Les Misérables, author Victor Hugo wrote, "To learn to read is to light a fire; every syllable that is spelled out is a spark."
It's a beautiful thought, but for some children, the tinder just won't catch. These children may have developmental or learning disabilities, be English-language learners or lack access to books.
Some children simply don't like to read because they haven't yet gotten to the point where reading becomes a pleasure and an avenue for learning, rather than an arduous task.
The good news is that there are ways to help your child or grandchild develop a love of reading, which will then lead to reading fluency and, in turn, an even greater enjoyment of reading.
1. Read Together.
Set aside a special time each day that is devoted entirely to shared reading. Make this time something you both look forward to that creates positive associations with reading.
Tip: Take breaks and reward your child.
Try: Paul Fleischman's Newbery Award-winning book of poetry, Joyful Noise: Poems for Two Voices.
2. Leverage multiple media sources.
Children tend to associate reading with chapter books; but exposure to other types of media can help your child get excited about reading.
Audiobooks are great for all stages of reading — including pre-reading — because they teach children how stories "work."
They help kids learn how to anticipate a narrative arc and look forward to and get satisfaction from a story's progression.
Tip: Try listening to audiobooks in the car.
Try: J.K. Rowling's Harry Potter series, narrated by Jim Dale.
3. E-books.
Today's kids are born into a world where technology plays a huge role in their lives. Your reluctant reader might enjoy reading a book on a Kindle or iPad.
Tip: Many e-books are available online at low or no cost.
Try: Not Norman: A Goldfish Story by Kelly Bennett (author) and Noah Z. Jones (illustrator).
4. Movies
Movies that are based on books are great tools for encouraging children to read, but they shouldn't replace the actual books.
Tip: Learn what children's movies that are based on books are coming to theaters in the near future, and then read one of the books with your child. Let a trip to see the movie be an incentive to finish the book.
Try: Wonder by R.J. Palacio. The movie features Julia Roberts, Owen Wilson and Jacob Tremblay.
5. Get Visual 
Graphic novels, picture books, pop-up books and magazines are art-heavy forms of media that might hold your child's attention where books without images don't.
Tip: Don't get caught up in the idea that if a text has pictures, it's "too young" for your growing reader, or it doesn't have literary merit.
Try: Dig, a magazine for kids who are fascinated by archeology and world history.
6. Implement rewards.
Create an "I'm a Reader" chart, with a small reward at the end of each day, a larger reward at the end of the week and a very special reward at the end of the month.
Tip: Don't give out disproportionate rewards. You want to get to the point where reading the book becomes the reward.
Try: Making the reward chart and planning the rewards together.
7. Empower your child.
Let your child self-track his or her daily reading time. You can also allow your child to pick out his or her own book at the library or a bookstore.
Tip: Let your child use his or her own money to buy a book. It provides an extra nudge to read the book.
Try: Shopping at the following Emerald Coast book stores, all of which sell used books: Hawsey's Book Index in Pensacola; The Book Rack of Fort Walton Beach, Inc.; Read it Again in Niceville; Sundog Books in Santa Rosa Beach; and The Book Bin in Panama City.
8. Activate the imagination.
Combine books with fun activities. For example, if the book you and your child are reading is about airplanes, head for the National Naval Aviation Museum in Pensacola on the weekend.
Tip: Avoid the urge to go overboard with fun activities. Keep it simple so the focus stays on the story.
Try: Cloudy with a Chance of Meatballs by Judi and Ron Barrett. Make spaghetti and meatballs for supper and hang paper cutouts of food from the dining room ceiling.
9. Try something new.
Put away the fiction for a while and try some non-fiction, poetry or a play.
Tip: Think creatively. If your child is interested in a certain sports star or figure from history, pick up a biography about that person, written specifically for children.
Try: Anything from the "Who Was" biography series from Who HQ.