7 Emerald Coast Artists You Need to Know
Fine artists and sources of creativity span the Emerald Coast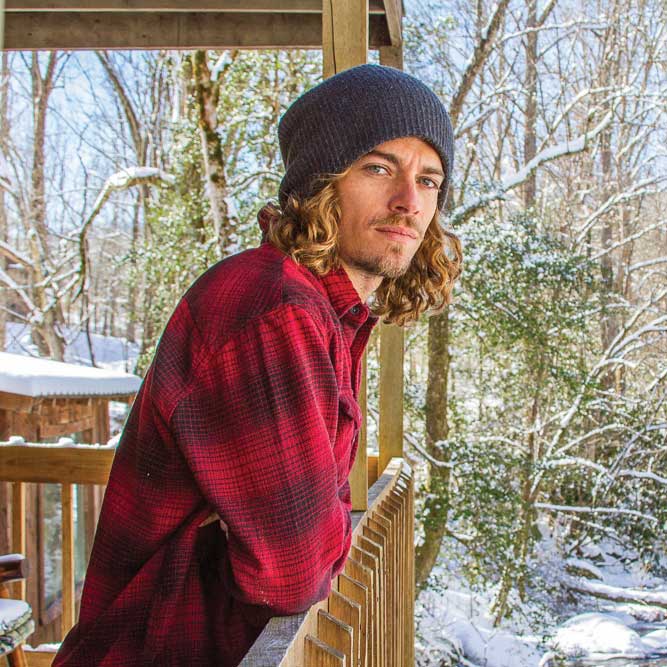 Kyle Gray 
Kyle Gray describes himself as an avid surfer-turned-photographer who documents "life in the world of surfing, both in and out of the water." Shot digitally using strictly natural light, his photographs invite viewers to see an ocean wave from inside its crest, the perspectives of the people who love to surf or live onshore, or the sky far above.
"It's hard to pick one thing that inspires me," Gray said, "but I'd have to choose nature. I love being completely detached from the modern world at times. It's the little things like natural light and greenery that make me feel balanced."
Trained in multiple media, Gray said he took a liking to photography because "after a while, it seemed to be the most natural of all to me."
Inspired by environmentalist and photographer Ansel Adams and by Chris Burkard, a modern-day surf photographer close to his own age, Gray has worked in oceans from Florida to Indonesia. He has images published on Surfline.com, Swell.com, FLUID, and Eastern Surf Magazine, and his work can be found at local businesses in Destin (The Local Market, Cappricio Cafe, and Burrito Del Sol) as well as Festival of the Arts.
Gray said that he is drawn to vibrant colors, technical compositions and unique angles. "I hope viewers become immersed in my images and, even if only for a brief moment, to distract them from everyday worries."
Gayle Campbell
Although her work can be worn as jewelry, Gayle Campbell considers her creations a form of sculptural art. From her home studio on Boggy Bayou, Campbell fashions her art from glass seed beads, precious and semi-precious stones, pearls, fossils and natural elements, weaving these materials into flat fabric, tubular ropes and three-dimensional objects.
"Beads are my 'paint,' and needles are my 'brushes,'" she said.
When Campbell met Diana Yum-Bucher — known in the art world as Suzyum Designs — at an exhibit in 2005, she was so moved by the artist's work that she offered to quit her day job and become her apprentice.
She studied with Yum-Bucher at classes in Pensacola and with Connie Nabholz of Cee Jay Designs, whom Campbell said inspired her to try off-loom weaving.  She considers these artists friends as well as influences.
Fans of Campbell's art often describe her work as intricate, and judges have noticed what might be called an enduring quality, such as one judge at the Outdoor Art Festival in Fairhope, Alabama, who told her: "What I love about this work is that it would have been relevant in the past, it is relevant today, and it will be relevant tomorrow."
Campbell worked for the Okaloosa County School District until June 2017 and now devotes herself to her art full time.  She sells her work at art festivals and to collectors, some of whom have found her online.
"I have spent my creative life working with my hands," said Campbell, who in the past has worked in stained glass, tried torch work, and even cut and kiln-fired her own glass cabochons.  "It was the tiny, tiny glass seed beads that hooked me. Weaving and stitching each tiny bead moves my imagination like no other medium."
Christon Anderson 
Christon Anderson has pegged his own work with a unique brand: "sophisticated gutter." Working in pencil, charcoal, pen and ink, watercolor, acrylics and oils, he cites contemporary artists Dean Mitchell and CJ Hendry, as well as Robert Rauschenberg and Jean-Michel Basquiat, for influencing his bold and thought-provoking portfolio.
Asked what he hopes viewers gain from his art, Anderson responded: "A sense of freedom, a sense of weight and wonder.
I want people to look at my work and think: 'Wow, that's fun, heavy, unique.' All of that.  [I hope they feel] a mix of emotions and questions, because that's what is going through my mind when I create."
Born and raised in Panama City, Anderson began making art, he said, as an escape from childhood.  It was something he always knew he could do.
After winning accolades in baseball and football and serving in the military, Anderson returned his focus to art.  Studying drawing with Roland Hockett and photography with Johnnie Ihlefeld nurtured his talent.
As for inspiration, he said: "I pick it up everywhere, from a movie to an outfit my kid put together."
Anderson has lined up a series of exhibits and has a packed local calendar for 2018, but he suggests buyers also check out his website, studio and social accounts.
He considers most of his works inprogress and says they are "always ongoing."  He continued: "Even hanging on a gallery wall, I've been known to change things."
Francisco Adaro  
Argentine artist Francisco Adaro was painting in the street in Buenos Aires when he met his wife, Brooke, a native of the Emerald Coast.
In 2012, they moved to her hometown of Niceville, and in 2015 opened a gallery. Adaro Art Gallery carries the work of its namesake in addition to several other artists.
"Anything and everything inspires me," Adaro said. "My drawings and more figurative works are mostly a stream of consciousness, just whatever crazy thing pops into my head — there are no boundaries.  My paintings of people are inspired by musicians I have read about or met."
Known for his life-size portraits, Adaro is inspired by the abstract figures and expressive color of Fauvist artists such as Henri Matisse and André Derain, as well as Pablo Picasso, Jean-Michel Basquiat, and other artists.  His work has been described, he said, as both colorful and whimsical.
"I hope that my work is something that someone can appreciate for a long time," he said. "When they see a piece of my work, [I hope] they can see the joy that went into creating it."
Adaro's work has won many "best in show" accolades, and in addition to Adaro Art, he exhibits at Orange Gallery in New Orleans and at dk Gallery in Marietta, Georgia.
Adaro said he has been drawing since he was old enough to pick up a crayon. "I couldn't do another job. I'd get fired—for drawing on the desk, the computer, the cubicle, the water cooler and the ceiling, before the first lunch break."
Ricky Steele 
Some people can't walk by a penny on the ground without picking it up.  Ricky Steele can't walk by a pencil.  "A pencil represents a million dollars to me," he said.
Steele works in multiple media: pencil, pen and ink, acrylic and oils. He draws or paints people, he said, because "if the world's going to change, it's going to change through people."  Steele said he is especially drawn to subjects older or younger than his own Baby Boomer generation.  Nicknamed "the emotional painter" for the situations he portrays, Steele said, "Most of my work is about moving forward, or looking at the past and realizing there were great things in it to remember."
In 2001, when the Houston International Festival awarded Steele first place for his work, one of the committee members even bought him a sign: "the emotional painter."
Born and raised in Panama City, Steele said he is grateful to those who helped him pursue art, like his sixth-grade art teacher, who encouraged Steele to become "a great African-American artist," fellow artist Sidney Carter, and his mentor, Arthur Dillard, who told him he would have to pay his dues in the art world before making much money.
As a kid who had 10 brothers and three sisters and happened to like doodling, Steele admired his friends with talent — those who stopped sketching, like his friend David Forward, and those who didn't, like Patrick Reynolds, an artist with whom Steele used to airbrush T-shirts.
"Pat got into fine art, and he said, 'You've got to get out here with me,'" Steele remembered.
He encourages anyone who is interested in his work to pick up the phone. "Just call me," he said. "I'm not trying to make customers, I'm trying to make friends. I like talking to people about what they like and what kind of work they think is suitable for them."
Marisol Gullo 
Art is Marisol Gullo's second career; she earned a law degree in her native Costa Rica.
"I have done art 'on the side' forever," she said. "I think I made a conscious decision to not become an artist because I never thought I could be independent that way. But when you love something, it doesn't matter how much you try to push it away, it's always there," she said.
Gullo moved to South Walton with her husband in 2001. Seven years ago they opened Not Too Shabby, a coastal cottage-style boutique, refinishing timeworn, one-of-a-kind furniture pieces. The store, which offers custom-built furniture as well as custom linens, upholstery and lighting, relocated to a larger location in Miramar Beach in August.
Four years ago Gullo took her interest in art to another level when she made two seahorses to complement some of her furniture. On display at her store, they sold within a week.
"I'm always building tables or cabinets out of old materials," she said. "I have a love for the things people discard."  Her work in mixed media incorporates repurposed frames, doors and seashells.
Gullo said she is inspired by natural life on the Emerald Coast, such as coastal birds, marine life and florals. "This is the perfect place to become an artist. There is so much inspiration. I'm encouraged by the abundance of art here and the beauty of the area."
In addition to working at the studio and store in Miramar Beach, Gullo creates in her home studio when her family is sleeping.  "I like to paint at night," she said.
She recognizes that her work celebrates contrasts: strength and fragility, beauty and ugliness, the old and the brand new.  "With beauty, nothing is perfect," she said. "Nothing is perfectly beautiful or perfectly ugly.  It's like the yin and the yang. They coexist."
Michael Fagan
Pensacola
A show artist for the past 20 years, Michael Fagan uses a process he developed called "layered acrylics" as well as watercolor inks.
"Developing the process is as interesting as choosing a subject matter," he said, noting that he enjoys creating scenes of the Gulf Coast as well as impressionistic and abstract paintings that are reminiscent of the landscapes of J.M.W. Turner or Gustav Klimt.
With a background studying the masters in galleries, museums and private studios in Kyoto, Nagoya, Tokyo, Amsterdam and Paris — sometimes on tour as a violinist — Fagan has transformed sketching done primarily for his own enjoyment to recognition as a visual artist.
He said that he is also inspired by impressionist painters and more recently the Chinese-French artist Zao Wou-Ki.  "Another artist I take a lot of notes from Andrew Wyeth," he added.
"I have been drawing and is sketching since I was three years old. Having come from a family of artists, I was encouraged in this area as well as in music," he said.
Fagan's painting style has been called eclectic and mystical, with fans of his work commenting on its similarity in look to lithograph prints although each painting is original and one-of-a-kind.  He said he uses his intuition to determine when he has finished a work and sometimes, going past that point, realizes that he must start over.
Fagan believes that each work speaks to an individual in different ways. "I hope that my work speaks to each person in a way that intrigues their sense of wonder," he said.  He can be found via his website — soon to be completed — on email, and at local art fairs.
SEE THEIR ARTWORK BELOW