6 Educators Are Making a Difference On and Off the Field with Another New Generation
Life Coaches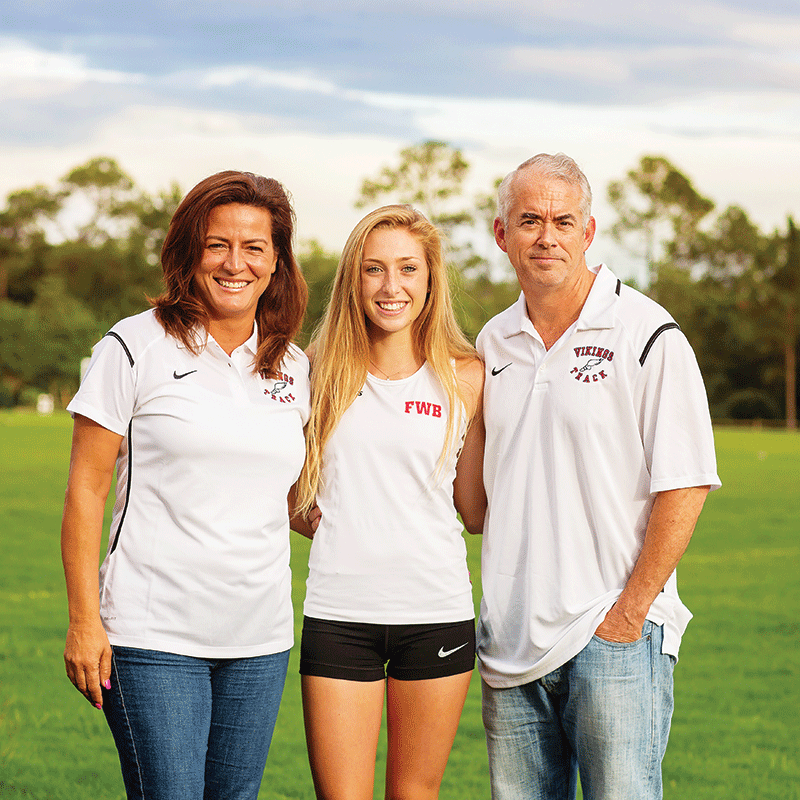 At 6 feet, 4 inches and 260 pounds, Sherman Johnson looked the part when he came to Choctawhatchee High School as a football coach 15 years ago.
But in 2007, Johnson, who teaches social studies in the classroom, made an unusual "athletic move." He dropped football and became coach of the girls' weightlifting team.
"He will step out of his comfort zone and take on groups of kids that need a coach, even if they are involved in an activity that he's never coached before," Choctaw Principal Cindy Gates said.
With Johnson in charge, Choctaw has produced three state champions: Nicole Corey (2010), Jamesha King (2011) and Kiera Alexander (2015).
"Weightlifting for years was a male-dominated sport, and at one time the girls didn't even think it could be cool," Gates said. "The real success is that Coach Johnson gets a large number of girls who aren't involved in any other sport to come out and be proud of their physique."
Part of Johnson's appeal to youngsters comes from his realistic approach.
"Through sports I've learned that life is going to deal you some tough times, some adversity," Johnson said. "And you just have to find a way to deal with them. You can't avoid them — they're bound to happen. Just take it head on. You can't curl up in a ball and cry — they're not going to go away."
Johnson credits his late mother, Ellen Johnson, and Don Sharpe, his football coach at Woodham High School in Pensacola, as his role models.
"Both of them were great examples of hardworking people who worked tirelessly at making everyone around them better people," he said.
Alexander didn't hesitate when asked what makes Johnson special in her eyes.
"He's the one coach who actually cares about all of his athletes," she said. "He doesn't favor a certain athlete — he treats us all the same."
Johnson's impact on young lives goes far beyond the weight room.
"If you ever need anything, you can come to him and he'll do his best to help you as much as possible," Alexander said. "He will go out of his way, even if he's having issues in his life, to get you through what you need to get through. If somebody needs food, and they haven't eaten all day, he'll buy you something if you need it."
That generous approach impresses newcomers to the weightlifting program.
"When the freshmen came in, they told me, 'I've never had a coach like him, who cares so much about his athletes.' They've never told him that, but they've told me that personally," Alexander said.
"He's a father figure, and that means a lot," she said. "If I come to school and I have something going on at home, he'll tell me what I should do. He's the first one I'd come to if I was having a problem."
Lisette and Jeff Fields bring team dimension to Fort Walton Beach
Despite what some people might think, cross-country and outdoor track truly involve a team concept. And at Fort Walton Beach High School, there's a team involved in coaching both sports.
That would be Lisette Fields and her husband, Jeff.
"They're really caring and supportive of everyone on the team, not just individuals," said Brooke Crane, who transferred in from California and became a star of the outdoor track team as a junior. "They're not afraid to tell us if we do a bad job, and they're definitely able to tell us when we do a good job and help us get better."
Crane's success is remarkable because she never competed in middle school. She leads off one relay, anchors another and runs individually in the 800 meters.
"Where I am right now, I wouldn't be without them," Crane said. "I wasn't sure if I wanted to run my freshman year, because I hadn't run before we moved here. After my mom got me to meet the coaches when I first got here, Coach (Jeff) Fields actually pulled me aside and told me a lot of people on the team go through the same thing I was going through. He helped me feel more at home with everyone and helped me feel more part of the team."
Lisette Fields teaches sign language and English, and much of her time is spent with development and training in both sports. Jeff Fields is a retired Air Force major and Department of Defense contractor whose focus is on what happens at the meets.
"They identify so well with students," Principal John Spolski said, "and once they're out there working with kids, they do a great job of placing them, pushing them or steering them toward events they would be successful in."
Spolski is fairly new to his role as principal, but he recognizes success when he sees it.
"I think they work real well together," he said. "There are times when one is the hammer and the other is the compassionate one. They have a complementary relationship between the two of them, and anytime you have a team jelling and working well together, the kids are excited, everyone at school and the community is excited. Competing at a high level and having victories at those levels is pretty exciting stuff."
But achievement in these sports does not always involve taking home a gold medal.
"Success is achieving something that you never thought you could," Lisette Fields said. "Not all of our athletes are college recruits. We have athletes who may not have made another sport, varsity or even JV, but we do not cut any athletes.
"We believe all high school students deserve the experience because of the life lessons that come with being part of a team," she said. "These kids of all ability levels can achieve success that is measured for each in different ways: winning a race, setting a personal record, moving from junior varsity to varsity, using the discipline you learn in our sport in the classroom or being a good team leader."
Nick Borthwick, a man of many dimensions at South Walton
Nick Borthwick sees a direct relationship between his duties in the classroom and on the field at South Walton High School.
On the athletic side, Borthwick is the head baseball coach and an assistant with the football staff.
"We encourage our athletes to be students first and to take care of their schoolwork," he said, "because no matter what their talent, if they don't have the grades, they're going to be limited in their opportunities in life."
Borthwick lists his core values as teamwork, discipline and character.
"We really preach that the team comes first," he said, "and to be coachable is an important life skill."
Borthwick also teaches intensive reading in grades 9-12 and an elective known as AVID — which stands for Advancement Via Individual Determination.
"The most motivating factor for me is when a student who can't read when he starts out comes up and gives me a high five with tears in his eyes. That's a rewarding moment," he said. "My overall approach is — you will think, read, write and speak better when you leave here."
But that's not all.
Borthwick also serves as one of the moderators of the newly formed Outdoor Club along with Bruce Bates; the activity has attracted more than 80 students.
"We participate in outdoor community-service projects," he said, "and 20 kids have gotten a hunter safety card through the Florida Fish and Wildlife Commission office in DeFuniak Springs."
South Walton Principal Alexis Tibbetts has been impressed with Borthwick since her recent arrival at the school.
"Our students love and respect him because he is smart, fun, down to earth, caring and has a fabulous sense of humor," Tibbetts said. "He instills a 'can do' attitude in students, and his players, both on and off the field, attain more than they even believe they can."
Zach Lance, a pitcher and catcher on the baseball team who graduated spring 2015, also cited Borthwick's total commitment.
"He's always going the extra mile for us to become better students and athletes," Lance said. "I can contact him 24/7 and he'll always be there for me."
Education is a family affair in the Borthwick household, with Nick's wife, Nina, teaching seventh-grade math at Emerald Coast Middle School. They have three children: son Coleman, 6, daughter Kendall, 4, and son Clayton, 2.
Coleman "is our self-proclaimed kicking coach" for the football team, according to Nick, and Clayton threw out the first pitch on his second birthday, after which South Walton defeated Port St. Joe, 10-3.
How to juggle family life with a job that can consume 70 hours a week?
"It's a balancing act, and my wife is the backbone of the family," Nick Borthwick said.
"Let's just say that we're very organized," Nina Borthwick added. "First and foremost, we communicate with each other, and our home functions on a schedule and a routine. We put family first, and everything falls into place."
Freeport's Hillary Williams a champion as player and coach
Hillary Williams has the distinction of having played on one state championship basketball team and coached another.
Williams was a sophomore on Ponce de Leon's 2000 Class 1A title team, and she served as an assistant to Mike Myrick when Freeport High School's girls took home the Class 1A trophy in February of this year.
"I was aggressive," Williams said of her playing days. "Fouling out was not foreign to me."
Myrick, who has spent 18 of his 26 years coaching at Freeport, summarized his assistant this way: "She does all the little things over and over until she gets it right, and she just brings that intensity to practice. Her knowledge of the game is outstanding, too."
In addition to being the head coach of girls' basketball at Freeport Middle School, Williams teaches English IV, English IV Honors and AP Literature and Composition, as well as intensive reading for juniors and seniors. She is also a senior class sponsor.
"She's great for the school," Myrick said. "She was the Anchor Club sponsor and she coached cheerleading. Anything she could help with, she's always been involved."
There was no hesitation when Williams was asked about her basic approach.
"I most certainly use 'tough love,'" she responded. "They will all tell you, 'When she quits hollering at you, that's when you worry.' I learned that from my high school coach, Tim Alford. Hard work is essential and attitude is everything — we all must give if we want to get."
Freshman Molly Head did not play middle-school ball, but Williams had known her for several years and talked her into trying out for the varsity. Not only did she make the squad, but Head ended up starting after Mary Kate Myrick was injured and missed much of the season.
"There was a lot of pressure, but she got me through it by talking to me a lot," Head said. "If I had a bad day at practice, she was always there to talk me through it. She's like another mom to me. She's a great coach and a great person."
Husband Shane Williams coaches baseball and football at Freeport, and he teaches exceptional-student education, so there is no "off-season" in the Williams household.
"We basically live at Freeport High School," Hillary Williams said. "Some days we're there for 16 hours, but we do our best to stay at home at least one day a week. I am very blessed to have someone who is understanding and shares my love of sports."
Shane Williams chimed in: "The biggest part of being married to a coach when you are a coach is to be supportive, compromising and organized."
Greg Watson makes impact quickly at Crestview
When Greg Watson arrived from Alabama two years ago to coach at Crestview High School, he knew he'd be facing multiple challenges. Beyond winning boys' basketball games, he would have to win over new people in a closely knit community.
"Once you get to know him, he can be fun," said Dakota Childre, a senior shooting guard on a team that won 11 of its last 13 games and made the regional final to finish with a record of 20-10.
"He's not always stressed out," Childre added. "He can joke around with you. We trust him and he trusts us — with him it happened quicker than you'd expect. He takes things slow. He's always preaching to us during a game to just go possession by possession and don't try to do it all at once. I look up to him. Yes sir, I do."
Watson teaches U.S. history as well as leadership. He also "runs the iPad" on the sideline at football games. His wife, Caroline, teaches fifth grade at Riverside Elementary School.
"The biggest thing for me was getting the players to buy in and become a close team," Watson said. "As the (first) year went on, our team chemistry became a lot better and as a result, we became a lot better team. As far as the community is concerned, everyone I've met in Crestview has been extremely supportive. This is a great community, and the people here are down to earth and fun to be around."
Principal Dexter Day has been more than impressed so far.
"What makes him special is his passion for what he does, whether it's in the classroom or on the court," Day said. "That and his passion for learning and his passion for kids to get better and to help them in all capacities of life."
Crestview High's Leadership Program is a big part of this. Students get involved with multiple activities, such as school campus registration, mentoring and assisting teachers in the classroom on Fridays.
"I think coaches are measured by wins by the outside world," Watson said. "But most coaches measure themselves by the relationships that they have built and teaching young men to compete, have integrity and learn life lessons."
"He's genuine," Day said. "He carries a lot principles of life and commitment, and the kids see that and they believe in him. He talks the talk and walks the walk. It's a great feeling for me as principal knowing I'm coming to school knowing he's on my staff. I go to bed and rest assured that Greg will do a great job whether I'm there or I'm not."
Caroline Watson met her future husband at a high-school basketball tournament in 2010. Her father, Vic Herren, was coaching there.
"I enjoy watching Greg get very passionate about what he does," she said. "The late nights, not so much, but I enjoy watching him succeed doing what he loves."
Niceville's John Hicks a classic as football coach and athletic director
When you shake hands with John Hicks, you realize right away you're dealing with a classic football coach. Big man with big hands. Speaks sparingly with a few carefully chosen words and a big voice.
Hicks has been at Niceville High School since 1985, and he's been the head football coach for the past 15 years, compiling a record of 123-43. The Eagles have played in state championship games in 2009 and 2013.
"The mission is to maximize the potential of every athlete and have them be a better person for being in our program," Hicks said. "For the most part, every kid who has come through has learned a lot of lessons — hard work, discipline, overcoming adversity and seeking excellence."
Which is the central theme for this career educator.
"I demand excellence, I don't ask for it," he said. "I do always try to let the players know I care about them as individuals first. Most players appreciate it by their senior year, and certainly after they leave."
Joseph Blythe, who played fullback and offensive tackle on the 2014 team, is part of the first recruiting class at the University of West Florida's fledgling football program.
"It's the little things that makes Coach Hicks who he is," Blythe said. "He doesn't let you get away with little things. I've never seen him operate at less than 100 percent."
Daughter Karly Hicks knows quite a bit about this, since she was a manager for the football Eagles from 2004 through 2009.
"It was the first time I actually saw my dad as a coach," she recalled. "It was very different seeing him at practice than it was from the stands at a game. He was much more intense than I had seen him at home. I'd never seen him yell."
Karly Hicks already has a degree in microbiology from Auburn University, and she's studying there now to be a veterinarian.
"My father really cares a lot about the kids and the type of job he does every day," she said. "He's always pushed the value of hard work, and that's gotten me through so many things in college. He's a good dad and a good coach, and he cares a lot about what he does."
John Hicks is also the athletic director at Niceville High School, which means he's responsible for 54 coaches and 23 teams at the school. That can mean 70-hour work weeks during football season.
"A lot of people don't know what he does behind the scenes," said Rodney Nobles, whose 30-year career with Okaloosa County Schools started when he and Hicks came to Niceville as football assistants in 1985.
"John has worked with all those programs over the years to get them up to state championship levels," Nobles said. "Not all coaches are teachers, and he's the one who makes sure they have the things they need to be successful in dealing with kids, parents and the community. He has a love for all the athletes at the school and wants to see them all do well."