5 Student Super Stars
Not only are these outstanding students making the grade, they're also making a difference.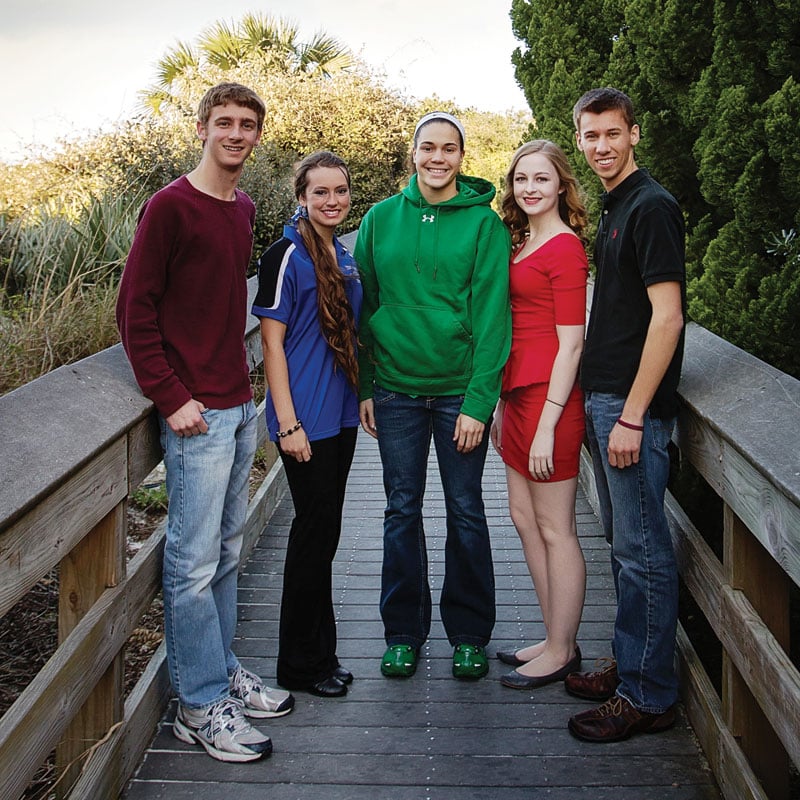 In a matter of days, hundreds of thousands of Florida kids will be able to sing out loud and proud the lyrics to Alice Cooper's 1972 hit "School's Out."
The rocker sings, "School's out for summer … school's out forever." Not so fast, Cooper. According to a report filed by the Florida Department of Education in November, the four-year high school graduation rate for the class of 2012 is 74.5 percent, which reflects a 3.9 percentage point jump — the highest in nearly a decade. Kids are staying in school and nearly 70 percent of them continue on to college.
US News & World Report recently reviewed 21,776 U.S. public high schools and selected 127 Florida schools as the best in the nation.
Several schools in Okaloosa County — which ranks 6th in the state — made the list, and still more received honorable mentions.
Many Emerald Coast students are not only making headlines and making the grade, but they are making a difference by volunteering, leading clubs and setting the example. With each exam, each win, each day they decide to exceed their efforts from the day before — they are becoming our future leaders.
Whether their "thing" is acting, scoring, leading, inventing or serving, these students are clearly super stars on the rise. EC Magazine caught up with five stellar students throughout Okaloosa County and chatted with them in bagel shops, backstage at theaters and even the principal's office to find out what makes them shine so bright. Get some paper … you just might want to take some notes!
---
Kyle Saleeby: The Science of Success
Niceville High School, Senior, 3.9 GPA
Not many high school students have left the country — and even fewer have left the country to participate in a science conference with about 800 of the world's top scientific minds. But that is precisely what Kyle Saleeby did in his sophomore year at Niceville High School.
A presentation he gave as a student representative of the Natural Geography In-Shore Area (NaGISA) team got the attention of the Census of Marine Life in London, which led to a trip to England. "It was a really awesome experience for me," Saleeby recalls. "The program is amazing. It teaches so much about science and research, and your research is actually used in real life."
NaGISA is an international marine biodiversity study of the world's coastline — one of 14 current field projects of the Census of Marine Life (CoML). Niceville High School boasts the first-ever team to be run with high school student researchers. The program started as an experimental effort to determine whether or not a high school could amass the resources and cultivate the expertise needed to contribute to the international science community. The school and students like Saleeby have provided a clear answer, and now NaGISA programs have opened in two other schools on North Florida's coast.
Photo by Kansas Pitts Photography
Kyle at Stallworth Preserve near the coastline he's studied so well.
Saleeby also enjoys competing in science fairs and has participated every year since sixth grade. His projects took him to the Intel International Science and Engineering Fair, the largest international science fair held in the U.S., as well as ISWEEEP, the International Sustainable World Energy Engineering Environment Project Olympiad.
His NaGISA project, which is a three-year study he continues to this day, is a clean electrical hydropower source — a water wheel type device that can out-produce any other source of clean electrical energy by the same amount of space used.
This year, he created a hydrolysis apparatus designed to produce hydrogen and chlorine gas. By wiring it to his water wheel he effectively is using one renewable energy source to produce another — one that could be used to power cars. Since last year this science wiz kid has also been working on a device that can stop a car as it slides out of control on ice and other slick surfaces in under five seconds.
Saleeby won first place in chemistry, along with a few special awards, at the regional science fair this year, and was selected to attend the international science fair in Phoenix in May.
With such accomplishments, it comes as no surprise that Saleeby was voted Most Likely to Succeed this year by his peers. Given his recent acceptance to Massachusetts Institute of Technology (MIT) and selection for one of the Coca-Cola scholarships, it appears that his classmates are right on the money.
Yearbook stats:  NaGISA, science fair, scuba diving
We know super students don't have too many failures, but can you remember one? Whenever you're working with electronics, make sure they're unplugged.
Best advice from a teacher: If anyone ever says you can't do something, do it just because they said you can't.
Study tip: You have to enjoy what you're doing. You don't have to like it, but you have to find a way to enjoy it.
Useless talent: Some people can blow smoke rings … I can blow air bubble rings under water while scuba diving.
---
Helena Whittaker: A Dramatic Exit
Fort Walton Beach High School, Senior, 3.69 GPA
As a sixth grader, Helena Whittaker didn't have many friends, her grades were average and nothing much motivated her. Her mom, Christa Whittaker — the head of the theater program at Fort Walton Beach High School — suggested she try out the Oz Theater Company (for kids). And the rest is Fort Walton Beach High School theater history.
Once the theater bug bit this aspiring dramatic actress, everything changed. She made deep connections with friends, who are as "weird and crazy" as she is, her grades shot up and she discovered a role she was born to play — herself.
Now a senior with a lead in the school's spring musical, ("Dirty Rotten Scoundrels"), the 17-year-old Fort Walton Beach resident is co-writer/director for "Shakespeare 2.0," a comedy that earned a Critic's Choice Award at the Florida Thespian competition this year.
Photo by Scott Holstein
We find Helena where she shines best, center stage at Fort Walton Beach High School's theater.
Though still a work in progress, the play is a hit that other high schools are clamoring to stage.
At this year's Florida Theater Conference, Whittaker was named Best Actress and given a spot in the All Star Cast for her performance in "Kosher Lutherans," which also won an award for Best One Act Play — another first not only for the talented teen, but for her high school as well. In March, she and seven and other seniors took the show on the road, performing it on an even bigger stage, so to speak, at the Southeastern Theater Conference.
Though she could be a stand-in for actress Jennifer Lawrence, this performer doesn't reserve her talents exclusively for the stage. She also is a member of the Voices of Valhalla, the advanced school choir, and the National Honor Society. "This is best year of high school I've ever had," she spouts as she pulls over a chair and sets it front of a wardrobe rack filled with colorful costumes backstage at the high school's theater.
Though not her motivation, the awards and notoriety are a welcome reward for this Broadway-bound hopeful who has clearly become a theater devotee. "When someone says, 'Hey, you were really good in that show,' it feels really good to be recognized for something you've worked hard at. It's more than just memorizing lines. It's becoming another person, being on stage and then showing that to other people. And what teenage girl doesn't like to be complimented on something?" she asks as her delicate, white hand pulls a paint-splattered red fleece snugly over her shoulder.
The countless hours Whittaker spent perfecting her three-minute audition paid off, landing her a spot in the Bachelor of Fine Arts program at University of Central Florida, where she hopes to eagerly delve into plumb roles and lifelong friendships. "Something about having a shared passion with people who are like-minded brings you together. And I think that is hard to find in high school," Whittaker says in a clear, articulate voice — one, unmistakably, her own.
Yearbook stats: Voices of Valhalla (choir), National Honor Society, Broadway Cares Equity Fights AIDS organizer, Florida State Thespians District representative
Favorite quote: Love the art in yourself, not yourself in the art.
Study tip: Don't cram. Study for a reasonable amount of time at a time.
I wish someone told me sooner to … Question things. Don't always assume that everything is at face value, always search a little deeper — and that goes for school and relationships.
Favorite word: Luminosity
Best song for my life songtrack: "We Are the Champions" by Queen
---
Christy Allen: The Ace
Rocky Bayou Christian School, Senior, 4.0 GPA
When most people imagine a masterful multitasking student, they often picture a bogged-down teen with a full course load and a couple of clubs … maybe a sports team, too. If that is a master, Christy Allen is a guru. With two sports and a whole host of clubs under her belt, it was a wonder Allen had time to speak to us at all — and even more remarkable how energetic and cheerful she was, despite her crazy workload.
"There is no procrastination," she says with a laugh. "I have this planner I keep, and I write down every single thing in it. I put stuff in my phone to remind me when things are. It's like in tennis. Keep your eye on the ball."
Photo by Kansas Pitts Photography
Christy's dreams will soon take flight as swiftly as this F-35 Lightning II pictured here inside a hangar at the 33d Fighter Wing.
Easier said than done, most would think, but Allen's ambition drives her to constantly do what most would deem too difficult. She founded a club called Girls Outdoors at Rocky Bayou, serving as its president for a while. The club was for girls to meet up and socialize while doing outdoor activities (such as spelunking and canoeing). "I got to get to know all the girls, and watch them gain more self-confidence as they overcame situations. It was really cool," Allen remembers.
If a club wasn't enough, Allen also founded her school's tennis team over the course of a year, which brought home a second place district finish — with her as its No. 1 player.
Allen's goals are coming to fruition. She was accepted to the United States Air Force Academy in Colorado, where she hopes to play on the tennis team. Both of Allen's parents went to the Academy, and her mother was also on the tennis team. Her father's job as a pilot led Allen's family around the world, until they settled in Niceville, where Allen has attended Rocky Bayou Christian School since second grade. An outgoing girl by nature, she thrived when they moved and enjoyed making new friends. But she also treasured getting to attend a small school where she has made such great friends and gotten to know the faculty so well as they teach both academics and the biblical perspective. To Allen, Rocky Bayou is like a second family.
Yearbook stats:  Tennis, volleyball, National Beta Club Honor Society, Mu Alpha Theta, Thespian Society, student government, Bible Quiz Team, Spanish Club, Shakespeare Club, Academic Team, Engineering Team
Favorite quote: Isaiah 40:31 – " … but those who hope in the Lord will renew their strength. They will soar on wings like eagles; they will run and not grow weary, they will walk and not be faint."
Who should give your commencement address? I really respect someone like Tim Tebow who puts such belief, strength and determination into everything he does (on and off the field) and would love to meet him one day. I'd definitely be inspired by his words at my graduation.
Best advice from a teacher: Never give up.
Words of wisdom you wish you'd known sooner: Attitude is everything.
---
Brittany Brown: The Queen of the Courts
Choctawhatchee High School, Senior, 3.6 GPA
The Choctaw Indians were up by one point in the first overtime and Brittany Brown, a.k.a. "Rookie," called a time out. The first free throw went in to tie the game, but the second one didn't and the game began to separate the women from the girls in a second overtime. There was a tussle that landed Brown on the ground, grabbing for the ball. She called a timeout before realizing it was their last, a "rookie mistake," she says while shaking her head. The pretty, dark-eyed point guard was devastated, and her emotions were winning over when a teammate came up to her and said, "This is where great players are determined." It was all Brown needed to hear.
She headed back onto the court to block a three-pointer, the buzzer sounded and the Indians chopped down Pine Forest High School — their toughest rival.
Photo by Kansas Pitts Photography
Brittany's winning spirit will always give her the "home court advantage" in life.
Pine Forest High fell again to Choctaw this year in an even more dramatic fashion to become the Indians 29th victory of the season.
Local sports writer, Brandon Walker, called it "a come-from-behind 61–60 nailbiter." Walker had one word for Brown's performance:
"incredible." In his coverage of the game, he wrote: "In 10 years … it's the best game I've ever seen. Unbelievable."
"I don't like to lose," Brown says quietly, shifting in her chair in the conference room next to the principal's office at Choctawhatchee High School. For nearly the entire 2012-13 season, the only thing this senior was in danger of losing was her nickname. Thanks to leadership training, solid coaching/parenting (both of her parents coach at her school) and Brown's natural athletic talent, this undefeated high school girl's team made it to the state championships, and Brown was named Northwest Florida Daily News New Player of the Year for the second season in a row. She was also named a 2013 McDonald's All-American finalist, a prestigious honor reserved for a select few players across the country.
The basketball court isn't the only place where Brown's talent and charisma reign supreme. She is active in a student leadership club called LINKS, runs track and was crowned Homecoming Queen.
"She's a student that fits in with every group," says Choctaw Principal Cindy Gates. The senior is held in such high regard with her peers that one of the finalists, who was also Miss CHS, gave Brown her vote — and a "big, poofy white gown" she insisted Brown wear to the celebration. "I think a lot of kids voted for me just to see me in a dress!" Brown now says, laughing.
That wasn't the last time Brown was in the spotlight or filled up a gym. In November, friends, family, fellow students — and even local media — came to watch her "sign" with Florida State University in an emotional ceremony filled with cards, gifts, balloons, flowers and a big cake. "It was emotional. I was crying. People in the stands were crying. It was really good," she remembers.
Yearbook stats: LINKS (leadership club), track, Homecoming Court — Queen
Life philosophy: Try not to worry about what other people think, and be what you want to be.
Who's your favorite athlete? Lebron James has the same situation I have. He was worried about impressing everyone when he was getting hype. When he stopped worrying about it, he ended up winning the championship, and that's what I hope for.
Fitness tip: Work out like it's your last every time.
Before every game I always … pray.
Words of wisdom I wish I had learned sooner: Manage your time wisely.
---
Alex Wagner: A Sense of Service
Collegiate High School at Northwest Florida State College, Senior, 3.82 GPA
What do George Washington, John F. Kennedy and Alex Wagner have in common? They all have demonstrated an extraordinary sense of service. But Wagner is one up on the two political figures he most admires — they probably didn't crush a game of Ultimate Frisbee in between college classes as a high school senior.
Wagner is reminiscent of Richie Cunningham from "Happy Days." He's clean-cut, polite, well spoken with an easy smile. Immediately you know he's an earnest good guy. This is his senior year at the Collegiate High School at Northwest Florida State College, a public charter school that consistently ranks among the top high schools in Florida. It enables 10th, 11th and 12th grade students to simultaneously earn both a standard high school diploma and a two-year college degree or transferable college credits.
Photo by Scott Holstein
We salute Alex for his sense of duty, which will take him far beyond the halls of the Collegiate High School at Northwest Florida State College.
The Niceville teen says he's "not one for titles," which is good, because as a vice commander of JROTC (Junior Reserve Officers' Training Corps), president of student government and member of the varsity tennis team, there are nearly too many to list here. And that is just what this business major does that is related to school. After the bell rings, his community service begins, and that list is just as long and just as impressive. In fact, since he started high school he has logged 950 volunteer hours stocking inventory at local hospitals, coaching tennis and playing bass guitar in the church youth band.
"I'm really grateful for the opportunity to challenge myself in such a unique way," Wagner says of his volunteer roles. "You can change someone's life with an organization. I think that concept is aligned with changing your stars."
Having the courage to welcome change is a theme throughout Wagner's high school career that clearly defines him. "I don't consider myself a stellar student. I just decided to take opportunities that were given to me and run with them. I think everyone has that option. The difference is what you do with it," he says.
Wagner unselfishly credits his school, the faculty, his parents and his church for his success. But his deep sense of duty is undeniable. The business major says he would like to manage a hospital one day, but his first goal is to go into the U.S. Air Force.
"I've always felt a calling to serve and do something more than myself. I think it's a testament to who you are as a person to give everything to a nation. There is something about serving … about doing something greater than yourself that I'm really attracted to," he says.
Yearbook stats:  JROTC, Student Government Association (SGA), tennis, track, racquetball, Ultimate Frisbee, bass guitar, drums
Favorite political figure: This is easy. George Washington. He was the whole package. I think I should model myself after him, because he really wanted to find the truth. He was all about service and giving back. And he was so humble. He was young, and he challenged himself constantly.
Study tip: Read ahead and cover the material before you come to class.
Biggest blunder:
Forgetting to show up at a meeting I scheduled.
Three things you would have on a deserted island: The Rosary, a water purifier and a Frisbee named something other than Wilson.
Your yearbook will list you as Most Likely To … fall for a prank!
Fav quote: "Ask not what your country can do for you; ask what you can do for your country." — John F. Kennedy