35 Years and Counting
Seaside Celebrates 'Milestone' Birthday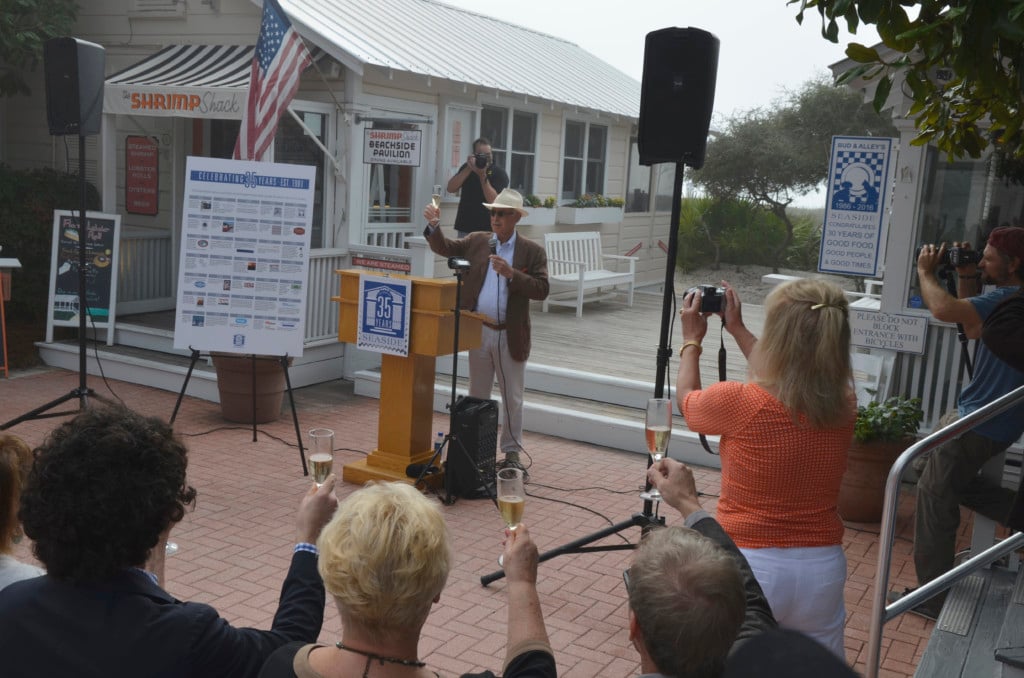 Matt Algarin
Seaside Co-Founder Robert Davis raises a glass to celebrate the town's 35th birthday during a celebration Jan. 18.
It may have been foggy, but that didn't dampen the spirits of the hundred-or-so people that gathered at Cinderella Circle Jan. 18 to help celebrate Seaside's 35th birthday, complete with cake, cupcakes, some bubbly and plenty of memories from the town's founder's, Robert and Daryl Davis, and friends.
"It's fitting that this is a foggy morning, because in 1981, the economic horizons were pretty foggy," Robert says. "The fog hadn't lifted and we were in a national real estate recession. It was a very interesting time to be developing this new approach for real estate and town development."
Robert inherited the 80-acres that would become Seaside from his grandfather, who purchased the "worthless sand" in 1946 when Davis was three years old. The goal for Davis, he said, was to develop a community that mirrored early settlements and communities that were developed in the earliest of times. His new urbanism movement has garnered attention from Seaside to communities across the globe.
Davis' dreams for Seaside came to fruition in 1981.
Now, 35 years later Seaside adds "to the qualities of our lives."
"It's very clear that Seaside has been an inspiration to so many people and has touched so many lives," Bud and Alley's Owner Dave Rauschkolb, who opened his Seaside eatery at the age of 24. "It shows that planning and design has value, and lasting value."