3 Reasons Why Wisconsin Should Be Your Next Getaway
A Trio of Tourist Destinations Offer Summertime Fun for Everyone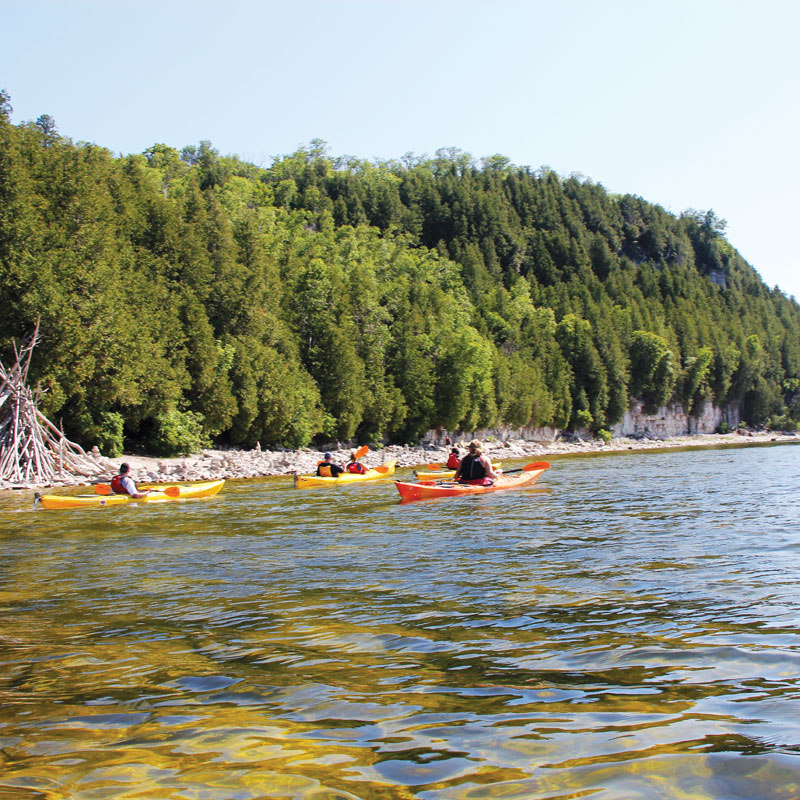 Jon Jarosh/Door County Visitor Bureau
Imagine a summer vacation spent outdoors: hiking, kayaking, biking, exploring. Now, pair that with live music enjoyed on the patio while you eat, a plethora of art galleries and museums, and, of course, time spent on the water. Lastly, imagine it without Florida's summer heat. What you're picturing in your mind is a summer spent in Wisconsin. Three Wisconsin destinations in particular — Door County, The Dells and Elkhart Lake — make for excellent trips no matter what the size or age range of your group. 
Door County
Centuries ago, Native Americans inhabited the area now known as Door County. Surviving on the area's vast wild and marine life, Native Americans watched as French, British and finally American explorers all claimed the land. Still, much of the Native American history is evident throughout Door County.
Located on a Northeastern Wisconsin peninsula that pokes into Lake Michigan, Door County is comprised of many unique small towns and has 300 miles of shoreline, about 20 percent of the lake's 1,600 miles of shoreline. The hazardous strait connecting Lake Michigan and the town of Green Bay, previously known to the French as "Porte des Morts Passage," or simply "Death's Door," was infamous for causing explorer shipwrecks. 
From scenic, serene refuges, to bustling festivals and galleries, each town has its own quirks and personalities. Yet the word "community" comes to mind when describing Door County. To get a feel for the heritage and history, plan to attend an authentic fish boil at Rowley's Bay Restaurant. A local tradition, this meal features whitefish caught that day on Lake Michigan, close to where you're enjoying it, as well as an entertaining storytelling of how the fish boil has been enjoyed through the generations.   
When you are finished at Rowley's and decide it's time to explore Door County's natural side, there are many options.
During the day, Rowley's Bay offers exciting activities such as ziplining, stand-up paddleboarding and even Segwaying. The Segway trips feature a scenic adventure through the woods and then ends up on the beach. But not to worry — the Segways are made to handle off-roading.
Boasting five state parks and 19 county parks, as well as beaches, bluffs and forests, the beauty of natural Door County is everywhere. If you're looking to explore the outdoors, Peninsula State Park is for you. With more than 3,500 acres, the park offers more than 20 miles of hiking and biking trails as well as a golf course, picnic spots and camping areas. Nicolet Bay is located within the park and offers kayak and canoe rentals, as well as a swimming area and a summer snack bar. If you choose to kayak, consider venturing out to Horseshoe Island. A short paddle away, this uninhabited (although people once lived there) island has a short path around the perimeter, as well as scenic views and an intriguing history. 
If you would like to stay outside or on the water, head to Sister Bay. Sister Bay Marina offers boat rentals and chartered sailing tours, among other amenities. As you sit and relax on your guided tour, you experience Door County from the water and will be awed by the passing limestone bluffs, caves and even part of the beautiful Niagara Escarpment. 
The town of Sister Bay provides ample opportunities to enjoy yourself off the water as well. The largest of the Door County communities, Sister Bay features shops, galleries and a variety of places to eat. Be sure to spend some time checking out all it has to offer.
Also unique to Door County is the prominence of lighthouses. A necessity during the 19th and 20th centuries to help sailors navigate the rocky coastline, Door County's 11 lighthouses are still regal landmarks, and many are open to the public. The most accessible lighthouses include the Cana Island Lighthouse, Canal Station Lighthouse and Bailey's Harbor Range Light. Door County offers lighthouse tours as well as maps providing information on each lighthouse. 
The Wisconsin Dells 
Wisconsin Dells Visitor & Convention Bureau
Waterparks (above) are everywhere in the Wisconsin Dells. And when you're waterlogged, go to Downtown Dells, where the fun includes sweet treats like the Swiss Maid Fudge Shop (below).
About three-and-a-half hours away from Door County in the south-central part of the state, Wisconsin Dells offers an entirely different atmosphere. Still boasting miles of shoreline and unparalleled beauty, it is a treat for both the kids and parents.  
Known as the "water park capital of the world," it will be easy to see how the Dells got this name once you start exploring. Many hotels offer indoor and outdoor water parks, and of those which have neither, many offer an admission pass to another hotel's parks in their rate.
One hotel worth a look is Chula Vista. Located just a few miles outside of downtown Dells, Chula Vista offers an indoor water park featuring a lazy river, multiple slides and kiddie area, as well as an outdoor water park with a beach area, cabana rentals, water slides and multiple pools on site. And when you need a break from the water, Chula Vista has many other amenities as well. Enjoy the 18-hole golf course, fitness facility or spa, which includes a nail salon and outdoor hot spring. On its second floor, Chula Vista also offers Kaminski's Chop House. It will be no secret as to why its slogan is "size matters," after you order any of the colossal sides or delicious, hefty entrees Kaminski's features on its menu. 
While in the Dells, you should try to spend as much time exploring the beautiful outdoors as you can. Wisconsin Dells Boat Tours offers a variety of tours throughout the day, meaning there is one every member of your party will enjoy. It even offers beautiful sunset cruises catered by local restaurants, during which you are offered the chance to get off and explore the natural beauty of the cliffs that brought everyone to the Dells. For a more adrenaline-pumping boat tour, try the Jet Boat Adventure. A high-speed ride, you will definitely get wet — but it's worth it. Another thrilling water option is WaveRunner rentals at Holiday Shores Watersports. Explore the Wisconsin River at your own pace on a personal watercraft while riding next to breathtaking views of the approximately 515-million-year-old rocks that form the Dells.
For a slower-paced, more relaxing water trip, try kayaking in the beautiful, serene Mirror Lake. Located within Mirror Lake State Park, enjoy views of 50-foot sandstone cliffs, a swimming beach and a variety of wildlife as you paddle. This no-wake lake may even be a great place to give stand-up paddleboarding, or SUP, a try.    
When you're done on the water, be sure to head to downtown Dells. While there, visit the late, great H.H. Bennett's photography studio. Bennett, famous for capturing the beautiful images of the Dells, is also credited with much photographic advancement such as the stop-action shutter. His studio features the actual equipment he used as well as personal items and photographs. Many rooms have been left as they were in the mid-to-late 1800s, including ink stains on the wood floors and his actual portrait backdrops. While you're there, attempt to "jump across" the cliffs to see if you would be able to make the famous Dell's leap from Bennett's photographs. 
After Bennett's studio, cross the street and watch the creation of fudge at Swiss Maid Fudge Shop. In addition to classic fudge flavors, the store carries many creative seasonal flavors as well. Don't go in with an empty stomach, or you may not be able to leave! If you're still in the mood for sweets and snacks, head across the street to Oodlesmack popcorn factory next. Oodlesmack offers more than 40 types of gourmet popcorn flavors from plain to habanero lime and everything in between. 
Downtown Dells also boasts many unique boutiques, restaurants and local bars and pubs with a wide variety of beers on tap. Showboat Saloon, sitting right on the main drag, pairs a great choice of craft beers with a fun and inviting atmosphere. 
Elkhart Lake
In between Wisconsin Dells and Door County, Elkhart Lake is a town bursting with history and charm. For 50 years, this Wisconsin retreat has been a premier vacation destination for families in Middle America to explore the relaxing and adrenaline-pumping activities that make the place famous. 
The history of Elkhart Lake can be traced to Native American tribes, but the town became known for its road races in the early 1950s. Like New York's Watkins Glen races, the early road races took place on public roads. Imagine cars barreling through the Main Street, separated from spectators by only a few bales of hay. This was reality for the wealthy visitors in the town's heyday. 
Families still come from Chicago and Minneapolis to occupy their quaint summer homes along the lakeshore, but with top-quality accommodations the town is more than welcoming to tourists from across the country.  
The Osthoff Resort is adjacent to the beautiful, green lake. After parking your car, you are within walking or biking distance of almost everything. To explore the town, you can simply rent a bike. The town is relatively small, and biking is a good way to see the family-owned restaurants and picturesque inns and explore tree-lined streets. 
During Prohibition, gangsters from Chicago relaxed in Lake Elkhart with their families. Because Elkhart is a family-friendly vacation spot, there was an unspoken rule that hostilities ceased at Elkhart Lake. Although the main building was completely reconstructed a decade ago, the secret rooms for clandestine casinos and speakeasies were preserved. You feel the history of the place as you enjoy the modern amenities like the spa, the five-star restaurants and Osthoff's Cooking School.
Elkhart blends its colorful history with its bright and busy future. The Historic Race Circuit is still marked with quirky signs to denote the bends and bumps in the road. You can just picture the cars zipping through the streets and the thousands of people cheering them. 
The town is conscientious about preserving its local history, but contemporary attractions, like Road America, capture the spirit of the old races. This legendary course draws tourists from around the world, as well as movie producers. You may see the track as the backdrop in Hollywood films and TV shows.
During a recent visit, motorcycles whipped around the track at 150-plus miles per hour. The track hosts NASCAR, Formula 1 and vintage car races. Check its website for upcoming events. Road America also has a mini-track, where you are able to race high-speed go-karts. While it's not an F1 racer, the kart does give you a feel for actually competing on a real track.  
After passing people on the go-karts, a visit to the tranquil lake is in order. A five-mile walking path encompasses the lake, perfect for a relaxing stroll. Consider travelling in the shoulder seasons, the months of May and June, and September and October. Not only will you avoid some of the hottest and coldest weather, you'll also miss the big crowds.