2015 Year in Review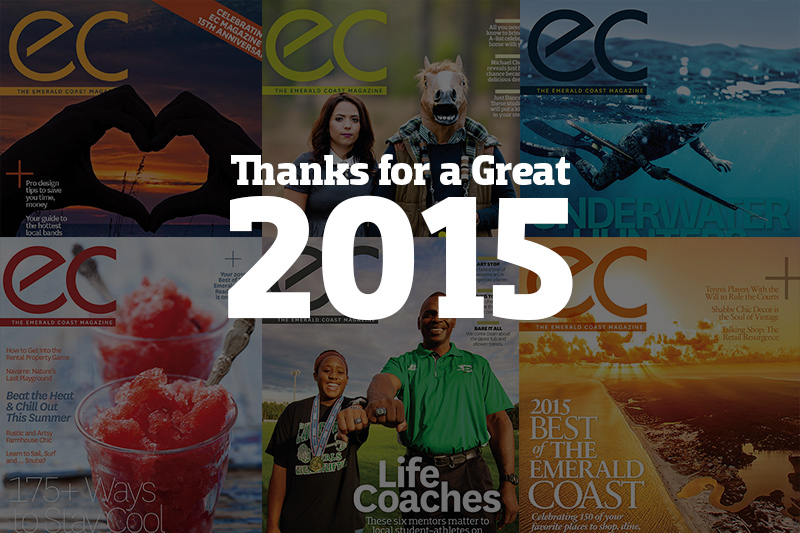 It's amazing how each year our love for the sugar sand beaches and emerald waves of the EC seems to deepen. Of course that sentiment holds true for 2015.
This year we brought forth the hottest trends, spotlighted local heroes, explored what EC residents love most about their community, and anticipated the exciting times to come in 2016.
In the December/January issue we took to the streets and the sands to find out what EC residents love most about where they live. From smooth jazz to rock'n'roll we introduced readers to musical acts from across the region. On a serious note, we examined what is being done to aide the homeless population along the coast.
Love was in the air for our February/March issue. We talked with creative couples who combine their artistic passions at home and in business. Local bed and breakfasts were featured as romantic spots for a weekend getaway. And if you fancy an active date night, our story on dance classes and studios was just right for you!
We dove into the April/May issue with a story on the thrill and adventure of underwater hunting. Fresh and local farm goods were the focus in our story on famer's markets. This issue also included the addition of our Northwest Florida Weddings and Honeymoon Destinations magazine, which emphasized many of the EC's most swoon-worthy spots.
We beat the heat with the June/July edition. America's symbol of summer, watermelon presented limitless options for a snack on a sweltering day. After a quick bite, we hit the waves for lessons on sailing and surfing.
August and September ushered in the start of the school year and conversations with local high school coaches who are impacting the lives of students both on and off the field. Of course art museums are always a good idea, but we learned that art is often in unexpected places – even the very streets we travel every day.
The moment we had all been waiting for occurred when the Best of the EC winners were announced in the October/November issue. Local storeowners discussed the booming retail resurgence occurring at shopping venues all along the coast, and tips were given on how to create a shabby chic vibe in your own home.
For the success and happiness that 2015 has brought we must thank you, our dedicated readers. We can't wait to see what the year 2016 has in store for us!
Emerald Coast Magazine Events