20 Ways to Help Hurricane Michael Relief Efforts
Here's what steps you can take right now to support those affected on the coast and beyond.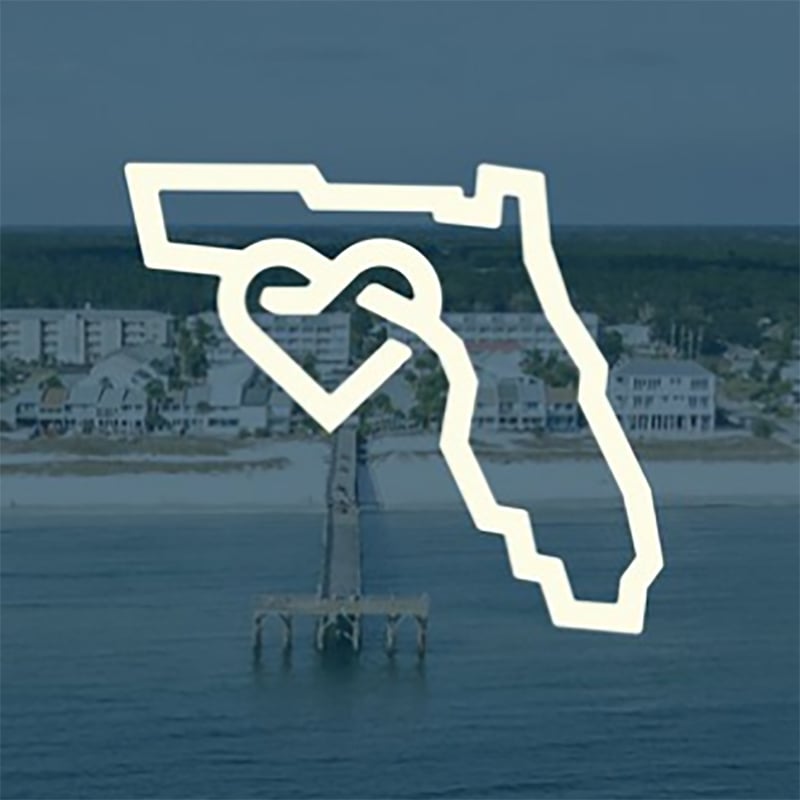 Hurricane Michael reminded us of our greatest strength as a coastal community: We care about each other.
Stories from throughout our communities illustrate the ways in which residents have helped and supported each other in the wake of this devastating storm.
As our region continues to recover, we invite you to consider this space on our website as a resource on how you can give time, money, shelter, food, water or other contributions.
Give Back Locally
Best of the Emerald Coast: This year's Best of the Emerald Coast will focus on providing our beloved community with a brief respite as we continue to rebuild. We are asking guests to bring donations and proceeds will go towards helping the Junior League of the Emerald Coast to assist in disaster relief for children in need. Find out more information here.
The Boys & Girls Club of the Emerald Coast: They will be taking donations of school supplies, snacks, water, non-perishable foods and athletic supplies. The donation drop-off site is at the South Walton Boys & Girls Club located at 427 Greenway Trail in Santa Rosa Beach. For more information, visit them online.
Fort Walton Beach Library: They are partnering with Coastal Community Cleanup to collect donations for Hurricane Michael relief in Bay County. Donations of toiletries, diapers, new underwear and socks, first aid items, cleaning supplies, pillows, blankets, box fans, dust masks and utility gloves are being accepted at the front desk. Fort Walton Beach Library is located at 185 Miracle Strip Parkway S.E. in Fort Walton Beach. For more information, visit them online or call (850) 833-9590.
SpringHill Suites Navarre Beach: They will be collecting items 24 hours per day, including cleaning supplies, baby necessities, hygiene kits, non-perishable food items, pet supplies and bottled water. SpringHill Suites Navarre Beach is located at 8375 Gulf Blvd. Navarre. The donations can be taken to the first floor lobby front desk. For more information, visit them online.
Sunshine Yoga Destin: Sunshine Yoga Studio in Destin is collecting donations to meet the needs of the Gulf Coast Children's Advocacy Center. The needs include paper plates and plastic utensils, baby wipes, water, peanut butter, bread, non-perishable food items, lighters and other items. Sunshine Yoga Studio is located at 211 Main St. in Destin and will have a bin by the yoga sign on the street. For more information, visit them online.
YOLO Miramar Beach: Located in Miramar Beach, they are accepting supply donations for Hurricane Michael relief at their store at 11610 U.S. Highway 98 West in Miramar Beach. For more information, visit them online or call (850) 424-6852.
Campus Café: The location within the Fort Walton Beach campus of Northwest Florida State College is taking donations of canned goods, water, toiletries, clothing and shoes. Visit them at 1170 Martin Luther King Jr. Blvd. in Fort Walton Beach, Monday-Thursday from 8 a.m.-6 p.m. For more information, you can visit them online.
Hays Companies: Bring donations of water, canned goods, school supplies, baby supplies and dog and cat food to Hays Companies at 4399 East Commons Drive, Suite 200B in Destin. Donations are accepted Monday-Friday from 8 a.m. to 5 p.m.
Destin Fire Station: They are now accepting donations and have provided a detailed description online of their needs. From hygiene kits and school supplies to food and cleaning supplies, all items can be dropped off at the main fire station at 848 Airport Road in Destin from 8 a.m.-6 p.m. For more information, visit them online.
Grayton Beer Company: They are serving as a regional staging and distribution center for hurricane supplies. They have already received deliveries from Walmart headquarters in Arkansas and expect more shipments. The Walton County Sheriff's office is coordinating supply distribution in cooperation with sheriff's offices in Bay, Gulf, and Franklin counties to ensure supplies quickly get where they are needed. Walton County Sheriff Mike Adkinson says, "Help is going to be needed, not just for the next several days, but for weeks and weeks. We want everyone to know we will be there until the end."
Food for Thought: They will be collecting the following items to assist those affected by #HurricaneMichael: diapers, pull-ups, wipes, underwear for children all sizes, formula (premixed would be easiest), bottles and pacifiers. They are working directly with emergency responders to ensure the supplies get into the hands of those in need.
Destin Commons: They will be housing a drop-off location with a semi-truck parked in between Bass Pro Shops and World of Beer that will be collecting all donations from 7 a.m.-midnight, every day between now and Saturday, Oct. 27. Those who are unable to make it to Destin Commons may drop off their donations at Brotula's, Century 21 Blue Marlin Pelican's Destin location, Cuvée Kitchen or Jackacuda's to be delivered to the main drop-off site at Destin Commons. All donations are welcome and appreciated.
We Are The Workmans: They have partnered with Jesse Taylor Creative to design a shirt that gives back. All proceeds from the shirt sales will go to Mexico Beach- and Port St. Joe-based nonprofits, directed to their Hurricane Michael relief funds.
Panhandle Pasta Project: The effort helps provide a warm meal to those who were unable to evacuate or obtain resources post-hurricane. You can donate to the local cause here. 
Area Agency on Aging for North Florida: They are collecting donations to bring to seniors in affected communities. Donations can be dropped off at their office: 2414 Mahan Drive in Tallahassee. You can find more information on the specific needs of seniors here.
Airbnb: Hosts in the hurricane-affected region have signed up to house those in need, including relief workers in the area. Available homes are marked on a map and are free to relief workers and those displaced by the storm from Oct. 8-29. Want to help host hurricane evacuees? Sign up here.
Feeding the Gulf Coast: The organization is looking for volunteers to help make sure families in affected areas have enough food. It is working with organizations, including Feeding America and Voluntary Organizations Active in Disaster (VOAD), to distribute food in areas affected by Hurricane Michael. Volunteer or make a donation here.
Contribute on a Bigger Scale
Facebook: Facebook is matching $1 million in donations made to Save the Children, which is responding to the needs of children and families in affected areas. All donations made on the crisis page or through the Donate Button on the top of News Feed are eligible.
GoFundMe: GoFundMe has put together a list of verified campaigns. They have also set up a general relief fund to directly help those affected by Hurricane Michael.
Global Giving: The website has established a Hurricane Michael Relief Fund to support local emergency medical workers, providing food, fuel, clean water, hygiene products and shelter to the affected communities.
DonorsChoose.org: This charity has created a recovery fund to directly support teachers in classrooms damaged by Hurricane Michael. Contributions will help teachers support their students and restock classrooms with materials such as books, furniture, classroom supplies and technology.
Volunteer Florida: The State of Florida's official private fund supports communities as they respond to and recover from emergencies. Donate to the Florida Disaster Fund here to share funds that will help in disaster-related response and recovery.
American Red Cross: You can make donations for victims of Hurricane Michael by visiting the Red Cross website or texting the word MICHEAL to 90999 to make a $10 donation.
Americares: Working with partners in the area, Americares is deploying an emergency team to provide immediate healthcare support. Donations are accepted online.
Habitat for Humanity: The organization that partners with future homeowners to build affordable housing said on its website that it is accepting donations that will be used to respond to families affected by Hurricane Michael "until Habitat for Humanity's role in meeting the need is met." Donations can be made online here.
One Blood: This nonprofit, which serves Florida and most of the Southeast, is encouraging people to donate blood to help in disaster response. Details here.