You Might Call Her a Closet Advisor
Angie Roberts refreshes wardrobes and builds confidence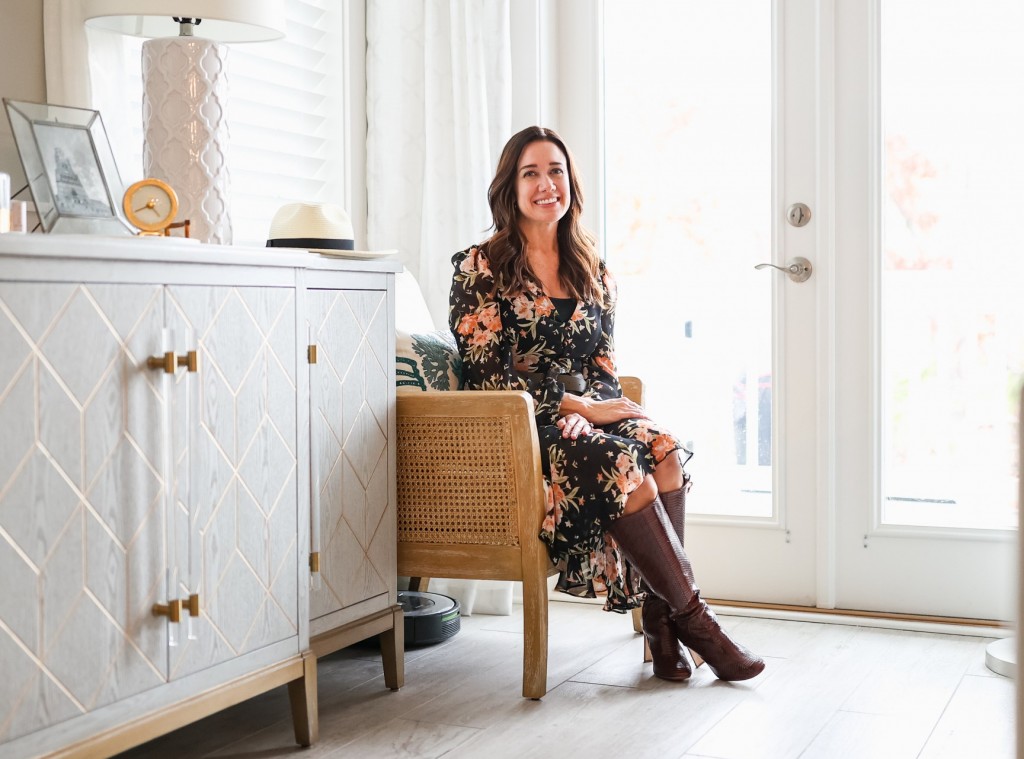 The late Bill Cunningham, a style chronicler and photo columnist for the New York Times, famously deemed fashion "the armor to survive the reality of everyday life."
You likely possess at least one item of clothing that makes you feel bulletproof: a figure-flattering dress that tempts and turns heads, or a pair of stilettos that elevate your confidence as much as your stride. But, imagine if every piece of your wardrobe inspired such self-assurance …
A girl could conquer the world.
For Angie Roberts, a personal stylist in Santa Rosa Beach, that is precisely the goal. Through her business, Amazing Grey, Roberts has helped inspire dozens of professional women and aspiring entrepreneurs to chase their dreams with the power of dress.
"Amazing Grey started seven years ago in Tallahassee, where I was working in an administrative role and in desperate need of a creative outlet," Roberts said. "I got a practical degree like I was always told to, but I wanted to be able to help people. Some may argue that fashion is self-serving, but it's so much more than matching skirts with blouses. Helping people find their personal style so they can walk out the door with their shoulders back — and with far more confidence than insecurity — is invaluable."
Roberts said she caters her services to women in the business world because she knows well the nuances of professional dress and life. Women may enlist her for closet "edits" and facelifts, or sign up for the full "Sort, Shop and Style" experience.
"Everything starts in the closet, where no one wants to be because it's dark, dirty and where we have our mental breakdowns," Roberts laughed. "But, it's important to roll up your sleeves and really get in there to see what you're working with. You can't shop without first knowing what's there."
TLC's What Not to Wear fans will be familiar with this process, but versus a televised exposure of all your fashion crimes and hoarder tendencies, Roberts offers an intimate, nonjudgmental and cooperative approach. This is where she gets to know someone's inhibitions, lifestyle and fashion sense, and helps identify which pieces work and those that don't.
Roberts said many clients are surprised at their own style evolutions, especially post-quarantine. Embracing society's newfound love for simplicity, she is a huge believer in establishing key, foundational pieces that can be transformed with accessories. A white, chiffon blouse can be given new life with a colorful blazer and handbag one day, and a leather belt and statement jewelry the next.
Upon ascertaining the client's tastes, Roberts collaborates with them on a "vision board" to inspire and inform shopping.
"I don't classify style by saying, 'Oh, she's a romantic,' or 'She's a classic,' because style is fluid, and you can like girly dresses and studded leather jackets, too," Roberts said. "Some people are afraid to step outside of the box because they don't trust their own judgment, and sometimes, they may just need someone to tell them what looks good and what doesn't."
Roberts speaks from experience. Her own wardrobe underwent transformation after she moved from Atlanta to Watersound last year. She considers her style to be a lot more casual now, citing her love for Veja sneakers and a good pair of jeans. Locally, she loves shopping at Indigo Watercolor and BECASA, and loves "mixing the feminine with the masculine," a la New York socialite Olivia Palermo.
For her clients at Amazing Grey, Roberts said she "sources REVOLVE and Nordstrom like it's my job." For activewear, Roberts tends to recommend the Vuori brand, while the FRAME Denim, PAIGE and Free People labels lend themselves to both professional and leisure modes.
After Roberts completes the shopping, she informs her clients why she selected certain pieces and teaches them how to incorporate them into their wardrobes. Roberts will then style outfits and upload photos of them to a virtual closet program for her customer's future reference.
To expand her outreach, Roberts performs style workshops and presentations for organizations and community groups. At this writing, she has just addressed the Capital Women's Network, a nonprofit devoted to helping women advance their careers in Tallahassee, about the importance of building a stylish wardrobe with confidence. When you're not worried about yourself and what others might think of you, she said, you'd be surprised what all can be accomplished.
"Many of my clients come to me in times of change," Roberts said. "They could be recently divorced, are now empty nesters or maybe they just moved and got a new job. It can be overwhelming when you walk into your closet and feel stuck.
"It's challenging, and we get into some deep stuff during the closet editing process, but having the opportunity to be the one by their side is a big deal and not something I take for granted."
On Getting Unstuck
"You are stuck because you are busy," personal stylist Angie Roberts says of women today. "You are overwhelmed by your to-do list, and at the very bottom of your list might be shopping. So, you reach for one of the same five outfits you always wear because you at least know it works. You are stuck, and you feel incapable and unequipped to shop for your body and your lifestyle." Roberts helps women overcome such inertia by offering services including wardrobe styling, closet facelifts and one-on-one styling assistance.