Women at Work: Renee Launiere of Bijoux De Mer
Bringing you the "jewels of the sea"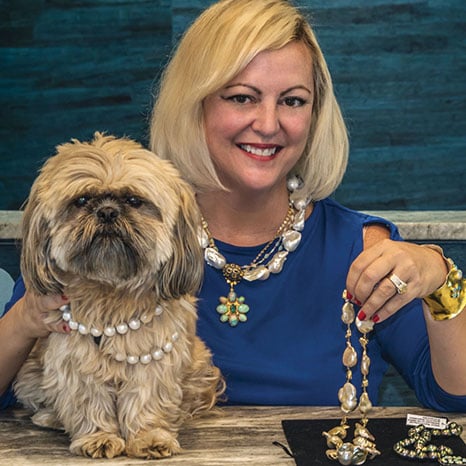 Business owner, leader, activist, influencer, caregiver, role model, community member, wife, creator, teacher, mother, doctor, CEO, president, entrepreneur — these titles, and more, are all proudly held by women in 2018. It's difficult to fathom a reality in which women didn't occupy these positions or a combination thereof. In 1987, March was deemed Women's History Month as a way to commemorate and encourage the study, observance and celebration of the vital role of women in American history.
To honor the contributions women have made, this special section recognizes female leaders and professionals within our region whose accomplishments are far-reaching and impressive. These are the women that, through determination, dedication, passion, altruism, creativity and strength, have molded our community into a better place and one that will last for decades to come. History began with those who came before them, but progress shall continue and persist because of them.
Renee Launiere of Bijoux De Mer Fine Jewelry
The luminous sheen of a pearl or the iridescent glow of a gemstone are beautiful enough, but a creatively crafted piece of jewelry is truly exceptional. Renee Launiere, owner and designer of Bijoux De Mer, knows elegant, custom jewelry has transformative powers.
Looking at Launiere's exquisite and expertly composed pieces, you would think she had studied the art of jewelry making her entire life. While she always had a creative side and an entrepreneurial spirit, she found herself pursuing a business degree, working in sales marketing with a pharmaceutical company and climbing the corporate ladder.
After 15 years, she became frustrated with the bureaucracy of working for a big company and sought to tap into her repressed creativity. She began taking jewelry fabrication and design classes as a hobby, which quickly turned into a passion and became a business. She left the corporate world behind, invested her savings into her own jewelry line and never looked back.
In 2006, Launiere launched Bijoux De Mer Fine Jewelry, which rapidly gained popularity in over 60 premier jewelry stores, on the pages of fashion magazines and in a Michael Kors runway show. Ten years later came her proudest moment — the opening of her flagship gallery.
"I am at my store 90 percent of the time just so I can meet my customers," said Launiere. "When they find out that I am the designer, they are thrilled. This is what truly sets me apart; the ability to not just sell what I have in stock, but to custom create anything their heart desires."
The meaning of Bijoux De Mer is "jewels of the sea," the sea being a significant influence of her work. Launiere selects only the finest materials — sumptuous pearls, rare gemstones and precious metals resulting in pieces that are bold, elegant and always unique.
"For me, doing what I love is the most amazing feeling," said Launiere. "It's an unbelievable high as an artist to meet people who love and want to collect my jewelry."
Bijoux de Mer Fine Jewelry City Market Bayside, 4495 Furling Lane, suite 170, Destin
(850) 830-5465  |  bijouxdemer.com