Will Thompson Has Finally Found His Own Voice
He's allowing other voices to shine too at a new songwriter's festival in Panama City.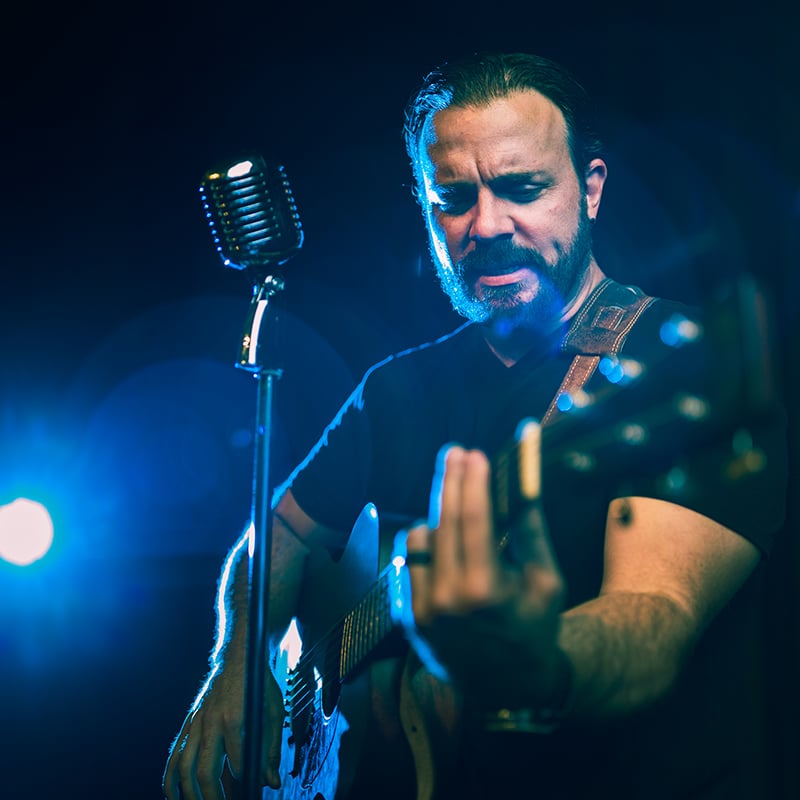 For 40 years, Will Thompson's life has been a non-stop musical.
Born to two Panama City school music teachers, Thompson found a house full of brass and woodwinds to be nothing out of the ordinary.
He wouldn't blink twice at either the choir practicing harmonies in the living room, or the cacophony of strings tuning in the kitchen.
As a fifth-generation musician, Thompson can trace his lineage back through a series of band directors to a relative who played in a Civil War-era ensemble.
Piano lessons started at age 5. The trumpet, which Thompson began playing in middle school, would earn him a scholarship to Stetson University in DeLand, Florida, but not before he picked up his first guitar in high school.
It was then that Thompson began to write songs for his band.
"My friends and I wanted to be the next Boyz II Men," laughed Thompson. "Of course, we were just a bunch of nerdy white guys in high school. But, we started getting serious to the point where we met a producer who was working with Brian McKnight, one of our favorite artists at the time."
A couple of recording contracts were signed and Thompson even had the opportunity to work solo with McKnight. But what appeared to be a dream come true on paper didn't quite sit right.
"It was the wrong environment," Thompson said. "You know, there's this big record company telling you what do to, how to dress and what to say. For me, there wasn't any freedom with that."
Thompson's musical journey was put on pause as he moved from Los Angeles to Alabama, where time spent working on a chicken farm afforded him the opportunity to reflect.
Moving back to Panama City, a place that had always encouraged Thompson to follow his own path, seemed natural.
It didn't take long for Will Thompson to become a household name in the local music scene. When he wasn't recording his own records, Thompson was producing those of others, performing concerts and, of course, writing more music.
As a songwriter, Thompson has always valued authentic platforms that showcase the talent behind a hit single. Most of the time, it's just the performer who enjoys the spotlight.
"There's a lot of people who can sing well, but there's not a lot of people who can write a wonderful song," he said.
He's also quick to point out the disservice done to songwriters because the public feels entitled to free music. Streaming platforms like Spotify and Apple Music, according to Thompson, have been a debilitating blow to songwriters.
"If your song gets streamed 75 million times, maybe you'll get a paycheck for $2,000. If you co-write a song, you're getting less than that. It's like, if you were an artist and I came to your gallery, took a painting from your wall and said, 'Thank you! I deserve that.' It's robbery."
He figures it's time to show songwriters some love.
Thompson, along with his wife, Lindsey, will host Panama City's inaugural Songwriters Festival in November when more than 70 songwriter/performers will converge on downtown Panama City.
Included will be songsmiths known nationally, but Panama City's Songwriters Festival is especially attuned to promoting local and regional talent. ››
"With most songwriter festivals that happen in Nashville or New York, people don't want to know how good your song is, they want to know how popular you are and how many hits you've had so they can sell tickets," Thompson said.
"That's not what this festival is about; it's about discovering talented people who have something to say and giving them a place to say it."
Songwriters apply to play by submitting recordings of a live performance and at least two original songs to Thompson and his festival board.
Thompson has received submissions from performers in Tallahassee and South Florida and a bunch from Mobile, Alabama.
Other songwriters need not travel far. Charlie and Dana Black, residents of Port St. Joe, have written 20 top country music hits. Another Port St. Joe resident, Monty Powell, has written multiple hits for Keith Urban, Billy Ray Cyrus and Chris Cagle.
But, Thompson stressed, his event is not just another country music festival. Concerts will feature everything from Americana and rock to pop and blues, and you don't have to stress about missing any performances.
The concentration of Downtown Panama City venues ensures that all shows are within comfortable walking distance of each other.
Festival-goers are encouraged to make a weekend of it. On Friday night, VIP ticketholders will be treated to a sunset cruise featuring live music, food from Panama City Beach's Firefly restaurant and beverages from Grayton Beer Co.
Proceeds from this year's event will go to the Thompson's nonprofit, the Bay Youth Music Association (BYMA), which is dedicated to extending opportunities to experience music to children from modest-income households.
"The long-term goal is to build a YMCA for musicians, a place you can go after school and practice an instrument you couldn't afford otherwise," Thompson said. "Florida is 48th among the 50 states in funding for music programs."
Half a lifetime ago, Thompson walked away from stardom. Today, he knows his dream lies in helping others realize their own.
Even for you, the face in the crowd.
"Maybe you'll show up to this festival and a song — or the story behind it — will change you," Thompson said. "When you hear, intimately, what's inside of somebody, you can laugh one moment and cry the next. My wish for everybody is that they take something home with them that alters their life in a positive way."
Panama City Songwriters Festival 
Downtown Panama City will become alive with the sounds of music when the Panama City Songwriters Festival is celebrated November 5-6.
A half dozen venues including the Center for the Arts, Downtown Boxing Club, The Press, Millies, Tom's and other performance spaces will host singer/songwriters representing genres including pop, Americana, country and rock 'n' roll.
There are 76 performances slated including appearances by Garrett Brown, Julie Burford, Chris Alvarado and Chris & Gileah Taylor among many others. Proceeds benefit the Bay Youth Music Association.​
View the 2021 lineup schedule at pcsongwriters.com.
Sign up for Festival e-news notifications here.