Whiskey and Brine
Cocktail lends new meaning to 'getting pickled'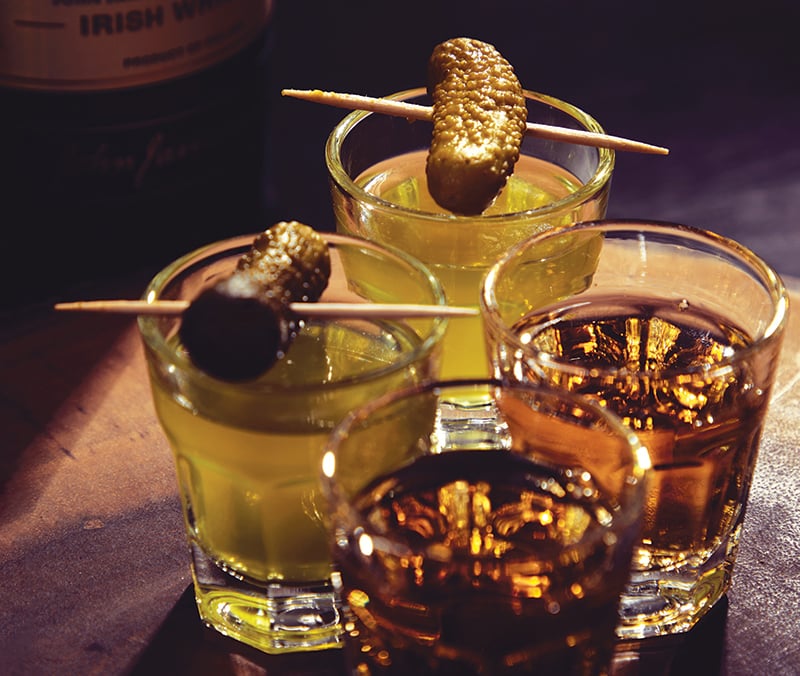 Jonathan Swift, the author of Gulliver's Travels, is credited with coining the phrase, "Everything old is new again."
These days, that adage applies to the double-shot cocktail known as the pickleback, comprising a dose of whiskey followed by one of pickle brine.
"Chasing whiskey with pickle brine really is nothing new; it's long been one of those hair-of-the-dog remedies for hangovers,» writes Colleen Gram at the The Spruce Eats website. "Yet, it wasn't until 2006 that Brooklyn, New York, bartender Reggie Cunningham gave the shot its now famous name. After that, it didn't take long for the drink to become a hit and spread across the U.S. and beyond."
Nate Montgomery is beverage manager at Seville Quarter, which has five bars among its seven rooms in Pensacola.
"Every bar has a special jar of pickle juice that we get from the huge jars of pickles that the kitchen orders," Montgomery said. "The choice of whiskey is up to the customer. But you definitely want to use a harsher whiskey; that's kind of the point of it."
Montgomery finds that people usually opt for an Irish whiskey — Jameson, Tullamore Dew or Bushmills — but some go with Jack Daniels.
"Most of the people who order it are service industry people who are well versed in liquor," Montgomery said. "And when other people see them it's like, 'Oh, what is that?' And they'll try it. It's unique and that's why people order it."
At Calvert's in East Pensacola Heights, owner Kate Calvert said, "We've been getting requests for picklebacks for a few years now. They are mostly with Jameson, but lately we've been getting more requests for picklebacks with different liquors.
"One regular at our bar orders Espolon silver tequila with pickle juice. I find all demographics order them, and the one thing I think they all have in common is that they love pickle juice. I think pickles and pickle juice are becoming trendy, but I couldn't explain why."
McGuire's Irish Pub has been a popular Destin watering hole for decades. Stu Campbell, a bartender there, reports, "We've been getting calls for picklebacks for maybe five years now. There are different reasons people order them. If they don't like the taste of whiskey, but really want to take a straight shot, the acidity of the pickle juice definitely takes the bite away."
Campbell said that some of his customers prefer vodka to whiskey with their pickle juice.
"But the vast majority wants Jameson," Campbell said. "If someone asked me about a pickleback not knowing what they are, I would explain that, as weird as it sounds, the flavors do go well together."
In the past year, liquor stores have begun to carry Original Pickle Shot vodkas in dill, spicy and sweet flavors.
Justin and Brittney Acita, owners of Pickles Pub in Ocean City, Maryland, developed that product. John King runs the company that makes and distributes it.
"The brine we use is our trade secret," King said, "but it uses real ingredients, real color and no added flavor. It's real brine used along with a five-times-distilled Iowa corn vodka."
Original Pickle Shot debuted in Maryland and Delaware in 2020 and is now marketed in 24 states, including Florida.
The product is 30 proof, and King said that there is a reason it does not have higher alcohol content.
"Too much alcohol would crush the taste," King said. "And we already know can't fool pickle people. We learned that when we were serving 10,000 shots a year at Pickles Pub."
---