Where the Crawdads March
Mudbugs make for some fine eating; just be sure not to let them wander off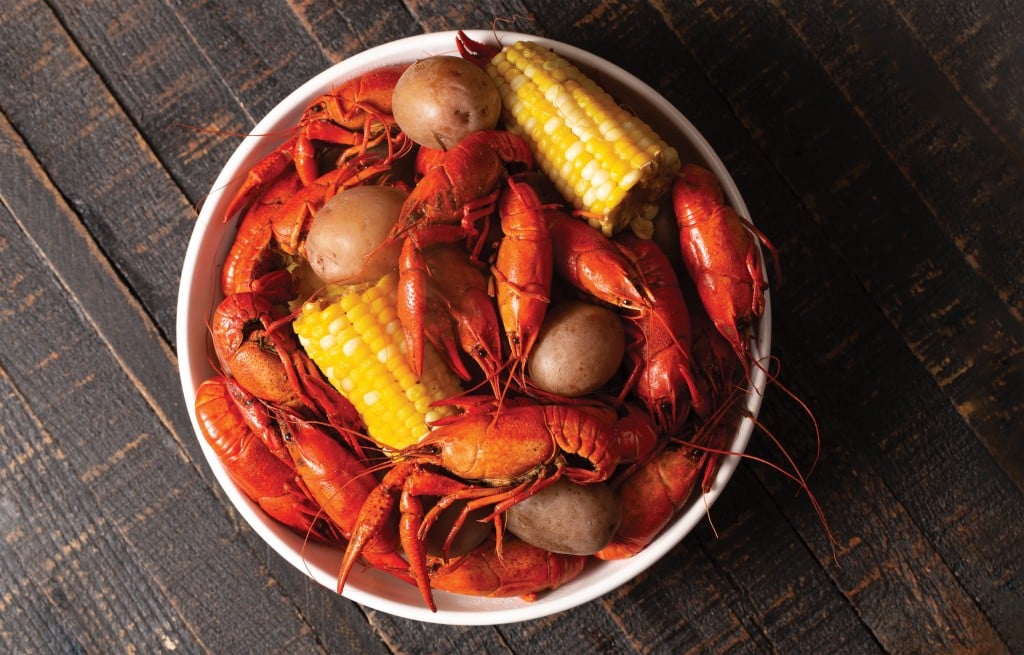 "Give me 5 pounds then," he once relented.
Mac had first asked for just a pound of crawfish but was shamed into the larger order by the veteran orange-haired waterman at the register at Shrimp City in Panama City Beach. His limp, suggesting that some calamity may have befallen him at sea, was more pronounced then his accent. Large man, he was.
"Y'all, I like to have 3 pounds for just me," he had said.
Presently, we were on our way to my house with a bottle of hot sauce, a tin of Old Bay and a black plastic bag of live mudbugs. Once there, we set the bag o' 'dads in the middle of the garage floor and set about finding a pot large enough to handle our purchase.
Funny thing. When we returned to the garage, the durned crawdads were gone. I looked toward the street thinking I might spy a bandit but saw no one.
"I found them," Mac announced, with apparent relief. Somehow, a marching band of mudbugs had proceeded in lockstep to a spot amid garden tools in a corner of the garage.
Mac and I used to practice journalism together at the News Herald in Panama City. He's a professor these days at Western Kentucky University. He'll tell you the crawdad story, but when he does, he leaves out the shaming part and adds his belief that there had to have been a lead crawdad in the bag communicating orders to the rest.
Mind you, the two of us plowed through the five pounds just fine, washing them down with the "Champagne of Bottled Beers" in my case and the "King of Beers" in his. Long time ago, but the memory is clear.
I recall, too, a backyard crawdad boil that Vern, a photographer friend of mine, and his girlfriend, Marcie, hosted. Vern was a short, hot-tempered Italian, but the Nordic Marcie, 6 inches taller than he, didn't let him get away with much.
The hosts filled a newspaper-lined wheelbarrow with crawdads and new potatoes and sweet corn that night as music escaped Vern's inherited old house and the sun dropped unseen into the Gulf of Mexico beyond St. Andrew Bay.
Beer and those freshwater mini-lobsters are inseparable, seems to me. I suppose I would suck the juice out of a crawdad head without a beer in front of me, and it would taste no different. I don't know that for sure, though.
Ain't never tried it.
Baron's Crawfish Boil
Directions
Fill 5-gallon cook-pot with water and add:
3 jars, Baron's BBQ Shrimp Marinade

10 lemons, quartered

8 ounces, Lea & Perrins Worcestershire sauce

Tabasco sauce to taste

Sea salt and cayenne pepper to taste
Bring seasoned water to boil and add:
3 pounds, new potatoes

8 ears of corn, halved
Cover and cook for 10 minutes. Then add:
Blue crab, cleaned

10 pounds, thoroughly rinsed crawfish
Cover and cook for 3 minutes. Turn off heat. After 10 minutes, drain and serve.
Recipe supplied by
Matt Anderson, Baron's BBQ Shrimp Marinade, Callaway