What's In Store?
A roundup of retail happenings throughout the Emerald Coast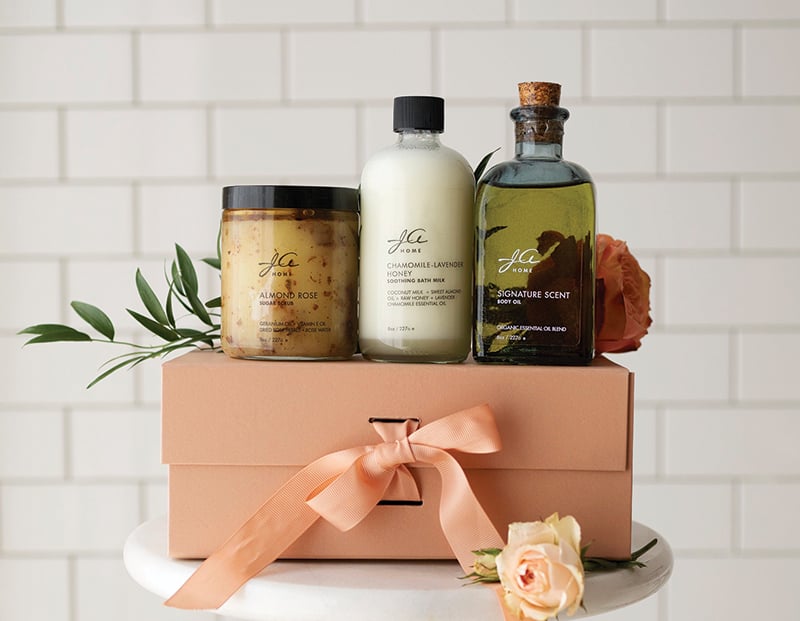 Jennifer Albert, owner and creator of JA Essence Beauty in Santa Rosa Beach, believes a spa experience should be readily available, especially in your own home. Her organic, handcrafted wellness products promote rejuvenation, healing and pampering.
» Slip into a warm bath brimming with the Chamomile Lavender Honey Bath Milk. Raw honey and sweet almond oil combined with a touch of coconut milk make for lusciously moisturized skin. Milk helps to clean and soften the skin while the lavender reduces stress, relieves pain and improves sleep.
» If a shower is more your style, the Sugar Almond Scrub fills your bathroom with the sweetest of scents while revitalizing and nourishing the skin. Rich in vitamins, minerals and proteins, this scrub keeps aging at bay while gently removing dry, dead skin to reveal a lovely glow, reduce inflammation and protect against harmful UV rays.
» Lock in all-day hydration with the JA Home Signature Scent Oil that merges sweet almond oil, avocado oil and jojoba to soothe, heal, reduce signs of aging and even improve skin tone. The signature oil can be customized to suit your skin's needs.
---
Alys Beach Shoppe
» Alys Beach Shoppe is an extension of the Alys Beach brand, offering a variety of logo items in addition to a thoughtfully curated selection of designer apparel, accessories, gifts and exclusive, limited-edition brand collaborations. The Alys Shoppe is the place to find special pieces and unique items for graceful living.
» In collaboration with Alys Beach, CB Grey, a luxury silk brand, has captured the essence of Alys Beach's architecture and design through renderings that translate to silk scarves, sarongs, shawls and accessories. Available exclusively in the Alys Shoppe and through CB Grey, these beautiful works of art encapsulate the Alys Beach experience.
» For summer, Alys Beach Shoppe encourages you to take an Italian vacation, even if it's only via your clothing. BENE Handbags are made of fine Italian leather, custom art-print silk linings and impeccable craftsmanship. Designer Ellie Schwing combines influences from Italy with her New Orleans roots in creating these beautiful handbags and leather products, often collaborating with artists to create the interior linings and traveling to Italian tanners to source the perfect materials.
---
Grand Boulevard Town Center
» In the coming months, Grand Boulevard Town Center will introduce two clothing brands to its tenant roster — Stallworth and Faherty. Stallworth is run by fourth-generation Memphis retailers with a particular love for 30A. The company has a unique business model. In its stores, it offers All Birds, Rothy's and Jo Malone — brands that were previously available only online. Faherty specializes in clothing that emphasizes a cool, coastal lifestyle with breezy button downs, pastel sundresses, relaxed knits and cozy plaids. With a mission of offering only environmentally friendly and sustainable clothing, the store offers organic cotton, ethically sourced cashmere and recycled polyester, linen and hemp.
---