What's In Store?
A roundup of retail happenings throughout the Emerald Coast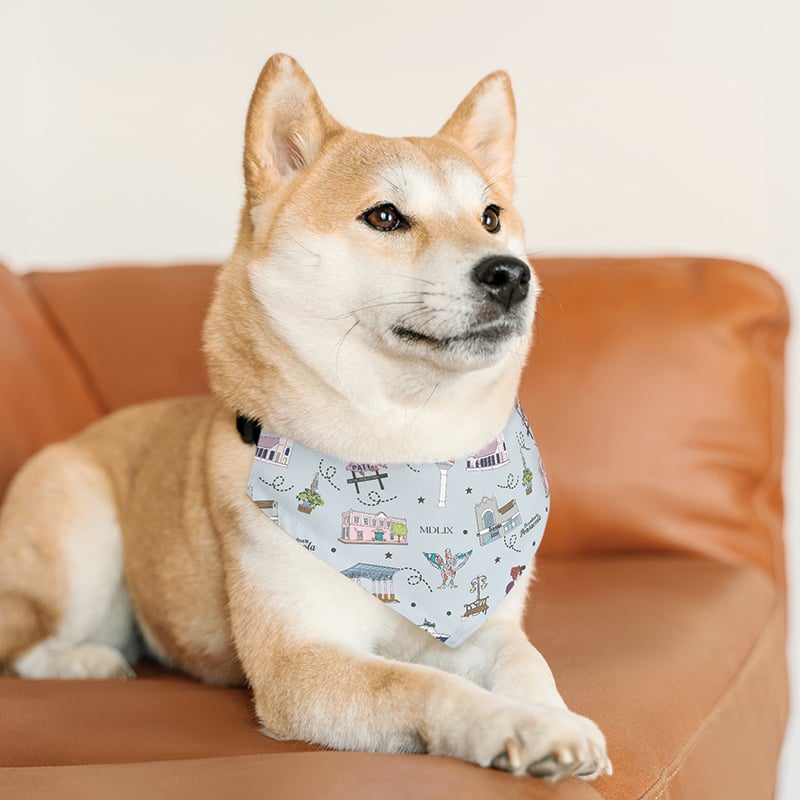 They say that pets resemble their people. Pawspace, a Pensacola-based fashion business, leans into that idea with clothes for both you and your furry companion. Now you can wear a matching shirt with your cat, dog or rabbit. A cute bandana can be turned toward the back of your pup to provide protection from the Florida sun; that's functional fashion!
---
Pawspace
Pensacola-based business handcrafts matching fashion for you and your pets
» Small Cities – Big Hearts is the newest collection at Pawspace. The owner, a graphic designer, has created a fabric print featuring illustrations of a dozen landmarks and famous family-owned businesses local to 10 Emerald Coast cities. These prints are available for pet food bowls, food mats, kerchiefs and more!
» Purchases can be made online at pawspace.us, or you can find them in person at craft fairs, markets and festivals in Pensacola.
---
Fleet Feet
Fleet Feet opens new location in Downtown Pensacola
The popular athletic store Fleet Feet is now easily accessible to Pensacola residents at its new downtown location. Owners Micaiah and Marjorie Rockwell are excited to become an intrinsic part of the running community as they play host to weekly training sessions for 5ks and 15ks, inclusive to both runners and walkers.
» Before donning your new running kicks, Fleet Feet's Fit ID uses 3D scanning technology to measure arch height, foot size and every other measurement for a custom fit. The entire process takes five seconds, and then a Fleet Feet partner will help find the best shoe for you.
» The New Balance Fresh Foam X 1080 v12 shoe provides a comfortable foundation for a standing shift at work or an everyday stroll around the neighborhood. The fun and fashionable color options include vibrant canary, peach with lime accents and, my personal favorite, soft white with majestic lavender.
---
Bites by the Bay
Parlor Doughnuts is known for its layered, croissant-style doughnuts. These flaky pastries are available in 23 flavors, an additional three keto, one gluten-friendly/vegan and a doughnut for your dog! The local favorite Sandy Beach is a cinnamon sugar-layered doughnut with a vanilla glaze. The coffee at Parlor Doughnuts — available hot, iced and cold brewed — is a perfect pairing to the sweet treats. The Mayan Mocha is a delicious harmony of sweet chocolate and roasty espresso. I like hot coffee all year-round, but this creamy delight is just as tasty iced.
---