What's In Store?
A roundup of retail happenings throughout the Emerald Coast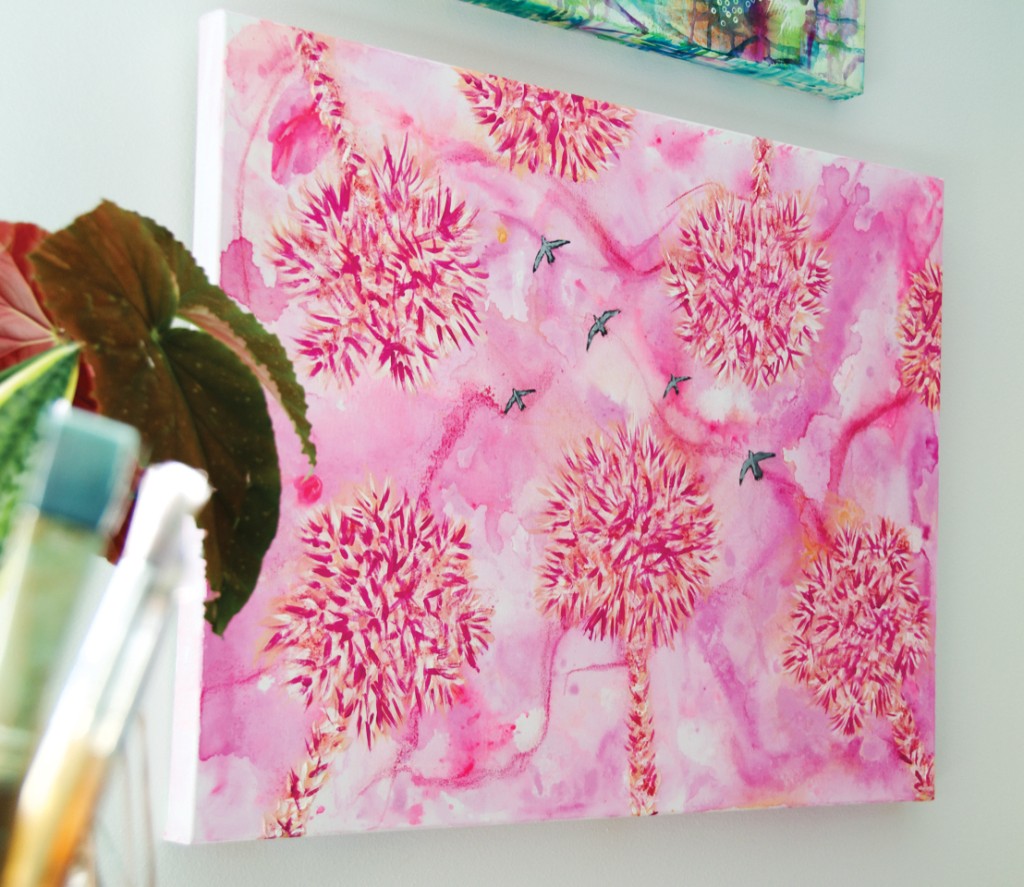 In Panama City Beach, the "intuitive" artist Chulynda is better known as the SALT HIPPY who expresses herself with brilliant acrylic, watercolor and charcoal artworks. Her groovy mermaids, seascapes, flowers and abstract designs adorn canvas prints, decals, ornaments, notecards and more at salthippy.com.
Local Lines
Inspired by classic rock and vintage fashion, Kim Styles fuses used and recycled band tees with funky fabrics to create wearable art at her boutique,

STYLES EVER AFTER

, in Panama City Beach. Place a custom order, or shop unconventionally chic jeans, tees, dusters, dresses and vests for a one-of-a-kind addition to your wardrobe.

For over 20 years, sisters Kathy and Jodie Stroble have mingled elements of comfort and class into their clothing line,

JEWEL TOFFIER

. Find their resort wear and signature tees, as well as other designer goods, at the Jewel Toffier boutique in Gulf Place on 30A.

Fifteen-year-old artist and fashion designer Jada Brown dazzled Pensacola last year when she debuted her brand,

YADA KHOOM. Available through her Etsy store,
etsy.com/shop/Yadakhoom, Brown's original and often abstract designs stand out on swimsuits, shirts, hoodies and skirts.
Jewels of the Sea
A Santa Rosa Beach staple,

ALBERT F'S FASHION, ART & ACCESSORIES

has been a source of handmade trinkets and treasures for more than 20 years. The Seaside shop specializes in coastal-inspired, original jewelry, smart style and their signature, "French Market-scented" candles and home fragrance spray.

If custom-made bling is your thing, CREATIVE GEMS INC. in Panama City has you covered. Owner Nick Adamson is a third-generation jeweler, designer and repairman, and he and his team are primed to forge unique bridal and men's rings, chains and gemstone-studded accessories for
any occasion.

LILY CHARTIER PEARLS'

timelessly elegant, lustrous pearls travel from the South Seas and Tahiti to their design studio and store in Miramar Beach. Knotted with hand-spun "mermaid" rope or kangaroo leather, the pearls adorn necklaces, earrings, bracelets, anklets, rings and more.

Delicate shell bracelets, pastel seaglass pendants and hand-stamped, ocean-inspired earrings comprise Kristen Browne's original accessory line, CHANGING TIDES JEWELRY

. Browne, a Pensacola resident, sometimes sets up shop at the Palafox Market, but she offers her full collection at changingtidesjewelry.com.
Coastal Craftsmanship
Every first and third Saturday of the month,

THE SALTY MARKET

in Destin proudly showcases the work of local farmers, artists and craftsman. From 9 a.m. to 2 p.m., the new open-air market floods Main Street with organic produce, homemade treats, clothing, home goods and various modes of art and entertainment.

While on a trip in France, Carla Hard encountered "The Beehive," an artist community in the Montparnasse district of Paris. She was inspired to create a similar hub in Pensacola at

ROCK HARD DESIGN HOUSE

, a place for fine custom jewelry, redesigned modern vintage furniture and period lighting and artworks. Preview signature collections at rockharddesignhouse.com, or visit the shop on Palafox Street.

ANDREA CHIPSER is an acrylic artist in Destin who aims to capture the unpredictable, organic wonders of the natural world. Visit andreachisper.com and peruse imaginative, acrylic-poured and resin landscapes, abstracts and animal portraiture that will add color to your home.