Whatever Floats Your Boat
Inflatable kayaks offer convenience, durability and style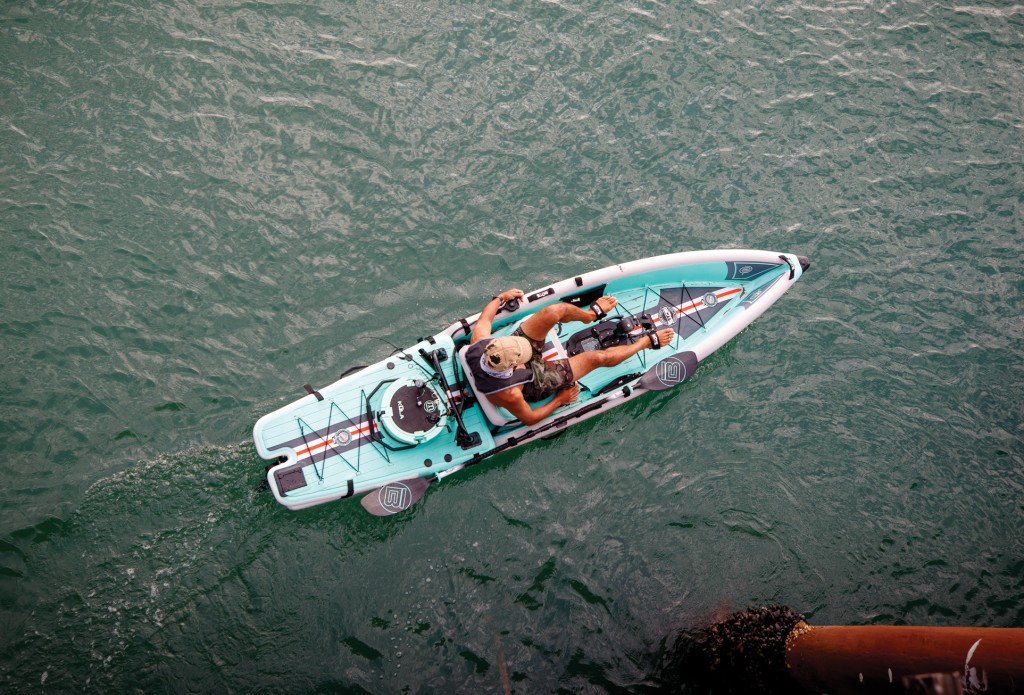 Five years ago, BOTE CEO and co-founder Corey Cooper discovered that people would rather rent kayaks than own them.
"Looking at the history of kayaking, one of its most prohibitive considerations has been size," he said. "Kayaks are huge, heavy as hell, and from an ownership perspective, storing them requires either a truck, a vehicle with a roof rack or a house with a garage or yard. People found they were just easier to rent."
BOTE, a Fort Walton Beach-based watersports business that Cooper founded with his wife Magda in 2009, had already revolutionized stand-up paddleboards by developing blow-up boards as sturdy as their rigid counterparts.
The same concept was easily applied to kayaks.
"Most heritage kayak brands weren't making stand-ups, so they weren't familiar with the technology we were using on the inflatable side," Cooper said. "We were able to come at it from a strategic angle and touch traditional markets. Recreational and whitewater kayaking, fishing and even pedal driving are now possible with inflatable kayaks."
It's a move that expanded BOTE's pool of potential customers and also advanced its mission of creating products that define the water lifestyle. Whether you're a paddling aficionado or just dipping your toes in, "iKayaks" slake a thirst for adventure.
The Zeppelin Aero Inflatable Kayak may be BOTE's most versatile model. Simply strap in an extra Aero Paddle Seat, and a one-person kayak becomes one built for two. The 10-foot and 12-foot, 6-inch Zeppelins are both well suited for recreational paddling most anywhere.
They're roomy, stable and, Cooper said, "ideal for kids and family."
"On the opposite end of the spectrum, you've got our LONO," Cooper added. "Those are our pedal-drive fishing kayaks and are more for the kayak enthusiast who spends a lot of time on the water. You don't even need a paddle to get from point A to point B seamlessly."
When equipped with an APEX Pedal Drive + Rudder system that is sold separately, the LONO enables anglers to keep their fingers on the rod as they navigate their favorite fishing hole.
Too, serious fishers stand to benefit from the LONO's various features and upgrades. BOTE's Rocket Rac can hold up to four fishing rods and allows for trolling. Invest in one of BOTE's MAGNEPOD coolers, tumblers or koozies, and they'll cling like ivy to a magnetic strip at the base of the boat.
Perhaps as a nod to the god of the sea, BOTE's third model, the DEUS, offers some middle ground. "DEUS is your all-around kayak for someone who wants something a little bit faster than Zeppelin," Cooper said. "It has a higher seating perspective; it can fish and do a little bit of everything."
That high seat works well for people looking to stay dry in colder weather, Cooper said. The DEUS and LONO both convert easily to paddleboards.
All models are, undeniably, aesthetically pleasing. Their military-grade, PVC thermoplastic skins range from classic teak wood and camo to tropical aqua and seafoam green and offer sleekness as well as strength.
For those who wonder just how tough an inflatable kayak can be, Cooper said it's like this: Imagine a top sheet and a bottom sheet. Between them are tens of thousands of threads. Inflate with high pressure, and those stitches grow taut and solid.
"You're left with something similar to what you'd experience with a rigid kayak," he explained. "It's the same material you'd find on whitewater rafts and skiffs. I can say my inflatable kayak has survived better with my kids than the rigid ones because they get so dinged up."
The heftiest of BOTE's inflatables can support up to 600 pounds of weight but, while impact-resilient, they aren't puncture-proof. But Cooper said all BOTE kayaks are easily repaired, coming with a kit consisting of glue, patches and a valve tool.
And, as most iKayaks are constructed with multiple air chambers for maximum buoyancy, you're not likely to sink.
Cooper said customers most enjoy its portability. In a matter of minutes, they can go from travel bag to river, lake or sea. Simply rinse them off with fresh water and soap, let them dry and roll them up for storage wherever you like.
BOTE was recently acquired by sporting goods manufacturer Kent Outdoors, a partnership Cooper said will "get a much larger audience into our garden."
"Inflatables help us be more accessible to customers and get more people engaged in the water lifestyle," Cooper said. "That's the whole point for me, to provide that access. Stop sitting inside and staring at your phone or playing video games and just go outside."
---
CARING FOR YOUR KAYAK
» Salt water, if not rinsed off, may corrode your craft over time. Always clean your kayak with fresh water.
» Prevent molding, odor and paint blistering and bubbling by allowing your kayak to completely dry before storing.
» Prolonged UV exposure may cause cosmetic and structural damage. Your storage spot should be cool, dry and covered.