Weathering Many Storms
Realtor, Shirlise Hamati, reaches out a helping hand during hurricane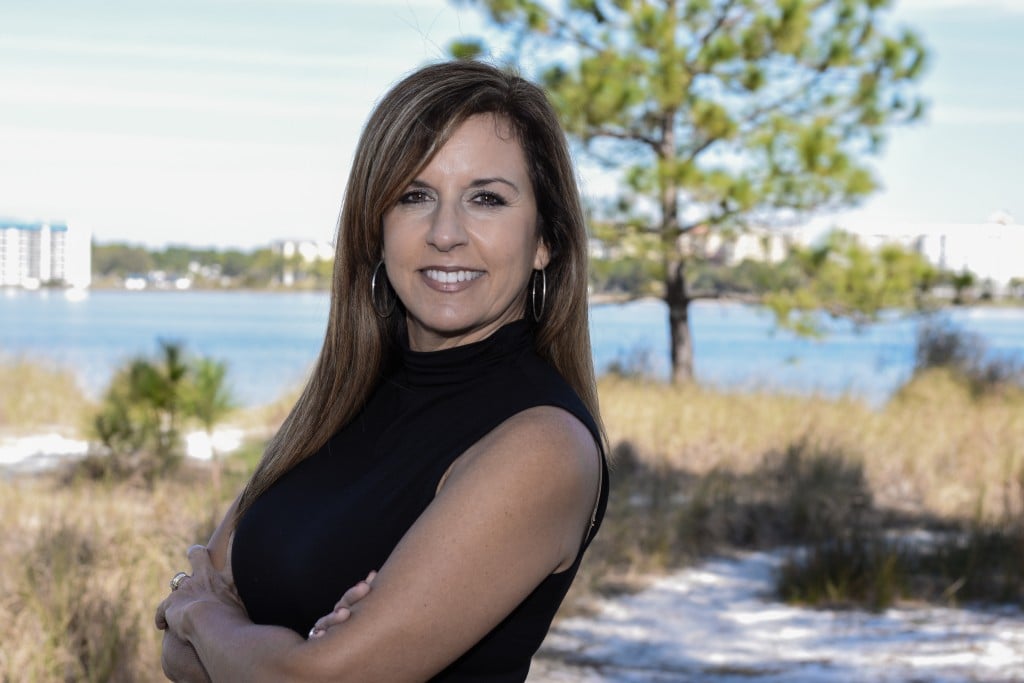 Throughout her life, Shirlise Hamati has experienced at least a dozen hurricanes. Over the years she has lived in locations that are prone to storms, including Puerto Rico, the Bahamas, Cozumel, South Florida, the Panhandle, Houston and now dually Lake Charles, Louisiana, and Panama City Beach. While she is no stranger to storms, she finds that she will never become dull to the damage and devastation they can bring upon communities. 
Hamati, a realtor with Counts Real Estate Group, has a passion for selling homes. She distinctly recalls the heartache of driving past homes she had sold that were damaged or demolished by a hurricane. 
For the past five years, Hamati has worked with partner Jessie Pate selling condos from Panama City Beach through the 15 beach communities of 30A and Destin. Hamati splits her time between the Emerald Coast and Lake Charles, where her husband is the vice president of resort operations at the Golden Nugget, a 1,100-room resort and casino. 
Hamati acknowledges that the two cities in which she resides are similar in feel and spirit. They also share the similarity of an active storm season, the past three years being the worst she recalls. 
"Hurricane Michael was a monster, and it was heartbreaking returning to neighborhoods where we had sold homes to customers and the homes were no more," said Hamati. "We experienced third-world problems with everyone else. No water, no power, no communication and complete shock."
Hamati and her husband loaded up their vehicles with generators, food, water and other supplies, then set out to help their neighbors in need. After Hurricane Michael, Hamati was certain she would never experience a storm that devastating — then Hurricane Laura made landfall in Lake Charles in August of 2020. According to Hamati, 99% of all buildings in the area experienced some form of storm damage. 
For safety reasons, the couple chose to stay at the hotel for the duration of the storm. From the hotel room, Hamati began making calls to local organizations such as Rachael's Recovery, local Junior Leagues, and connecting the Panhandle and Lake Charles Realtor Associations.
"You go through this strange sentiment of survivors guilt when you drive past devastated homes and yours is left standing," said Hamati. "You want to help in any way you can. The only thing I could think about doing was connecting dots. I was in this strangely unique position of living in two Gulf Coast communities that had been devastated by storms."
Forty-eight hours after the storm, Hamati joined forces with the Cajun Army to deliver meals to hospitals, fire stations and lineworkers. Later in the week, they gave out meals to employees and first responders at the Golden Nugget. 
"During that time, all the noise from the unrest in the world became silent," said Hamati. "It was just humans helping each other and really caring. That is heartwarming."
While the community banded together, Hamati and others felt Lake Charles was largely abandoned by media coverage after the first hours of the storm. Hamati recalls that Bay County residents experienced the same sense of shock with Hurricane Michael. 
Hamati's hope and goal is that communities impacted by hurricanes will reach out and help others who have gone through similar storm experiences. At the time of this writing, Hurricane Delta impacted the same regions of Louisiana. For those who would like to assist with hurricane relief, Hamati suggests connecting with local churches, nonprofits and the United Way of Lake Charles. 
In her career as a realtor, Hamati relates most to the aspect of helping others. She is cognizant of the importance of relationships and values making personal connections to those within her communities. 
"I can only think I am a pebble in a pond, where ripples create action," said Hamati. "In my personal role as a realtor, I've seen how Panama City has been recovering, and hopefully sharing that incite gives hope to my friends, neighbors and community in Lake Charles. Calcasieu Parish is made up of strong people, much like Bay County. The spirit of the people will overcome this."