Water is in their Blood
Headboat builder spawned an enduring business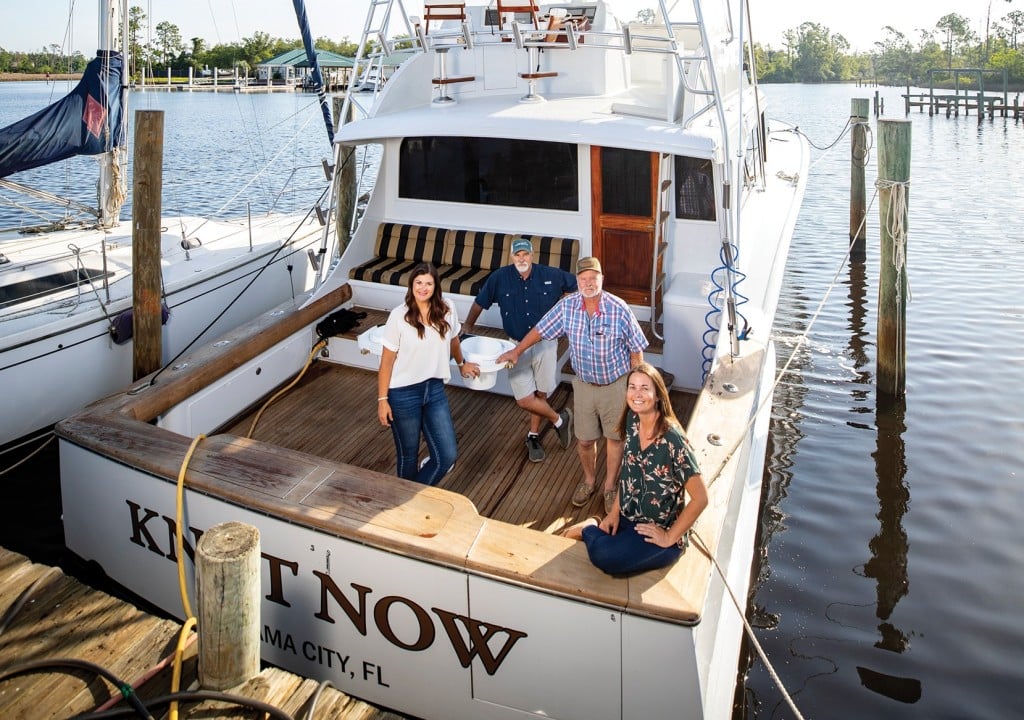 At Miller Marine in Southport, some dreams materialize while others languish on boat stands. Vessels are built and launched — or pulled, rehabbed and returned to the water — provided the money is there. Because, it is true, boats can be holes that you pour savings into.
"That one over there probably hasn't been touched for three or four years," said Mandy Warren, pointing toward an excursion boat that was once used in dolphin sightseeing tours. "Customer brought it down from New York. But he still pays his rent every month. That shrimp boat has been abandoned here. We've hired a private detective to try to find the owner."
Bobby Sullivan, meanwhile, is near the finish line. Miller Marine built his 60-foot sportfishing yacht, the Knot Now — it was the Alvin's Island when it was owned by Panama City Beach's Walsingham brothers — in 1997. Newly refurbished, the boat is back in the water. Boatyard founder Mike Miller, chewing an unlighted cheroot, happens by the boat and remarks, "It's my pride and joy."
A shakedown cruise had presented only a minor hiccup.
"We're about there," Sullivan said with obvious excitement. "We get this deck stained, and we're ready to go." Extensive woodwork and unique detailing are among the Knot Now's strengths. Warren points out carved drawer pulls shaped like scallop shells made in the carpentry shop at the boatyard.
Warren owns Miller Marine along with her sister, Megan Miller. The two women bought the business from Mike Miller, their father. Warren is a people person, specializing in customer service. Miller, who at one time worked for the shipbuilder Eastern Marine in Panama City, is a numbers person. Their strengths are complementary.
Prominent in the office they share is a framed certificate issued by the International Game Fish Association and attesting to what at the time was a 12-pound-line-class world record red snapper catch made by Warren. The walls are festooned, too, with the skulls and antlers of deer harvested by the sisters. Almost lost in a corner of the room is the tail fan from a wild turkey.
The sisters are outdoors women born to a family that has been immersed in the world of boats for five generations.
Warren's great grandfather, George W. Davis, beginning in the 1950s, built the headboats that came to comprise the Queen Fleet of party-fishing vessels docked at Capt. Anderson's Marina in Panama City Beach.
George's three sons — Grover, Joe Ed and Duck — each had a knack for boats. Grover and Joe Ed were genius mechanics and engineers, and Duck was an inventor. Often, they would work deep into the night on the headboats' engines to make them ready for fishing trips that left out at 2 a.m.
Grover went on to start Marine Transportation, a business that ferried supplies to offshore oil rigs. Duck opened Queen Craft, a manufacturer of small boats. The three boys had a sister who would become Warren's grandmother.
At age 19, Mike Miller started running headboats. In the 1970s, he got his own charter boat, the New Beginning, which he operated downstate primarily. It remains in operation today.
In 1983, about the time that Warren was born, Miller decided to build a boat in his backyard. Dubbed the Seminole Wind, that boat, too, is still going. Billy Archer, one of the most popular fishing charter captains in Northwest Florida, captains the vessel.
In order to provide an income stream steadier than the one that custom boat building could provide, Miller in 1996 bought a pipe company that had been foreclosed upon, acquired a travel lift and started his boatyard. His kid brother, James "Bimbo" Miller, has been by his side ever since, running the business's day-to-day, non-office operations.
Mike Miller is currently at work on a 52-foot boat commissioned by a customer in Atlanta. He is 66, and this boat is likely to be his last build.
"Custom boats take a special person," Warren said. "You have to be willing to wait. A custom boat is more expensive. Materials costs are increasing. Resin is double what it was."
Miller Marine is sitting on a 72-foot hull that needs to be finished. An economic downturn affecting the construction business forced the man who ordered the boat out of the project.
"We're waiting for the right person to come along and take over," Warren said. "He's out there. There's probably a million in the boat already. Engines alone are another million. When all is said and done, we're talking about a $7 million to $9 million boat."
Miller Marine employees focus on boat exteriors from the waterline down, but subcontractors present at the business are prepared to work on other aspects of boat maintenance and repair from towers and engines to curtains and decks. Effectively, then, Miller Marine is a full-service yard.
"You can organize your contractors yourself and rent a space from us, or we will do it all for you, and you don't pay rent," Warren said.
Miller Marine offers hurricane plans whereby customers pay $1,500 a year in advance so that they will have a place to put their boats if a bad storm threatens. All spaces are spoken for, however, "and we've got a waiting list as long as that book you're holding," Warren said. "The only way you'd give up your spot is if you sell your boat or you die."
As Hurricane Michael approached Bay County, Miller Marine had 86 boats in its yard. Sailboats and Bertram, Hatteras and Viking yachts and more.
"We got lucky," Warren said. "We had just two boats that kind of laid over, but we had lots of broken masts and outriggers. When we have a storm, it gets interesting around here. We keep hauling until our yard is a kid's dream full of 60- to 80-foot yachts."
A key player then and every day is the man who drives Miller Marine's 88-ton travel lift. One time, Warren drove it onto the concrete runners at the mouth of the yard, just to see if she could run it in an emergency.
Now, she hopes that emergency never comes.