Volunteer Spotlight: Margaret Berrisford
At 100 years old, she's certainly made a name for herself.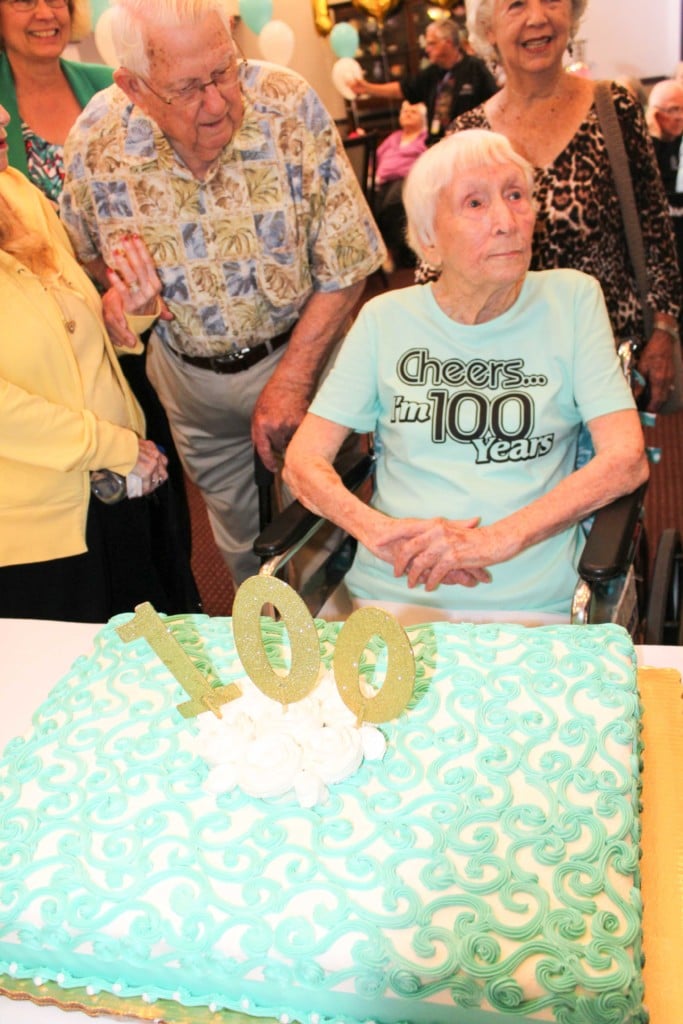 Margaret Berrisford has lived 100 years, and she's spent 22 of them volunteering at the Haven of Our Lady of Peace operated by Sacred Heart.
It all started when her husband was in Sacred Heart Hospital with cancer. It was summertime, and it was very hot.
"Dr. Prevatt would tell me to go home and rest," Margaret recalls. "But I told him, if I leave, I lose my parking space, and I'm really more comfortable staying in this cool building, walking around and seeing what all is going on."
During one of her walks, she made her way to the Volunteer Office. But with a terminally ill husband and a mother who had suffered two strokes, there were people who needed her.
After her husband passed away and she settled her mother at the former Haven of Our Lady of Peace on Ninth Avenue, Margaret was free to volunteer — so she went and signed up.
"I spent a lot of time at the hospital," she says. "If someone saw me in uniform and asked me to do something, I did it."
In 2001, the Haven moved to its current building on Summit Boulevard. Margaret was the first resident who had not come over from the original location. They moved 89 people — and a cat.
The cat would later keep Margaret company as she created new volunteer opportunities for herself. After breakfast one day, she stopped in the front office. The mail had been delivered early, but it never got to the residents until the evening.
So Margaret volunteered to deliver the mail and newspapers, as well as the occasional package and all the flowers she could carry.
"The cat rode with me," she says. "I got this old wheelchair — you can tell it's an antique — and the cat sat on top of the stack of newspapers."
Families who have visited the Haven over the past 18 years affectionately call Miss Margaret "the cat lady" or "the mail carrier."
She continued her mail route until she had trouble walking. But Margaret wasn't done yet.
When the Haven acquired an electric piano for the chapel, she suggested they dedicate it by singing gospel songs. They did that on a Tuesday, and they never stopped. Margaret played the piano during "Gospel Time," and for other services, as needed.
"In a way, I was just the office flunkie," she says with a smile. "Whatever they needed, they knew I would do it."
Over the years, Margaret has met many family members and visitors, happily explaining the process of getting yourself into a nursing home. There are still nurses at the Haven who took care of Margaret's mother.
"I have no family … the Haven is my family," she shares. "When I got into the Mother Seton Guild, it was as good as getting into a sorority in college. I said, 'I've made it!' It's been a good life."