Visit New Mexico to Enjoy a Different Kind of Rocky Mountain Ski Experience
The Slopes of New Mexico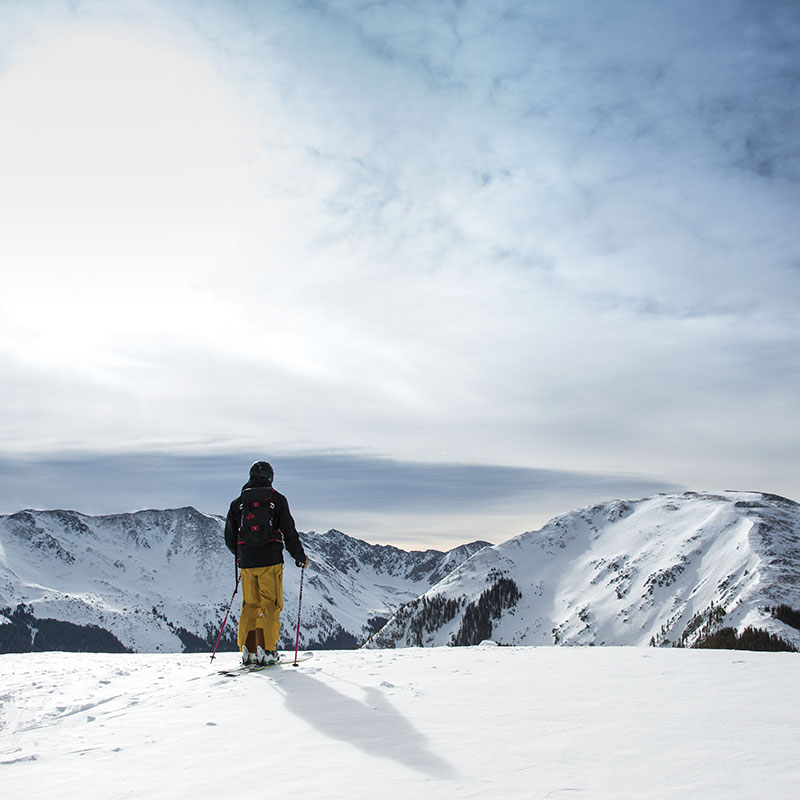 When someone mentions skiing the Rocky Mountains, people often think of high-profile and pricey resort destinations known for catering to the rich and famous, such as Aspen, Colorado, or Jackson Hole, Wyoming.
I suggest you travel to the southern end of the majestic mountain range in New Mexico. You'll find three ski resort destinations that offer all the height, vertical drops and impressive scenery of the northern venues at a fraction of the cost. And you'll also avoid crowds — both in the resort destinations and on the slopes. The density factor is important to skiers at all levels, but especially for those at the beginner or intermediate levels who are already challenged by fear, inexperience and control issues.
At the start of five days of New Mexican ski experiences, Mike Cerletti, cabinet director of the state Tourism Department, addressed his state's identity crisis.
"Either one has no conception of what the state has to offer or the wrong one," he said.
On this particular media trip, our intermediate group experienced three ski destinations, spending a full day on the slopes at each, with an overnight stay to get a feel for the accommodations and culinary options.
For all the resorts, Albuquerque is your point of entry.
Travel an hour out of town to Santa Fe and the nearby Ski Santa Fe. At 10,350 feet above sea level in the Sangre de Cristo Mountains, Ski Santa Fe offers one of the highest base elevations in the United States. There is no need for the novice to be intimidated: Sixty percent of Ski Santa Fe's 72 runs are at the green (easy) and blue (intermediate) levels.
On the day of my first ski lesson, about a foot of snowfall from the night before created the kind of ideal conditions that ski enthusiasts live for: a coating of dry, powdery snow that allows one to experience the sensation of floating down the hill.
My ski instructor for the day was George Brooks, executive director of Ski New Mexico. With more than 45 years of skiing experience, Brooks had the teaching skills to successfully coach me from an intermediate to advanced level in the six hours he spent by my side.
It was all about eye contact and his consistent coaching of the simple technique of working oneself down the hill — regardless of its steepness. "Look ahead to where you want to be on the hill, not down at where you are," he emphasized. "Use your hips and knees to change direction and let gravity slow you down."
After about four hours of hearing this and feeling the hill, it all came together and my mind and muscles began to work together. Fear began to leave, and I was for the first time beginning to have fun. Lo and behold, he assured me I could do it, and we ascended to the top of the mountain, where only black diamond (advanced-level) trails could get me back to the bottom. It may not have been the prettiest descent, but I made it without falling down — and I am now hooked on skiing.
Of course, there's plenty of après ski time in a day, and Santa Fe offers an abundance of diversions when you're not on the slopes. The city, settled more than 400 years ago, was a cultural crossroads in its heyday and still embraces the American Indian, Spanish and Western American influences of its inhabitants, settlers and conquerors.
Accommodations in Santa Fe run the gamut, from five-star resort hotels to chain motels. Several are steeped in the city's history, such as the traditional, adobe-style Inn and Spa at Loretto, built next to the famous Loretto Chapel. Or consider the 71-room Inn on the Alameda, in the heart of Old Santa Fe, within walking distance of the restaurants, art galleries, shops and historical structures that define the city's unique character.
For a different experience, drive about two hours north, and you'll skip back in time at the town of Red River — a real Western town with one main street lined with shops, cafés and quaint museums. The Red River Ski Area is a family-owned operation run by the granddaughter and grandson of the original developer, who essentially built the ski area himself.
Red River accommodations offer value and a sense of what life was like back in the 1950s at the onset of the rapidly expanding ski industry. With 57 runs (70 percent of them at the green and blue levels) and a 1,600-foot vertical drop, Red River is a family destination staffed by congenial people and instructors — many of whom have been part of the Red River family for decades.
Best known in the ski world is the last stop of my marathon Ski New Mexico tour — Taos Ski Valley. The resort was developed in 1954 by Ernie Blake, a German immigrant who, with his wife and fewer than a dozen good men, came to the area and found a tucked-away mountain valley. Over time, they would cut 110 runs and build 13 lifts. Also run by a granddaughter and grandson, Taos runs are a challenge to expert skiers. Upon entering, a sign says "Don't Panic," and the first view is of a black diamond drop that looks almost vertical. However, nearly half of the runs are green and blue, so fear not, beginner.
Before heading for the slopes, my previous "ski" experience was of the water variety, where you're taught to lean back as the boat pulls you. In snow skiing, you lean forward and allow gravity to do most of the work. Much easier said than done, as my DNA was fighting the downhill lean.
Styled after a Bavarian tour, everything at Taos Ski Valley is walkable from the condos. I would recommend staying in town to maximize the experience and enjoyment.
Of all the hills, Taos was most challenging to this intermediate skier. The teaching and resort staff there have assimilated a family-owned philosophy of customer service. Many of them work 12-hour days, seven days a week, during 130 seasonal days of operation from Thanksgiving to the first Sunday of April.
Recently, the family sold the Taos Ski Valley to a long-term customer and manager of a New York hedge fund. Over the next few years, a $350 million renovation and upgrade to the entire village will ensue with the strategy of keeping the intimate ski village atmosphere while elevating the accommodations and amenities to contemporary levels of luxury.
Skiing New Mexico is fun and easy to navigate, and you can gain skiing experience at a tolerable budget level. So if you'd like to learn or polish up on what you already know and have a vacation next winter that will exceed expectations, book New Mexico.
---
Where to Go  
Red River Ski Area
400 Pioneer Road Red River, NM
(575) 754-2223
Ski Santa Fe
Santa Fe, NM
(505) 982-4429
Taos Ski Valley
116 Sutton Place Taos Ski Valley, NM
(866) 968-7386