Upcycling Furniture
Who says you can't mix old and new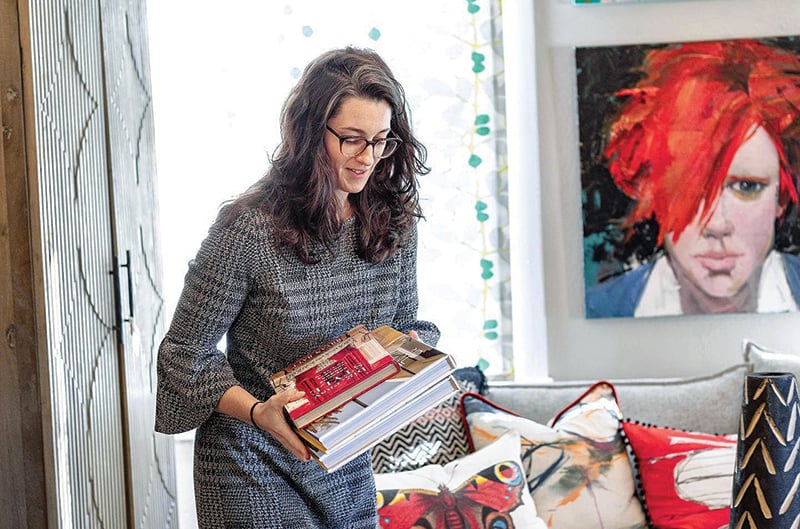 For decades, the "brown" furniture of our grandparents' homes sat unloved in thrift shops or was dumped in landfills. But today, vintage furnishings are being updated and proudly shown off.
A convergence of events made this happen: a craving for something new after the pandemic lockdowns, long delivery dates on new furniture, inflation and a desire to stop dumping 10 million tons of furniture annually in landfills.
Now, what should we especially look for on our treasure hunts, and how can we make them look chic in our homes?
Designer Cheryl Kees Clendenon, owner of the In Detail Studio in Pensacola, said that she and her team love mixing old and new pieces, something she does in her own home.
"I cherish antiques and vintage," she said, "and that's why we have a shop, 1514 Home, as well as a studio. We have shoppers everywhere, including Europe, plus I can't help nosing around myself. So we have tons of furniture and a collection of mid-century barware and pottery."
Clendenon is interested in more than just the dollar value of a piece.
"Its soul is what's important," she explained. "That's why we often let some vintage item — a quirky piece of furniture, a Turkish rug or mid-century vase — inspire us when we start a design project. Vintage pieces add a sense of history and mystique. They start conversations."
In her home, Clendenon has a vintage bar cart painted bright yellow.
"It's a fun storage piece," she said, "and a good example of how paint and hardware can update a vintage piece. The block print hanging above it is a 1960s find bought for a song at an antique mall. Another thing we do in every project is layering. For example, we might place some old magazines in a vintage bowl, or a piece of pottery atop a stack of books."
Used furniture hunters can find treasures at thrift shops; neighborhood, yard and estate sales; antique emporiums; auctions; and online sites such as eBay, but nearby sourcing is the eco-friendly way to go. Dumpster diving? That might seem tacky, but realtors say they're amazed how many people leave good furniture at the curb. Clendenon admits she can't help looking, but said her husband has threatened to divorce her if she brings home one more homeless piece of furniture.
Always look for quality, recommends designer Anna Osborne of Studio A Interiors in Tallahassee.
"Ask yourself if the piece of furniture looks cheap or is a solid piece that's just outdated," she advised. "If it looks dated, reupholstery, staining and new hardware can bring it into the here and now. Consider the scale and proportion of the pieces to make sure they'll be a good fit for your home. Put lighter and 'leggy' items near ones that are heavier and larger. And it's OK to mix metals but never more than three in a space.
"Go for pieces you find beautiful and meaningful. You'll love the soft and lived-in feel they'll give a room."
Clendenon agrees but warns that upholstered pieces can be expensive to redo. "That means you must love, love a piece to spend the money on fabric plus labor," she said.
Clendenon said antiques are slowly coming back. Storage pieces are always key, and pieces that can get a new life with a fun paint color and perhaps a new top are a plus.
"Antiques also mix well with modern pieces and create a great personal style, "she added. "Even homeowners living in a just-built house want one-of-a-kind pieces to warm up their spaces to counter all the newness."
---
Upcycling Guidelines
RUST-OLEUM, whose product lines include brush and spray paints, offers on its website six tips for making the most of an upscaling experience.
1. Pace Yourself – Don't tackle something huge on your first go. It will seem daunting to you, and you are more likely to give in and give up half way through. Start small, and enjoy the satisfaction that comes with knowing that no matter how small, you made it yours.
2. Have fun – Upcycling is supposed to be fun. Don't shy away from a project, but avoid touching up expensive or sentimental pieces until you've practiced on similar surfaces and can approach them with confidence. Instead, revamp dated furniture around the home, or check out our local second-hand shop you might just discover a bargain.
3. Prepare – Give yourself the time and space to complete a project. Make sure you have all the tools you'll need before you start.
4. Prime – An old or secondhand piece is likely to have been treated in the past with coatings that may contaminate your new paint or varnish, causing a reaction and an upcycle fail. In most cases, prepare the surface with a primer. Depending on the paint you use and the surface you are painting, you may not have to use a primer but a light sanding is always recommend. Just remember to wipe down all surfaces with a damp cloth before you start work.
5. Where will your piece live? – Thinking about how the upcycled piece will fit into the color scheme and decor of an existing room will help you figure out the color, finish and accessorizing needed to make the furniture stand out while simultaneously complementing a room.
6. Find inspiration – There are oodles of tutorials, guides and brilliant bloggers to discover and learn from.