United Way Emerald Coast Receives Donation from The Mulligans Band
Band Members Present Check for $4,000 From Rock N Roll Dream Concert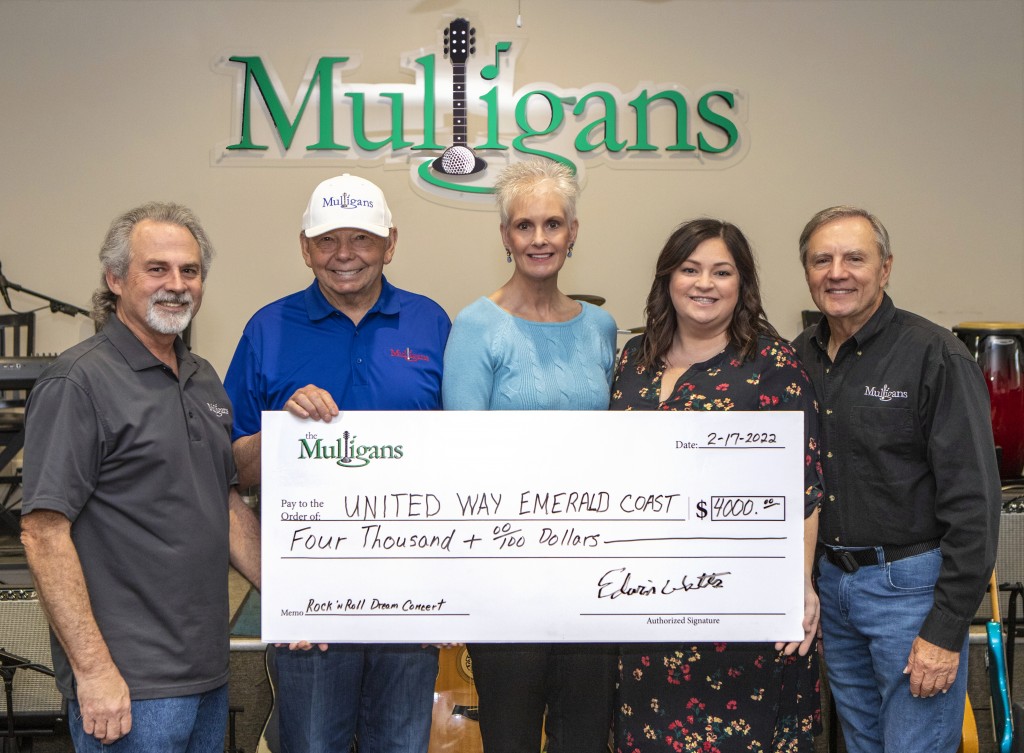 The Mulligans present a check for $4,000 to the United Way Emerald Coast.
The donation is from proceeds from The Mulligans Rock 'N Roll Dream Concert held January 22, 2022, at the Fort Walton Beach Municipal Auditorium.
At the winter benefit concert, The Mulligans performed everyone's rock 'n roll favorites from the legends of rock. Their diversified song list ranges The Beatles, Tom Petty, Eric Clapton, Elvis, the Eagles, Bee Gees, the Ventures, Rolling Stones, Buddy Holly, The Monkees, Roy Orbison, Moody Blues, Young Rascals, Billy Joel, The Outsiders and many others.
Over four hundred people attended the concert and helped to make this charitable donation to United Way Emerald Coast possible.
"We loved partnering with The Mulligans for their recent concert. They certainly put the "fun" in fundraising! They are not only incredible musicians, but they're also incredibly generous and have partnered with many non-profits throughout the years. Together, we're building a stronger community one song at a time," said Kelly Jasen with the United Way.
Mulligans founder Edwin Watts said, "We are proud to continue our support of the local community in this way and very happy to help the United Way and all its partner agencies."
Over the past nine years, The Mulligans have helped raise more than $1,000,000 for local charities.