Traveling the Coast from Stool to Stool
Aficionado goes in search of beer he can get hopped up about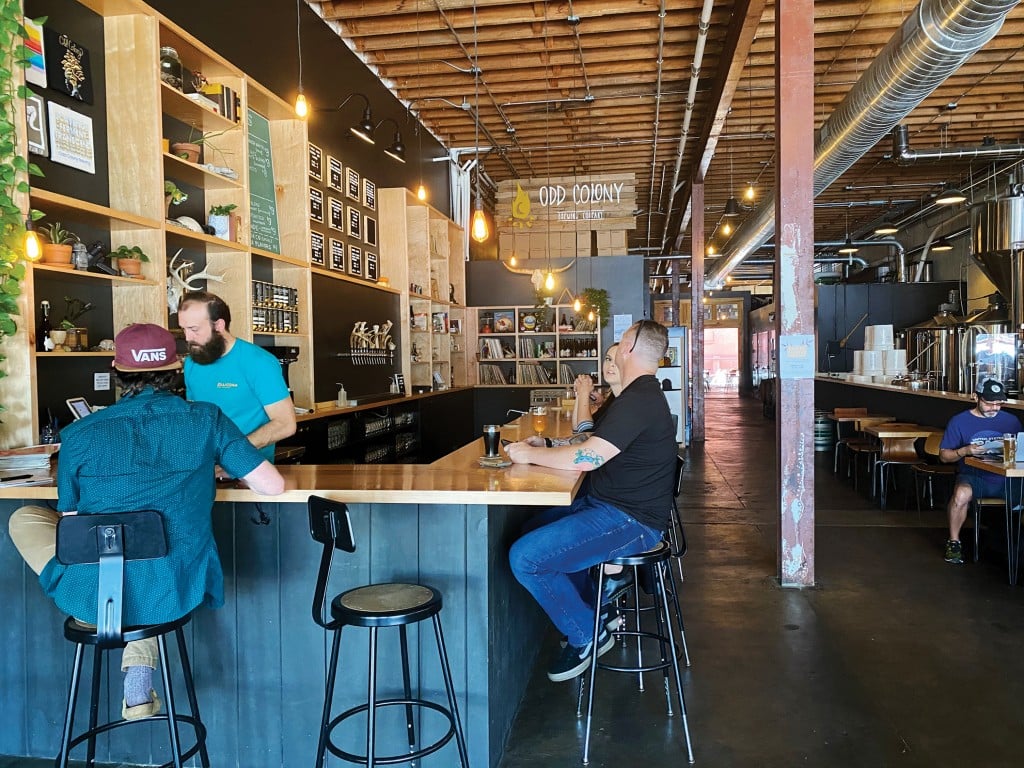 When it comes to beer, Viktor has discerning tastes. He is a craft beer man, a lover of IPAs, sours and adventurous distilling.
On a recent Saturday, Viktor and his driver embarked on a Panhandle-long milk run hoping to find a beer that meets his exacting expectations.
The first stop came late Saturday morning.
Odd Colony Brewing Company is a groovy joint in Downtown Pensacola with a modern industrial vibe. Behind the bar, assistant brewer Taylor Wyrosdick looks the part with a thick beard and pineapple tattoo.
"We try to incorporate as much of natural Florida as we can with ingredients like scuppernongs, citrus and chanterelles," Wyrosdick said. The brewery lives by a slogan: Scavenge, Ferment, Transcend.
As the flight arrives, Viktor adds a T-shirt and beanie to his tab.
The four-beer sampling is rife with harebrained flavor combinations. The Entropy Engine kettle sour contains passion fruit, banana, guava, blueberry and (inexplicably) lactose. Strangely, banana is the dominant flavor. Perhaps more strangely, Viktor is into it.
The real star, though, is the Wave Tamer. This 6.8 percent alcohol by volume (ABV), hazy IPA, "smells like an IPA," according to Viktor. It's fruit forward, a zesty blend of lime and pineapple. This one may go down a bit too easy.
The product of Chilton County peaches and a house-mixed culture, the Moth Boar is the first Trojan horse of the day. It packs the punch of a sour and smells like peach pie. It is magnificent.
Another IPA, the Behind Every Cloud is puzzling. Modeled after a Dreamsicle, it is citrus forward with sort of a creamy vanilla aftertaste. It's not a flavor Viktor relishes in an IPA, but he has to admit the Odd Colony team has flavor balance down to a science.
On to Destin.
Destin Brewery is housed in a commercial warehouse space. There's no bar inside, just a few menus taped to a small wooden table, brew tanks and tables on a makeshift patio. People are piling in.
The Passion Fruit Sour is, in Viktor's words, "boring, but easy to drink." It's pretty hoppy for a sour, and the flavor is very mild. Drinkability? High. Tastiness? Not so high. The Blueberry Pomegranate Beeliner sour tastes almost exactly the same.
At 8.2 percent ABV, the Bridge Rubble Double enlivens the typically steely faced Viktor who mumbles, "This one is going to slap me in the face." A New England-inspired IPA, it is no frilly Odd Colony.
The Mango Habañero IPA, meanwhile, smells like heartburn.
"It's super beachy," Viktor says, musing. "This would go great with a nice view, some coconut shrimp, guacamole. … I'm hungry."
Approaching Santa Rosa Beach, Viktor is getting a bit red in the cheeks. Hopefully, Grayton Beer Company has food to soak up the first half of the day.
No such luck.
The 30,000-square-foot taproom off Serenoa Road is cozy despite its size. Grayton has carried home quite a few awards for its brews over the past decade, particularly for its ales. Viktor has to agree, the 30A Beach Blonde Ale and Staff Pale Ale are simple, classic and smooth.
The Sour-Dipitous is hoppy and not particularly sour. So far, Odd Colony reigns supreme in that department.
"OK, this is the one I'm most excited about," Viktor says, reaching for the Big Talk tropical IPA. A large gulp is followed by a long pause. "Honestly, when the pineapple and coconut flavor come together with the wheat and fermentation, it's a little off-putting, but the aftertaste is good."
When Grayton closes at 5 p.m., Viktor joins the rush to the nearby Idyll Hounds Brewery. By some act of providence, this place has food. After a much-needed hot dog and a bag of chips, Viktor is back in the game with a colorful flight of sours and IPAs.
If Odd Colony had a rebellious little sister, it would be Idyll Hounds. The end-of-the-road hideaway is covered in stickers and graffiti. Shopworn games like Jenga and Cards Against Humanity are piled up in a corner.
First up is the Red Dragon, a dark pink sour with a mellow flavor blend of grapefruit, dragon fruit, guava and pomegranate. Unlike some of the earlier sours of the day, Viktor says the Red Dragon's flavor isn't overtaken by hops.
"Overall, nothing has matched Odd Colony's flavor profiles," Viktor says. "But this is the most well-rounded, easy-drinking sour I've had today."
Scratch that. The Strawbergrams sour is just as good if not better. The light pink sour is sweet and robust, cloudy without tasting thick.
The Area 51 Dropout IPA has Viktor nodding excitedly. It's light and fruity. "This is what the Big Talk at Grayton was trying to be," Viktor says.
As for the Grapeful Opossum, it's just strong. This hazy IPA is brewed with a variety of grape skins, but it mostly just tastes like impending regret.
By the time Viktor reaches History Class Brewing Company in Panama City, the artsy wooden tabletops look to him to be perfect for a nap.
History Class sits at the midpoint of trendy and nostalgic. The walls covered in Panama City memorabilia would have been much more interesting to Viktor had been less tired and, let's say, less beerzy.
The Bella Booth blonde ale isn't bad, but there is an out-of-place citrus flavor, and it's pretty thick. The Saints Bay passion fruit sour is perfectly all right, but stacked against Odd Colony and Idyll Hounds, it falls short.
Using one hand to prop up his head, Viktor grabs a Sheriff Sherm hazy IPA. After one sip, he's sitting up straight again.
"This is really light, even though it's hazy. There are fruit elements to it. You can taste the alcohol, but it's not overbearing.
"This is really nice," Viktor beams.
A fine finish.
TOP 5
Northwest Florida from Pensacola to Panama City is home to a good many good craft breweries whose products are equal parts craftsmanship and creativity. "Viktor," who may or may not resemble the character at right, stopped by a select few during a recent field trip. Any attempt to be comprehensive could be dangerous. His favorites are listed below. Purely a matter of taste.
1 Wave Tamer
Odd Colony Brewing Company
The Wave Tamer earns its spot as the perfect pour for a bright balance of citrus notes in this heavy-bodied hazy IPA.
2 Strawbergrams
Idyll Hounds Brewing Company
Sweet and sour, this concoction of strawberries and graham cracker flavor is innovative and delicious.
3 Area 51 Dropout
Idyll Hounds Brewing Company
With tropical flavors and a light finish, the Area 51 Dropout IPA is your ideal beachside six-pack.
4 Behind Every Cloud
Odd Colony Brewing Company
The Behind Every Cloud is as smooth and refreshing as the Dreamsicle that inspired its creation.
5 Red Dragon
Idyll Hounds Brewing Company
The guava-pomegranate flavor of this dark pink sour makes the Red Dragon as bold as it is beautiful.