Trailblazing
Saunders takes helm as capital campaign at UWF takes hold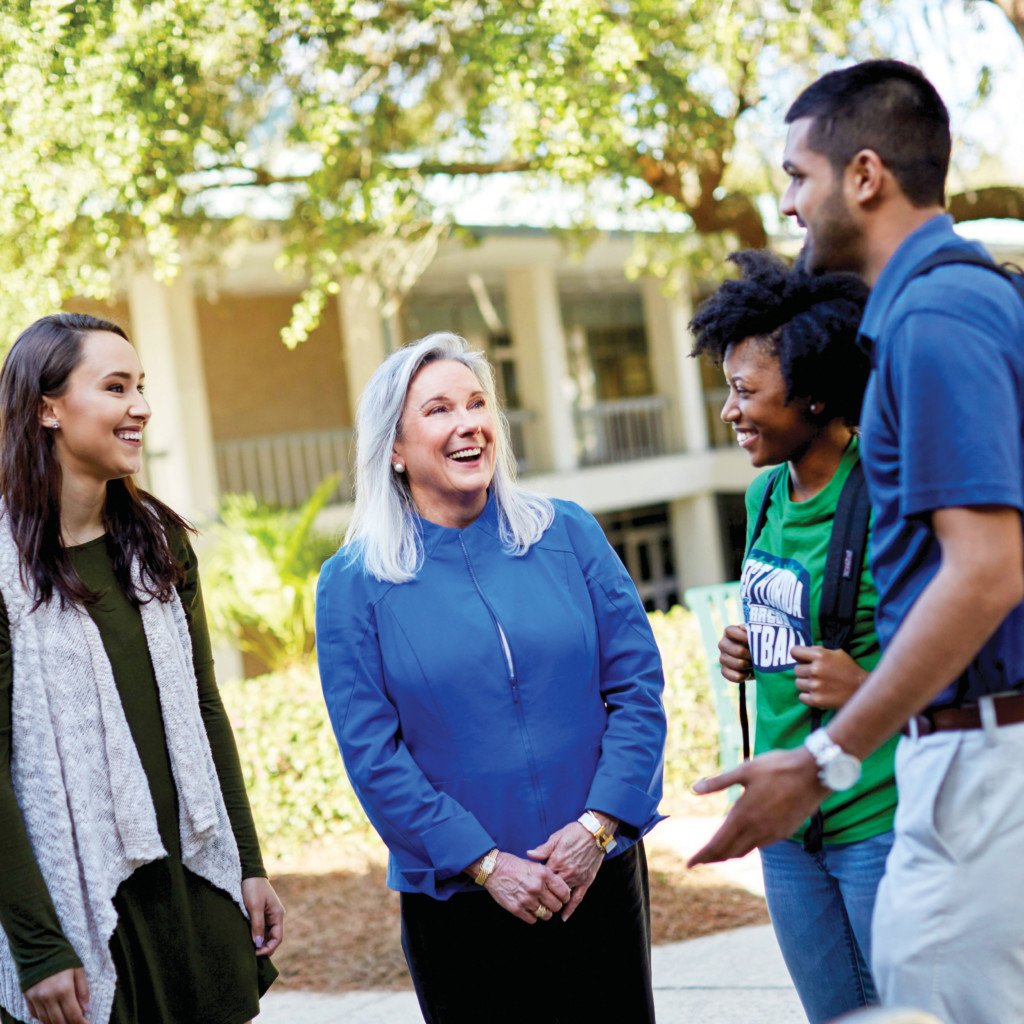 If you plan to hang with University of West Florida President Martha D. Saunders, be prepared to blaze a few trails, show some creativity and have some fun. "We have been moving in double time since January," says Saunders, who was officially installed on April 21 as UWF's sixth president. "We are awake and we are energized."
Another thing to know about Saunders is that she's having a blast. "This is a labor of love for me — I got my start at West Florida," she says. "I tell people, you really can't have a bad day at a university campus. You can have a hard day, but you can't have a bad day, because you're surrounded by hope. You have all these young people with big plans for their lives, and it's infectious. … If you have a bad day, shame on ya!"
University on the move
Saunders has taken over UWF's top post at a pivotal moment in the life of a university that is actively expanding its reach across the state and the Southeast. Not only is UWF celebrating its 50th anniversary this year — having held its first classes in 1967 — it's in the middle of a $50 million capital campaign, the largest fundraising effort in the school's history. According to the most recent state data, UWF has generated roughly $1.4 billion in sales across the state, conferred a total of 93,803 degrees and has 82,152 alumni, more than half of whom remain in Florida.
In the spring, Saunders' first semester as president, the school was awarded several high-profile financial gifts aimed at enhancing the university's academic offerings. Among the most notable was the more than $5 million donated by Dr. Usha Kundu and her husband, Mahadeb Kundu, to the UWF College of Health, which has since been renamed as UWF Usha Kundu, MD College of Health.
Other recent bequests include $550,000 from local attorney Fred Levin to establish the Reubin O'D. Askew Institute for Multidisciplinary Studies and $1 million from long-time marketing and economics professor Bob Kimball to establish an undergraduate scholarship fund.
"People are stepping up," Saunders says. "It's very gratifying to have the support we've been getting."
Across campus, growth is visible, from the number of students enrolled — just under 13,000 in the fall of 2016 — to jam-packed parking lots, to new buildings going up.
"The campus is united, and everyone is inspired by what might be," Saunders says. "I think our grass is pretty green."
The Fall 2017 term, which begins on Aug. 28, ushers in the Argonauts' second football season, and adjacent to Pen Air Field, where the team practices, the new $6.8 million University Park Center is nearing completion. That facility, which spans 37,500 square feet, will house a state-of-the-art weight room for all UWF athletes; the football locker room, equipment room and laundry room; as well as meeting rooms and office space for the College of Health and the Florida State University College of Medicine.
"So now we're going to have medical students on our campus in our little 'athletic village,' if you will, where we have an exercise science program and an athletic training program," Saunders says. "The opportunities for synergy are greatly enhanced, and it wouldn't be happening if we weren't able to build the building."
Top of the heap
At the same time, UWF is facing the considerable challenge of pursuing "emergent preeminent" status as a top research institution with state and national recognition.
That means adhering to the state university system's rigorous new Performance-Based Funding (PBF) metrics. In 2016, the first year of the new model, UWF failed to meet any of the new benchmarks, ranking among the bottom three of 11 state universities and missing out on millions in state funding. The poor showing sparked criticism as well as debate over whether a small regional university should even pursue preeminent status. But Saunders voiced confidence in UWF and vowed to make major improvements.
"We have organized ourselves around the PBF model and drilled down much more effectively with our data," she says. "The team meets weekly to discuss best strategies and tactics. We plan on increased enrollment, but that is not a top priority. More importantly, we are focusing on recruiting students who will be successful at UWF."
In late June, UWF surged upward in Florida rankings, rising from the bottom three to the top three among public state universities on the performance-based model. The reversal nets UWF more than $20 million in additional state funding for the upcoming 2017-2018 academic year.
"This is great news for UWF and a testimony to the hard work of the entire campus over the past few years," Saunders says. "The additional funding will go a long way toward supporting the success of our students."
Based on data from the 2015-2016 academic year, UWF claimed third place while the University of South Florida took second and the University of Florida came in first. The three schools garnered the highest scores on the 10 metrics, which include freshman retention rates, academic progress, six-year graduation rates, percentage of students earning bachelor's degrees without excess hours, the median wages of graduates employed full-time one year after graduation, and tuition costs.
UWF made its greatest gains in the percentage of bachelor's graduates enrolled in a postgraduate program or employed and earning an annual salary of $25,000 or more — which increased by 6.6 percent, to 67.6 percent. In addition, the university's academic progress rate increased by 5.2 percent, reaching an overall 70.1 percent, while the percentage of students earning bachelor's degrees without excess hours jumped by 4.7 percent, to 80.5 percent. Saunders said UWF's success is thanks to a campus-wide effort to invest in long-term strategies that not only improve performance on the state metrics but enhance the overall quality of the education UWF offers.
The reality of transitioning UWF from a regional comprehensive university — with smaller student-to-instructor ratios — to one with preeminent status remains daunting, but Saunders is confident she and her team are up to the task.
"I think everyone understands the importance of meeting these metrics," she says. "I haven't had to persuade the faculty. They have been great assets in moving us forward."
'A no-brainer'
Saunders' optimism is bolstered by her long history with UWF and the wide-ranging skills she has honed over the years. In 1984, she started her career as an assistant professor in the UWF Department of Communication Arts, where she coordinated the public relations program. From 1999 to 2002, she directed the university's honors program and served as Dean of the College of Arts and Sciences.
"I had some wonderful opportunities at West Florida, and then I went off 15 years ago on a grand professional adventure that took me to places I never thought I would be," she says. "I learned about fundraising at my next institution. I learned an awful lot about academic programming at the one after that. Everywhere you go is different and there are lots of lessons to learn."
Away from UWF, Saunders served as the vice president of academic affairs at Columbus State University and as the first female chancellor of the University of Wisconsin at Whitewater. From 2007 to 2012, she led the University of Southern Mississippi as its first female president. The next year, in 2013, she returned to UWF to serve as provost.
Saunders and her husband, Joe, always loved the Emerald Coast, and heading back was an easy decision.
"We always kept our house here," she says. "I thought I would be back as a retiree and not as president; but when we got the chance to come back and for me to work at UWF, it was a no-brainer!"
Bringing people together
Saunders' efforts in the past eight months have drawn praise from students and faculty alike.
"One of her great strengths is that she listens to people," says Theodore Fox, associate professor of plant biology and outgoing president of the UWF Faculty Senate. "It doesn't mean she does what they want all the time, but she hears you out. You know that she's considering your views."
Fox, whose two-year term on the UWF Board of Trustees expires in late August, supported Saunders in the vote for president.
"I think the transition has been going very well," says Fox, who has taught at UWF for 15 years. "Instead of setting up unneeded competition between people, she brings people together. I think she's figured out how to do that really well."
Student Body President Kishane Patel agrees, noting that Saunders' "hands-on approach" with students has scored lots of points. "She was personally sitting with students in the cafeteria and asking them about issues," he says. "She's taken an active approach on social media, retweeting and stuff — and students love that."
In the coming months, Saunders and her team will begin investing the additional $20 million in UWF students.
"We will continue a strong focus on helping our undergraduate students finish in four years," she says. "We'll increase programming in areas of strategic emphasis in STEM and health fields. In addition, we'll continue to find ways to help our graduates get top jobs."
As she looks to the future, Saunders is keenly aware of the need for UWF to carve out its own exceptional niche — whether it's cyber security, health care or hospitality.
"That is the question," she says. "I would certainly hold our academic program and our faculty up against any anywhere for quality. They're that good. But we're not readily known for any one program, and I think that's where the next big initiative will come along.
"I'm not going to force it. … It will emerge."