Meet Beth Clavier: Sinfonia's "Show" Girl
Tickets for Crescendo! 2022 — Clavier's Event Extravaganza of the Year — Are On Sale Now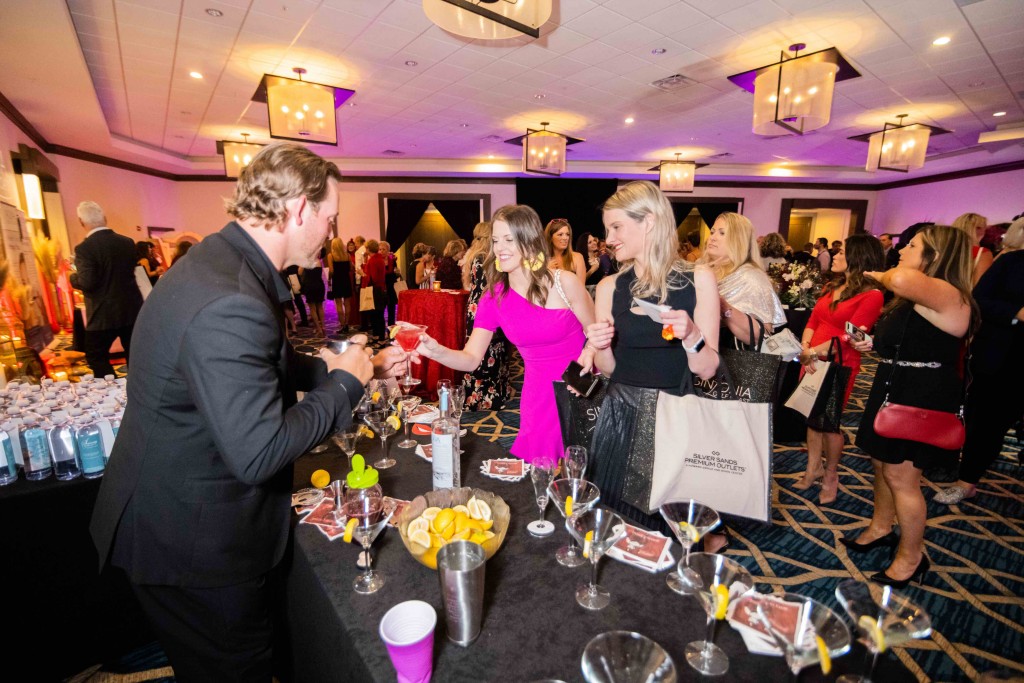 After "growing up in the theme parks," this theater buff jumped on a membership position for the Screen Actors Guild (SAG) when she was just 20. When 9/11 shuttered her SAG office, she segued into stage management for NBC Universal, where she worked for nearly 13 years.
Putting the "horror" in Halloween Horror Nights was just the beginning.
In 2009, her adventures continued when the VP of Entertainment tapped a select few to serve as consultants to open an expansive entertainment resort, inclusive of a Universal Studios theme park … in Singapore! During the next four and a half years, she was like a master juggler, deftly handling each ball as it landed in her palm. As the leading entertainment expert, it was her job to make the magic happen.
And that she did.
Casting out of Australia and a few other countries, her team was tasked with hiring and onboarding all the talent for a live theatrical shows and atmosphere performances; running rehearsals and launching two star-studded, A-list grand openings — complete with an illusionist who made a sculpture appear out of nowhere!
Her work turned heads and she was invited to join Resorts World Sentosa as entertainment operations director. Essential, she put the pizazz in all the attractions: a theater, casino, aquarium, waterpark, and a maritime museum.
"At one point, I was meeting with the Consulate General of Oman at the Omani embassy in Singapore, who was donating artifacts to the museum," she says. "I was Googling the country on my laptop to try to understand something about their culture so that they would trust me with their precious offerings."
Meet 42-year-old Niceville native Beth Clavier, director of events and patron services for Sinfonia Gulf Coast.
Crescendo! —Sinfonia's largest annual "fun-raiser"— has become the "must-attend" social event of the season, attracting upwards of 300 guests to the main event alone. (There also is a kick-off lunch at Bijoux in The Market Shops in Miramar Beach and a series of intimate, high-end vintner dinners hosted in homes and restaurants along the coast.)
This year's theme is Carnivale and the Hilton Sandestin Beach Golf Resort & Spa will be marvelously transformed into a lively explosion of color to heat up any lingering winter blues. Ladies (and gents) in their finest Carnivale and Mardi Gras-inspired get-ups will mix and mingle. But first, they will be welcomed with chilled champagne served by fine feathered showgirls.
And … just like that, the party of the season will be off and running.
Sipping colorful cocktails guests will play plucky party games and bid on beautifully displayed silent auction items before tucking into a delicious catered lunch. As if dessert isn't sweet enough, the crowd surely will be wowed by a fantastic surprise finale — last year Sinfonia unleashed a cache of cheeky can-can dancers!
We were curious about what it takes to put on such an extravagant event. So, we spoke to the area's event expert. Here are highlights from our "event-ful" conversation.
What makes a great event?
BC: It has a lot to do with your support system of staff, volunteers, and the expertise you are pulling from. Everyone's contributions are a part of piecing the puzzle together. If the focus is entertainment, the atmosphere you create is essential. People want something out of that event. What do you want them to feel? Consider the lighting. Does it make them happy? Are you trying to create a theatrical or cultural experience? Should it be a party atmosphere? You start with creative direction, and the team builds the event with those key elements in mind.
What would people be surprised to know about Crescendo?
BC: Probably, how quickly we physically pull it all together! The event is created from the ground up every single year and installed about 22 hours before the doors open. We take a nap, and then we get our "fancy" on about five minutes before people walk in.
What do you love about your job?
BC: When the show is happening, I'm looking at the audience. It's an adrenaline high. You can see people enjoying themselves. That's my favorite thing, to see people having a good time. My job is to help people forget about anything else for however long the event is.
What do you like to do in your free time?
BC: I love being out on the water on a boat. I'm a scuba diver and I enjoy kayaking and hiking. Being outdoors is where I find my peace. I also like to volunteer. I have worked with many different organizations from animal rescues to LGBTQ causes. Here locally, I've worked with Habitat for Humanity and the Choctawhatchee Basin Alliance.
What do you love about working in the arts?
BC: We raise money for an incredibly good cause. I did corporate events, so working for a non-profit is invigorating. It makes you want to do even better.
Tickets for Crescendo! 2022 are priced per person as follows: Kick-off lunch on Jan. 27 at Bijoux in Destin is $125. Vintner dinners on Feb. 25 are $295. The Main Event on Feb. 27 is $150. For all the details and to purchase tickets, visit SinfoniaGulfCoast.org.