These Swimsuits Are Taylor Made
Miramar Beach designer's swimwear helps women rock their skin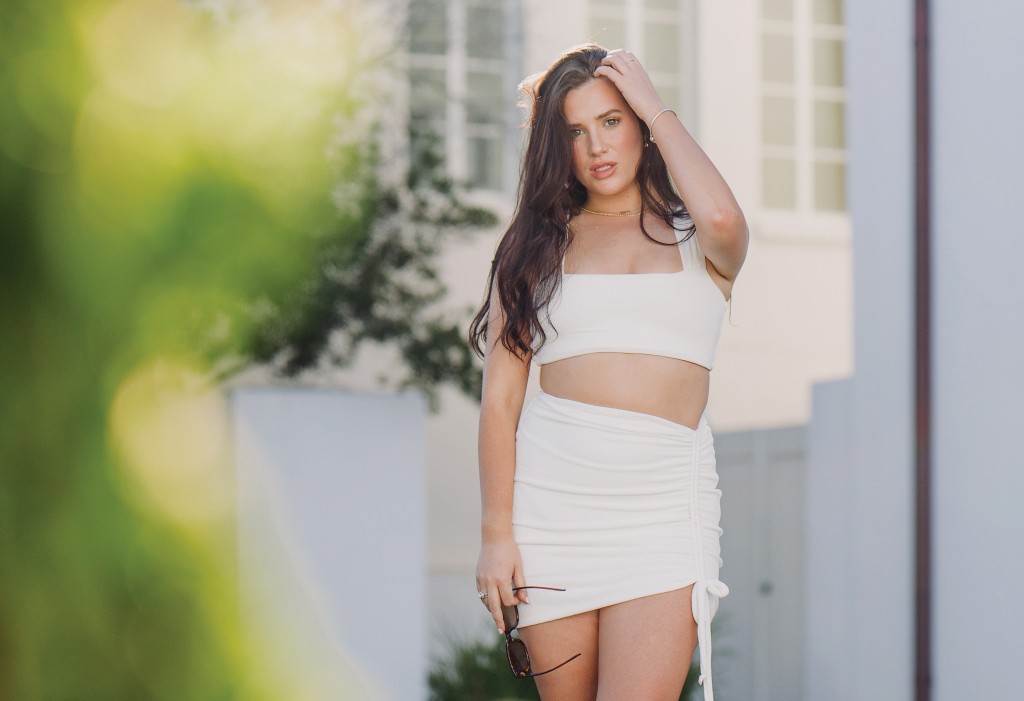 Even in her sleep, Daylin Taylor Beauchamp is working.
The swimsuits of her dreams fill pages of the notebook she keeps on her nightstand.
"Sometimes I'll wake up from a dream and jot down the designs I saw," Beauchamp said. "I'll draw it or make notes on, say, how the straps were arranged."
A resident of Miramar Beach, Beauchamp is the owner and operator of Daylin Taylor Swim and a Realtor with Keller Williams Realty Emerald Coast. She jump-starts her workdays with meditative walks along the beach.
"There, I can scope out real estate and get inspiration for swimsuit designs," she said. Though she intentionally pursued a real estate license, launching a custom swimwear business was purely accidental.
Several years ago, Beauchamp struggled to gain weight. When commercial swimwear styles continued to disappoint, she tried ordering a custom suit.
"But, it still didn't fit," Beauchamp said. "I was an extra small, and coverage was an issue for me. I figured, hey, if this woman custom-makes swimsuits, why don't I try?"
Beauchamp couldn't thread a needle, but she purchased a sewing machine from Walmart and began devouring YouTube sewing tutorials.
"My first attempt at a swimsuit was so horrible I decided I should start small and learn basic stitching with curtains and pillows," she laughed. "After fully redecorating my house, I was finally able to master a swimsuit."
Beauchamp said she created a swimsuit for her mother, who is "curvy, and struggled to find tops that were supportive." When Mom posted a poolside picture on Facebook, envious friends began asking where she had purchased her bikini.
As Beauchamp began making more suits for friends, she gained the confidence that she had what it took to start her own business. In 2019, she opened Daylin Taylor Swim, an online boutique of both pre-made and made-to-order swimwear.
Pre-stitched suits range in sizes XS to XXL and are available in select seasonal patterns and fits. But, Beauchamp said, the real fun is in the one-on-one experience.
"I'll start by asking my clients about their problem areas," she said. "Some have asymmetrical breasts and may need extra padding in one cup, and others want to hide their stretch marks and request I bring the bottoms up a bit."
Though her main markets are in Florida, Georgia, Arizona and Tennessee, Beauchamp said there are only about eight states to which she hasn't shipped her designs. Clients have the option of requesting alterations to established top and bottom styles, but Beauchamp doesn't undertake complete redesigns.
"I don't have a magic wand, and there's only one of me!" Beauchamp said.
Her designs are versatile in both cut and fit. Ideal for tanning cheeks, the Scrunch bottom features a tie-waist design with flexible fabric when a quick return to conservativeness is needed. Tops such as the Beau and Taylor come with adjustable straps, allowing them to be worn in a variety of ways.
Beauchamp said her all-time favorite design is the Greek goddess-style DTS top, which features two thick, over-the-shoulder straps that meet at a center band. "I think it suits both large and small-breasted women and just looks so flattering," she said.
Beauchamp said she anticipates this summer will showcase sturdier suits. While last swim season popularized flimsy triangle tops and bottoms seemingly held together by floss, this one will bring back boy shorts and skirts and continue to embrace the high-waist movement.
In March, dainty, feminine floral patterns were pinned to Beauchamp's home office vision board.
"I like to work months ahead, so I've already bought some Fourth of July-inspired fabrics for summer," she said. "I'm going to be making scrunchies that match your swimsuit, and I'm working on these high-waisted skirt cover-ups you can also swim in."
Beauchamp said she often looks to influencers for inspiration, as they're always vacationing to tropical getaways, even in the colder months. She will sometimes base one design off another and add a twist that improves its support or functionality.
Ultimately, Beauchamp knows it's her name on the tag. She's content in staying a one-woman-show and ensuring each swimsuit is stitched with love and careful attention to detail.
"The pandemic was hard for me, as I had so much success when I opened and thought 2020 was going to be my year," she said. "But, business is picking back up again. I used the downtime to improve my sewing and established a broader range of designs."
For her, there is nothing more rewarding than the ecstatic "My bikini fits me like a glove!" messages she receives from customers.
"All I want is people to feel, no matter their body size, they can rock their skin," she said. "I'm so happy I can make someone feel comfortable and confident."