The Things We Tote
Compact carry options won't weigh on you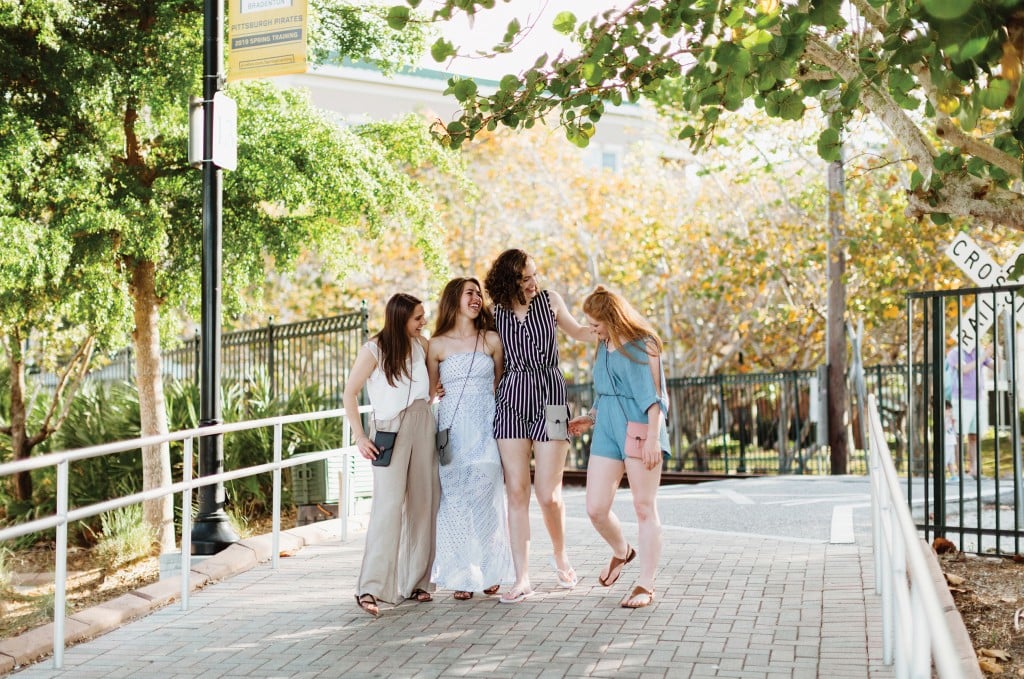 The Emerald Coast is home to abundant festivals, concerts and other outdoor events. To fully enjoy them, you want to be weightless and worry-free, especially when it comes to your style.
Outdoor events call for easier, breezier clothing. From soft cotton sundresses to linen shorts to stylish sandals, our clothing becomes light and bright. This same thinking should apply to the things we carry. The last thing you want is to be bogged down by a heavy bag purse or carry-all when a carry-only-the-essentials will do.
Explore other options. Have a fall fling, if you will. Women may wish to consider wristlets, crossbody bags, fanny packs or waist bags, lanyards or backpacks. For men, slim wallets, cardholders, slings or backpacks may be ways to lighten loads.
"The No. 1 reason to invest in options that aren't solely purses is to keep your hands free so you can enjoy the music or activity, hands in the air, and not have to worry about setting it down and losing your valuables," said Diane McLaughlin, manager of Lee Tracy Pensacola.
Each option has its benefits. Your preference may depend on where you wish to wear it — wrist, waist or back. Wristlets have become increasingly popular, given their small size and sleek stylishness.
"We sell a lot of wristlets because they can be used every day, even when you aren't attending an event," said Kristyn Hasel, manager of Pink Narcissus in Panama City Beach. "They can be thrown into your purse and taken out when you just want to carry the basics. That way, you don't have to do constant wallet swaps."
Crossbody bags vary in size but are typically smaller than your average purse. They stretch across your body, distributing weight, and they are less likely to be lost or stolen.
Laurie Olshefski, owner of Coastal Casuals in Panama City Beach, sells a line of crossbody pocket purses by a company called Save The Girls. The line comes in a variety of styles, colors and patterns with the goal of keeping cell phones snug and safe during any activity.
"Cell phone pocket purses have a clear area that allows you to text and answer your phone without even taking it out," Olshefski said.
While fanny packs hit their heyday in the '80s, they are making a resurgence today as many opt for them as a hands-free option. Embrace the variety of bright and bold patterns available or go more subtle with a classic shade of black or navy.
As always, backpacks are an option for both men and women. Many come in fashionable fabrics, such as leather or suede, so you feel less like a grade-schooler.
Josh Wakestein, co-owner of Hy's Toggery in Panama City Beach, is a fan of the Recon backpack from North Face, which features a laptop sleeve, is hydration-pack compatible and has compression straps for comfort.
"I've had mine for five years now, and it's been my mobile office, overnight bag, day pack and carry-on for countless business and personal trips," Wakestein said.
For men who don't need the room of a backpack, Wakestein recommends the Patagonia Atom Sling. This product features one strap that crosses the front of your body and buckles but rests on your back.
A man's most reliable and consistent carrying companion, however, is his wallet.
"Where women are more likely to change it up, men tend to focus on one wallet that they keep forever and carry everywhere and use for everything," said Dennis Reeves, owner of Dennis & Company in Fort Walton Beach.
After 30 years in business, Reeves knows many men who still carry the same trusted and tattered wallet after many years, but recently he has noticed that men are opting to carry less and are interested in slimmer options.
The brand Secrid, has become increasingly popular in his store. Made in Holland, this company's options include card protectors, money bands, card slides, mini wallets and slim wallets.
For men preferring a traditional wallet, Reeves recommends Martin Dingman or Will Leather for ornate leather wallets that are handmade in America.
Even compact options can accommodate ID, money/credit cards, phone, Chapstick, sunscreen, hand sanitizer, hairbands, tissues, mints or gum.
With your essentials perfectly packed, you're ready to enjoy whatever adventure awaits you, unburdened.