The Skinny on Jeans
Flares are back for another look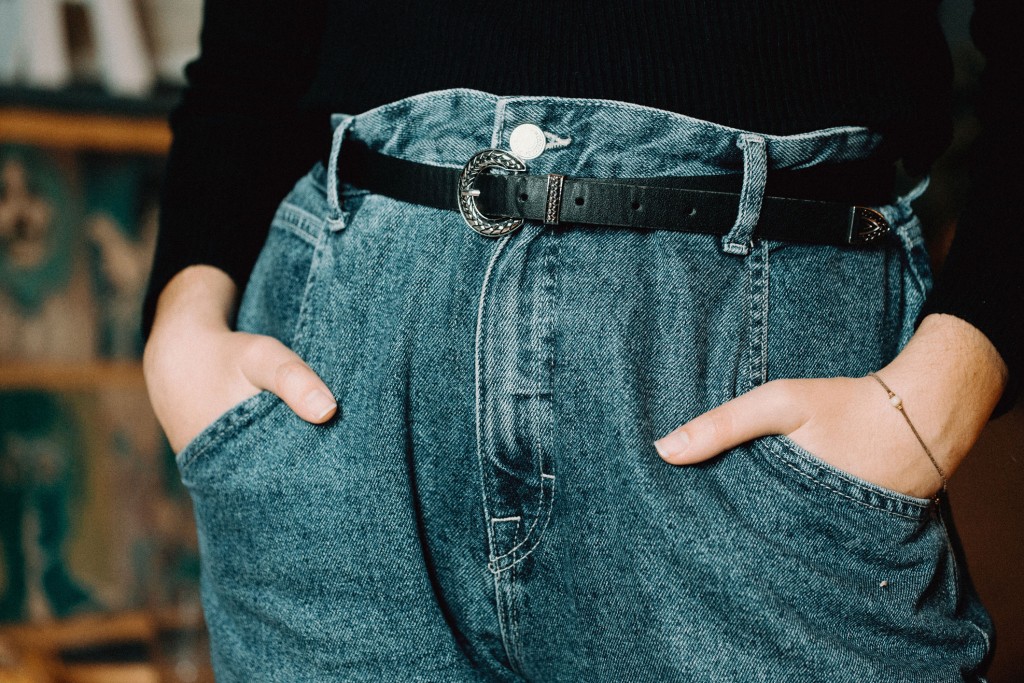 With the revival of mom jeans, disco-ready bell-bottoms and grungy "boyfriend" denim, the millennial skinny jean appears to be going the route of Ellen DeGeneres and daytime TV.
The fashion arbiters on TikTok have gone so far as to declare skinny jeans — along with hair parted on the side and the beloved "crying laughing" emoji — "dead" or, even worse, "cringey." Skinnies have become synonymous with an older generation of folks who, you know, are not in the know.
I've never been one for emojis and because a cowlick prevents me from having a symmetrical middle part, I'll have to accept the loss of cool points there.
As for the jean condemnation, I get it. When I was a middle-schooler who listened to My Chemical Romance and adorned my arms with Silly Bandz and spiked bracelets, I swore off my old, bedazzled flares and couldn't imagine going back. For many more years, I lived in denim sausage casing, thinking they were the be-all-end-all of pants.
I go for a high-waisted, loose fit these days, but there's an old pair of American Eagle skinny jeans I still reach for nearly every week. They may give away my ancient, mid-20s millennial status, but they're worn, cozy and I like the way my legs look in them.
And, according to Haleigh Law, district sales manager for U&I Boutique in Pensacola and Panama City, that's okay.
"Some women feel more confident and comfortable in skinny jeans, and that's fine," Law said. "Skinny jeans aren't going away. Just because we're in a mom jean-moment doesn't mean skinny jeans won't be back in another five  years."
Such is the cyclical nature of fashion. According to Law, a teenage girl recently strolled into U&I looking for some jeans like the ones Jennifer Aniston's character Rachel wore on the'90s sitcom, Friends.
"A popular look right now borrows inspiration from the '90s with loose, destroyed denim paired with crop tops," said Law. "The boyfriend jean is also coming back at a time where, post-pandemic, people are feeling  less comfortable in tight, form-fitting clothing."
Boyfriend fits, such U&I's "Denim Dream" pants, are versatile and can be dressed up or down for different occasions. Law said a trendy casual look right now is baggy denim with crisp, white crop tops and Nike Air Force 1s. "For dressier occasions, I would pair a boyfriend jean with a bodysuit, blazer and a good pair of heels," she said. 
The same could be said of U&I's collection of flower child flares. "Light It Up Wide Leg Flares" and "A Denim Babe Jeans" come in different washes, but both feature leg-accentuating bell-bottoms that can add some flair to a graphic tee, or dress down a formal sweater or flouncy blouse.
Law prefers a mom jean and believes that finding a "good, stretchy, high-waisted pair of jeans you feel comfortable in is key." High-waisted denim pairs well with cropped shirts and is a go-to, everyday, all-purpose bottom. Tapered, loose, elastic-banded or wide-cut, it's a jean that can be mixed and matched with almost anything.
But, as Law says, comfort is key.
Kimber Givens, buyer and manager of Kiss the Sky Boutique in Destin, said the boutique's most popular jeans aren't really jeans at all. Last year, XCVI launched its "Wearables" collection, pants made from a pre-shrunk blend of cotton and spandex made to imitate denim.
"I can't tell you how many people I've hooked on these pants," said Law. "It's crazy because they feel like pajama pants, but I can pair them with my silk blouses and dressier tops."
Most Wearables come in a straight-leg fit, with some bunching around the knee for better maneuverability. While these jeans could technically fall into the "skinny" category, Givens said the majority of her 30-and-up clientele aren't ready to give up their favorite fit but are willing to compromise.
One of Kiss the Sky's best-selling denim brands, Lysse, borrows from boyfriends with its ripped, frayed bottoms. Givens has also noted the popularity of the boutique's distressed, flare-bottomed capris.
"This year, at market, I did notice a trend in flare jeans, but we're still selling skinny jeans like crazy," said Givens. "To me, it doesn't matter. I like to make sure our customers get something that fits and looks good on them."
"If skinny jeans are what you feel great in, then wear them," agreed Law. "Who cares?"