The Show Goes On
Pensacola Little Theatre celebrates 80 years fueled by passion for the arts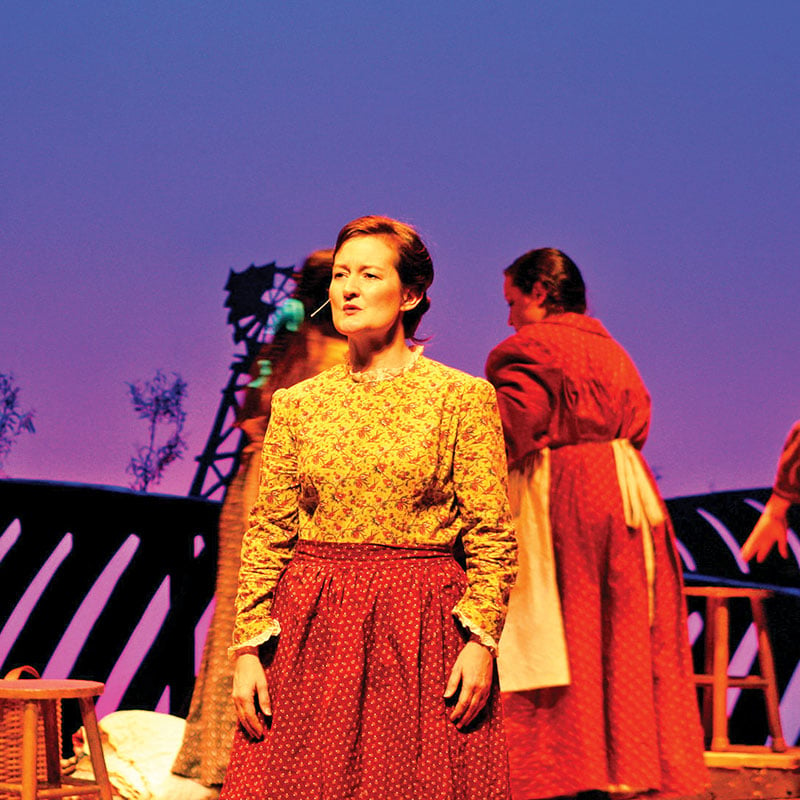 Pensacola Little Theatre recently wrapped its 80th season, but you won't catch this scrappy nonprofit acting its age. As the oldest continually operating community theater in the Southeast, it's showing no signs of slowing down.
"What I love about being part of PLT is the true community," says Kathy Holsworth, who serves as the artistic director and has held almost every position at the theater. "You meet other people who are passionate about the arts, like you are!" That shared passion is one of the pillars that has sustained the theater since it was established in 1936. "It's one of the things that keeps us vibrant and alive!" Holsworth says. "One of the things that makes Pensacola special is that we care enough about the vibrancy of who we are that the Pensacola Little Theatre, the symphony, the opera, the Gulf Coast Arts Festival have all this support, and they make us a better city."
Like many other community theaters across the country, the PLT was funded with money from the Works Progress Administration to speed the nation's recovery in the years following the Great Depression. Through the years, the theater enjoyed many temporary locations — including an aging Quonset hut on E Street — before finding a permanent home in the old Escambia County Court of Record Building and Jail, built in 1911.
"It's such a strong old building," Holsworth says.
In 1988, the massive space was deeded to the PLT, and after extensive renovations, the historic building opened as the Pensacola Cultural Center. In January 1996, PLT staged its first production, "The Wizard of Oz," in the new space. Today the Pensacola Cultural Center is home to PLT, Ballet Pensacola and the West Florida Literary Federation.
In the past four decades, PLT has changed with the times, but its mission — to educate, entertain and enrich the community — remains the same. Its Mainstage Series, featuring popular plays and musicals, and its Treehouse productions for children are presented inside the Valerie Jones Russenberger Theatre.
"We're actually built on a slope," Holsworth says. "It's a really great place for theater. There's actually not a bad seat in the house." This past season, PLT wowed audiences with hits like "My Fair Lady," "On Golden Pond" and "Footloose." PLT's Studio 400 features black box performances inside the old M.C. Blanchard Courtroom Theatre. "We don't do anything in Studio 400 that children would be welcome at," Holsworth adds. "It's grown-up theater."
None of PLT's efforts would be a reality without its tireless team of local residents, who volunteer to work as everything from ushers and costumers to actors and directors, says Ashley Simmons, who heads marketing for the theater. "We have extraordinary people," she adds. "Each show easily logs hundreds to thousands of volunteer hours."
The best part? There's a job for everyone, whether a person wants to be on stage or well behind the curtain. "It's a great way to learn new things," Holsworth notes. "We have a very open community." Together, they strive to choose plays, musicals and other productions that will resonate with local audiences. "We have volunteer boards who make sure that whatever we are doing within these walls is speaking to all of our community," Holsworth says. "We do a lot of play reading. We brainstorm. We get out there and recruit. We don't pre-cast, but we do invite people to audition."
Joanna Hayes, a singer and dancer who appeared in her first PLT production in 1980, says the organization is a gem that should be cherished. "Being a small town, we are really fortunate," she said. "I've seen a lot of theater all over, and this is quality … the performances, the lighting, the sets."
Holsworth, who continues to act and direct at PLT, agrees. "We have amazing levels of talent in this community. It's professional quality," she says, adding that PLT has become a home away from home for folks of all ages. "It's where you connect to humanity."
---
WANT TO JOIN THE FUN?
Pensacola Little Theatre welcomes all volunteers. To sign up, go to pensacolalittletheatre.com or directly to plt.ivolunteer.com/#1.
WANT TO GO?
Here are a few of the PLT's 2017 summer productions:
MainStage presents "Footloose," showing from June 2–June 18
Acorn Theatre presents "Further Adventures of Nick Tickle," showing July 7–9 and July 14–16
Treehouse Theatre presents "CATS," showing July 21–23, July 27–30 and Aug. 4–6
For times and ticket information call the Pensacola Little Theatre at (850) 432-2042.
Pensacola Little Theatre is located at 400 S. Jefferson St., Pensacola, Florida.