The Shell Game
Businesses thrive on customers' endless fascination with products of distant seas.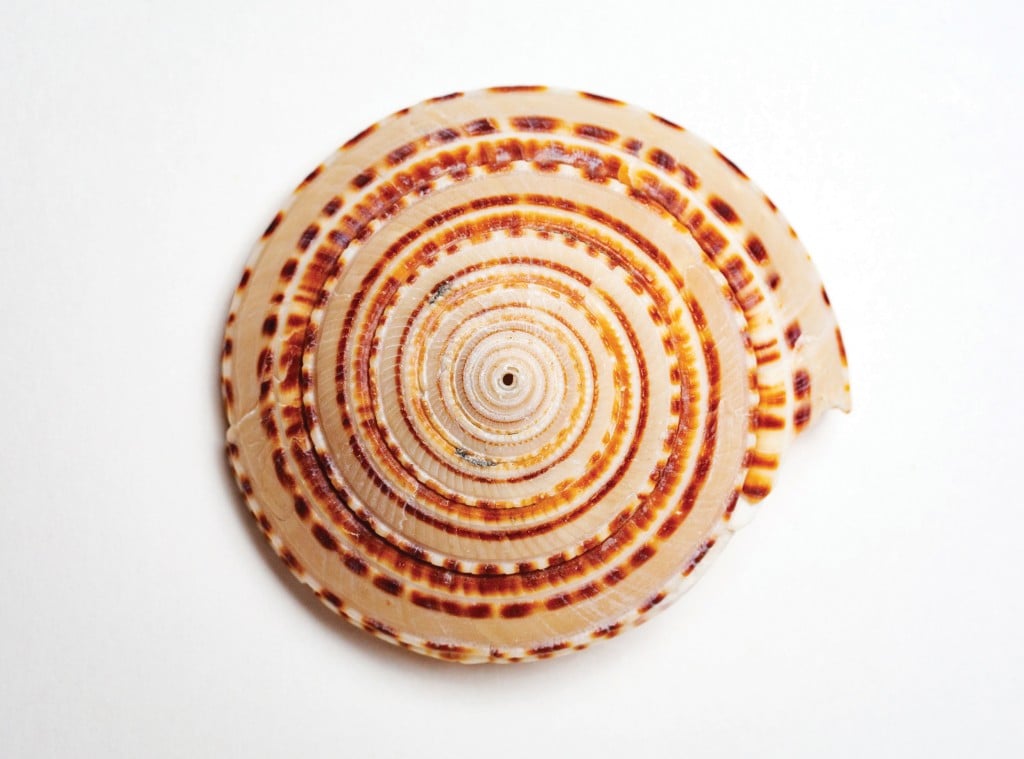 In a corner of the shop, the humming of an electric fan goes unheard. The modest appliance is trained on a wind chime made of windowpane oyster shells whose alto tinkling drowns out the soft sound of whirring blades.
The capiz chorus is pleasant enough and somehow welcoming, its contribution to the ambience of the Shell Hut most appropriate. The low-slung green block building on Panama City's Front Beach Road has been an unchanged fixture for decades.
Motorists who don't know right where to find the business can easily miss it. Westbound passersby likely look past it to ZooWorld, about 2,000 feet distant. Its most dramatic signage is an OPEN sign with letters that light up sequentially and then together.
Ladies with glue guns are very important to Janice Foister, who took over the business from her mother-in-law and mentor-in-business in 1987 after her father-in-law fell ill.
Before that time, she had no interest in shells. The mother of two, she worked outside the home as a maid and as a cook at Lucille Moore Elementary School in Panama City. She had grown up in Walton County near Ponce de Leon. Daddy worked as the service manager at the Chevy dealership in Bonifay.
"It was a good job," Foister said, "but of course he was dealing with other people's problems all the time. This is a happy place, and I have been blessed to have the best customers."
Most of those customers are local and many of them are crafters and, really, is there such a thing as a crabby crafter?
From her mother-in-law, Foister learned every aspect of the business from making change to keeping books to maintaining inventory and learning the names of shells.
Her top sellers include pink murexes and spotted cowries, starfish and sand dollars, whelks and conchs. The most expensive shell in the place at $400 is a large green turbo shell from a marine snail that lives in the Indian and Pacific oceans. But the business relies primarily on the sale of simple, inexpensive shells that wind up adorning jewelry boxes, necklaces, key chains, candle holders, vases and the like.
Personally, Foister is fond of barnacles and conchs and of coral, which historically was a big seller until its availability dropped off to next to nothing. And, she loves wind chimes, don't you know.
Each fall, Foister attends a large shell show attended by wholesalers and conducted at the Boardwalk Beach Resort in Panama City Beach. Her mother-in-law escorted her to the first such show that she attended.
And each month, two semis pull up at the store, selling shells on the fly and making it easy for Foister to replenish her stock.
At the Kilgore Road home she owns with her husband Douglas, who worked a career in construction, she has a room dedicated to shells, "just like every other lady," or at least those in her circle.
Would Foister, due to the coral die-offs precipitated by global climatic disruption, consider selling as a substitute plastic replicas — precise reproductions generated by today's 3-D printers? She doesn't think so.
"I have a lot of people ask me if my coral is genuine," she said. "Even with shells, people want the real thing. They don't want painted shells. You can try too hard."
It impresses me that there is nothing disingenuous about Foister.
I ask her if she has any spiny oysters, a favorite shell of mine. I once removed a spiny from the tentacles of an octopus while diving. Foister goes right to them, shows them off. They are of a rich cinnamon color, and I am tempted to buy one.
Instead, I leave with a magpie shell from the same family of turban snails that includes the green turbo. It is black and white like the bird — striking, I will say — and it sets me back just four beans.
"It's been a good living," Foister said of her business. "We had it on the market once, but it's not for sale now. We just keep on keepin' on."
So, too, do Tom Frowert and his son Rodman — "Like Dennis," Dad said — at the Shell Port, located at the confluence of Thomas Drive and Front Beach Road just west of the Signal Hill Golf Course in Panama City Beach.
Here, the building, painted in Miami Dolphin colors, fairly screams. A plastic Great White Shark protrudes from the structure like a toothy dormer, and painted on the metal roof is HERMIT CRABS in letters that might be 2 feet tall. There was a time when the store was marked by a Bunyan-esque statue, King Neptune, which was grandfathered in when an ordinance prohibiting such outsized lavishness was adopted.
But when Neptune was battered by a hurricane, the ordinance would not allow for its restoration.
"It was relegated to a landfill," Rodman said. "King of Refuse."      
As I arrive, a young couple is checking out with three hermit crabs with brightly painted shells, some food for the critters and a plastic enclosure lined with sand.
"Don't charge them for the sand," Tom instructs Rodman.
Tom has been in the shell game since 1977 when he opened his first shop in a converted garage in Panama City Beach next to a scooter rental business. He doesn't recall what he sold her, but he does remember that his first customer was a Mrs. Sullivan from Canada; she spent $28, American. Tom has been in his current location since 1981.
He went to work at Barnett Bank in Pensacola after graduating from the University of West Florida, and took note of a customer who made daily deposits at the bank. He asked him if he were in business. It turned out that the customer, Allen Davis, owned and operated a shell shop in Gulf Breeze.
Tom accepted Davis's invitation to come see his shop and left with a desire to start a shop of his own.
Always, Tom and Rodman have catered to out-of-towners — "Ninety-nine percent of our customers are tourists," Rodman said — and the shop offers more than shells. Here, you can pick up a tactical knife, an air plant or a pound of saltwater taffy in a variety of flavors.
Over the years, some items have become almost impossible to get. Coral, Tom said, is available now only from a couple of places in the world where it is harvested from reefs that lie in the paths of shipping lane construction projects. Orange Blossom perfume is off the market. Gar scales are hard to come by. And shark pups in a jar, once available from a supplier in the Philippines, are a thing of the past. The Frowerts, until recently, bought sand dollars from a supplier in Port St.  Joe. He died, and Tom isn't sure what the future of sand dollars is. Expect a coin shortage.
Some species have become unavailable due to environmental degradation and others due to overharvesting, Rodman said. Meanwhile, aquaculture has emerged to begin to provide supplies of some species, including corals.
The increasing acidification of oceans due to the absorption of elevated concentrations of carbon dioxide from the atmosphere has been especially hard on the more intricate types of coral and has disrupted marine food chains.
Katharina Fabricius of the Institute of Marine Science in Australia has observed, "Under ocean acidification, coral communities shift from delicately branching corals to massive bouldering corals. This shift reduces the structural complexity of the reef environment. As a consequence, these reefs fail to meet the habitat needs of many types of zooplankton" — an essential source of food for countless species. Too, acidification makes it harder for organisms to form shells.
But the acidification has not been enough to visibly affect either the Shell Hut or the Shell Port. Both Foister and the Frowerts said business was very good after the stay-at-home phase of the pandemic passed.    
"We get our shells from all over the world — the Philippines, Thailand, Taiwan, Vietnam," Rodman said.
"And a lot of what we sell is byproduct," Tom added. "Here in the United States, we eat scallops and oysters and throw away the shells.  In the Far East, they eat everything and they keep the shells."
Conchs are big sellers at the Shell Port.
"Most of the conchs are what they call slit conchs," Tom explained. Conch-eaters in Haiti and elsewhere knock a hole (or slit) in conch shells via which they kill the animal inside, making extraction of the meat possible.
The Shell Port is home to a few eye-poppers, likely on permanent display, including giant clamshells and a massive piece of bowl-shaped coral. The latter piece is for sale for $10,000. Generally though, the Frowerts, like Foister, are not much into inventorying rare shells for the simple reason that they don't sell well.
But shark-tooth necklaces, they got 'em. Lots of 'em.
Panama City Beach and the Shell Port, in particular, have survived despite the Deepwater Horizon oil spill, the Great Recession, Hurricane Michael and, now, COVID-19.
"It's been one calamity after another," Rodman said.
"Clamity, you should have said," I told him. "You missed one there."
"Yes. Anyway, it's like we are encapsulated in a little bubble here. Businesses rebound, provided that they can survive whatever the initial blow is."
Or, as those marketers at Visit Panama City Beach like to say, "The beach always brings us back."
"Have a good rest of the season," I said to the Frowerts.
"We shall."
"Oops, missed another one."