The Return of Wallpaper
Contemporary styles achieve effects that paints cannot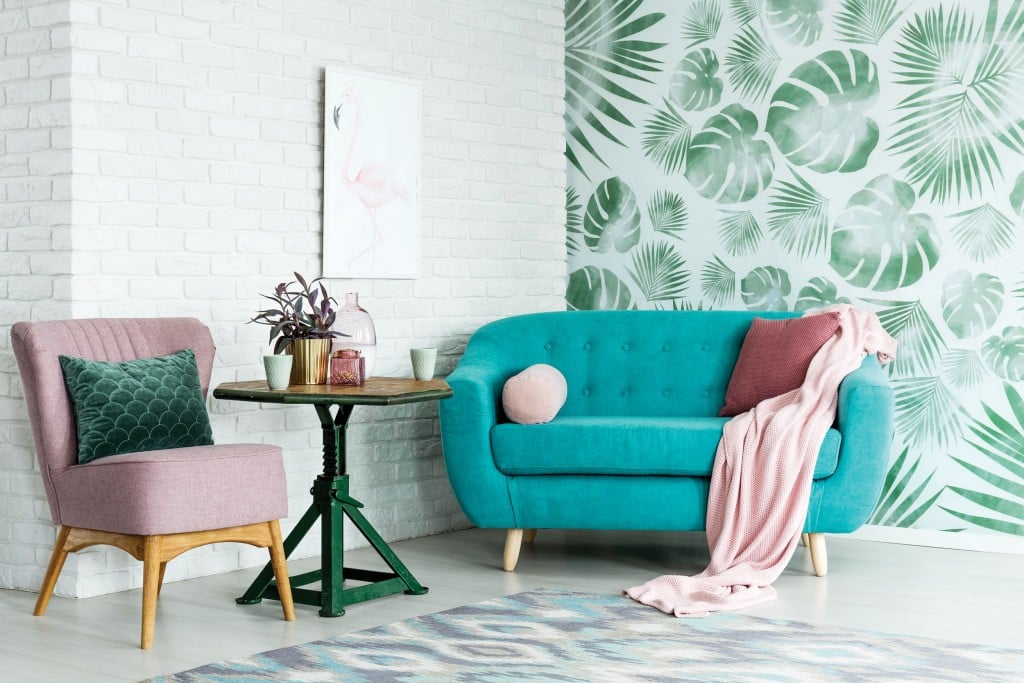 Many "new" design ideas are really inspired by the past.
One such trend — and a polarizing one, at that — is wallpaper. As simple as it might seem to decide for or against it, there are lots of factors to consider, especially in light of advances that have been made in wallpaper over the years.
Gone are the days of rooms completely covered in paper that ages and falls out of favor quickly, only to defy anyone trying to remove it. These days, the designs are not only plentiful but extremely attractive and often even customizable.
"I recently read that wallpaper has been used since the 16th century," said designer Lacy Phillips, who began her career in Dallas working under renowned residential designer Shannon Bowers, before moving back to her hometown of Pensacola to found Lacy Phillips Designs.
"When I began my career over 10 years ago, wallpaper was slowly coming back in fashion after a period of being out of style," Phillips said. "Now, it's definitely back and available in fresh colors, patterns, textures including metallics, cork and other natural fibers and styles that can range from traditional to contemporary. Another bonus is the availability of performance wallpapers in materials such as vinyl that still look fabulous and can easily be wiped clean."
"People were so against wallpaper after it had a run in the '60s, '70s and '80s," added Paige Schnell of Tracery Interiors, whose design studio and two retail stores in Rosemary Beach and Inlet Beach attract clientele from all over the United States. "It's wonderful that it's become popular again, because wallpaper can add so much to a space. A favorite room for wallpaper is the powder room, but it can add so much to so many rooms."
The trick, of course, is knowing where to use it and how.
"I believe that good design is achieved in layers, and wallpaper is a layer of its own," Phillips said. "It can provide a texture that envelops a room and makes it cozier, or it may display a colorful, wild pattern that elevates people's moods when they enter. It may also introduce a pattern that sets the tone and color scheme for one's entire home."
"Wallpapers actually add some durability to a room," noted Schnell. "They can also add texture and color that may be needed in a space, giving it the finishing touch it may otherwise lack."
And, there are some instances where paint won't bring about a desired effect. "Some of the patterns and textures you get from wallpaper just can't be achieved in paint," Schnell said.
"Wallpaper can add a 'punch' when paint simply wouldn't add much to a room," Phillips agreed. "In small spaces such as a powder bathroom, a pattern on the wall can actually make the space appear larger. The same is true for the opposite, making an oversized room feel more intimate and soothing."
Experts love the versatility and style that wallpaper can add.
"Their use is not limited to the walls," Phillips asserts. "We've applied it to ceilings, the back of shelves on a bookcase, and framed them as a piece as art — which is a great way to utilize a pattern if you are on a limited budget. I also appreciate the diverse selection available."
"I appreciate the personality that wallpaper can instantly add to a room," Schnell said. "If you have a room that just needs something, try wallpaper!"
Still, wallpaper might best be used in moderation.
"Wallpapering just one wall, such as the headboard wall in a bedroom is a great way to achieve an accent wall that you won't tire of," Phillips said. "This works both for someone a little nervous about a full commitment as well as anyone working on a budget. I also suggest keeping more colorful and patterned papers in spaces such as the powder bath and foyer — spaces that I call the 'jewelry boxes' of a home, where you can experiment. For the main living areas, I gravitate more toward muted colors and patterns."