The Rehabilitation Institute of Northwest Florida, a Department of Fort Walton Beach Medical Center, Announces New FEES Evaluation Procedure to Help Patients Diagnosed with Dysphagia
First two patients to undergo FEES due to dysphagia, or difficulty swallowing, able to resume normal diet immediately following procedure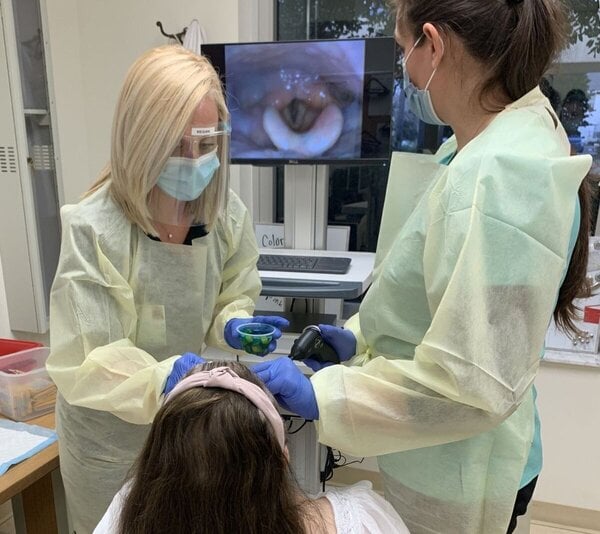 Fort Walton Beach, FL – Individuals who suffer from dysphagia have a new hope in an evaluation procedure known as FEES-Flexible Endoscopic Evaluation of Swallowing, now in place at The Rehabilitation Institute of Northwest Florida, a department of Fort Walton Beach Medical Center. This new procedure improves quality of life for patients who suffer from dysphagia, which refers to difficulty or discomfort in swallowing.
"Dysphagia is usually caused by another health condition such as conditions that affect the nervous system, including a stroke, head injury, multiple sclerosis or dementia," said Rebecca Jones, Regional Director of The Rehabilitation Institute of Northwest Florida. "Some people with dysphagia have problems swallowing certain foods or liquids, while others are unable to swallow. As you can imagine, this significantly impacts a person's life and makes maintaining good health a challenge. We are excited to offer FEES here at The Rehabilitation Institute to truly improve the lives of our patients."
Beverly Katz, who suffered the debilitating effects of a stroke, was the first patient to undergo the new FEES procedure at The Rehabilitation Institute in early January and shortly following, Robert Salvas, who was admitted for a pharyngeal abscess (an abscess deep in the throat), was the second patient to undergo the procedure.
Prior to the procedure, a barium swallow test noted that both patients had pharyngeal/ laryngeal weaknesses and were placed in intensive therapy involving strengthening exercises, as well as special diets, with one having to avoid drinking or eating by mouth. After undergoing the FEES procedure under the care of Speech Language Pathologist Megan Pzinski, the findings from the Flexible Endoscopic Evaluation scope, showed that the therapy was working and both patients were able to advance back to a regular diet immediately following the procedure.
"We are extremely impressed by this new evaluation procedure to help our patients be able to maintain their regular diets," said Jones. "After seeing extraordinary initial results, we are looking forward to seeing how it will help new patients improve while undergoing therapy."