The Rebbe, the Rabbi and Me
At the Chabad house, a meeting grounded in goodness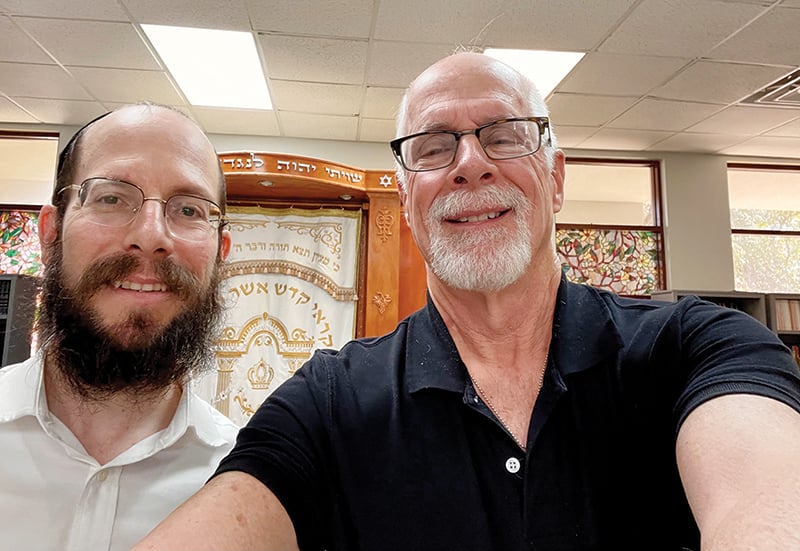 By invitation, I stopped by the Chabad house, a Jewish synagogue/community center in Destin. There, Rabbi Shaya Tenenboim was happy to see me and was ready to discuss anything regarding the Chabad center and the Jewish community on the Emerald Coast.
Throughout a 90-minute conversation, we were overlooked by a portrait of the Rebbe or grand rabbi, Rabbi Menachem Mendel Schneerson, who led the Lubavitch Hasidic Movement and pioneered Jewish outreach for decades, from the early 1950s until his death in 1994. Rabbi Shaya explained to me that although the Rebbe has passed on, his inspiration and blessings are what brought him, his wife and children to the Emerald Coast to help and serve the Jewish community.
Rabbi Shaya was born in Israel and his wife Rochel in New York, both cities home to huge Jewish populations. Still, when they heard about Destin and the Emerald Coast, they knew it was their place. A Jewish community without a Rabbi, and a lack of Jewish resources, needs them.
They enjoy the support of the Destin community. Walking from home to Saturday services, they entertain friendly waves and well wishes. The Chabad center is growing as a product of word of mouth, its highly visible activities and events and the new southerly migration supercharged by the COVID-19 pandemic.
Thoroughly, Rabbi Shaya described for me events on the Chabad of the Emerald Coast calendar, including Chabad 30A events conducted on the sandy beach. In March, the Chabad house celebrates Purim, an occasion that commemorates a time when Jews living in Persia were saved from extermination. Passover brings a ceremonial dinner known as the Seder.
On every Jewish holiday, Chabad invites the Jewish community to celebrate a fun and educational event. Almost all such occasions are sponsored by generous donors and are free for the community to enjoy. The events take place at the Chabad center or in public locations around the Emerald Coast.
Chabad houses are also located in Pensacola and Panama City Beach, having been established, respectively, by Rabbi Mendel and Nechama Danow and Rabbi Mendy and Chaya Havlin. They, like Rabbi Shaya and Rochel, spurred by the Lubavitcher Rebbe's inspiration and blessings, moved with their children to help a small Jewish community.
Remarkably, a new Chabad center opens every three to five days on average, somewhere around the globe.
Rabbi Shaya impressed upon me tenets of Chabad including the belief that all persons on Earth have been assigned a role to play by G-d, and thus it is not appropriate for one person to judge another. (I employ here the Jewish convention of avoiding writing the name of the Creator so as to avoid any risk of defacing the Name.)
I remarked to the rabbi that surely people become separated from their intended purpose.
He agreed that some do and referred me to a website, asknoah.com, where I found this helpful passage from an address given by the Rebbe in 1990. 
In explaining the purpose of Creation, our sages say that G-d, the Essence of all good, created the world as a result of His desire to do good. As it says in Psalms 145, "The L-rd is good to all, and His mercies are over all His works." For as it is the nature of good to do good unto others, the creation of the universe was a Divine expression of goodness. In this way, the universe and all life are recipients and objects of Divine goodness. Hence, everything that occurs in the world, even the apparent bad, such as natural disasters, must ultimately have redeeming good. Similarly, the negative inclination within human beings, who essentially desire to do good, is but a "mechanism" by G-d's design, to establish free choice. For had G-d created a world that is totally and exclusively good, without any efforts on the part of mankind to achieve it, there would be no or little appreciation of goodness. In light of this, it is important to realize that in the individual's struggle with evil, within the world at large or within one's self, the approach should not be one of confrontation. Rather, by emphasizing that which is good in people and in the world, and by bringing the positive to the fore, the evil is superseded by the good, until it eventually disappears.
We are free agents who struggle, it seems increasingly these days, to find the redeeming good in tragedies, disasters, war and violence. Rabbi Shaya has invited me to stop by a Chabad house event and to learn more. That I will do.
L'Chaim,
Steve Bornhoft
Executive Editor
sbornhoft@rowlandpublishing.com