The Paradise Less Traveled
Low-key mountain retreat offers a welcome respite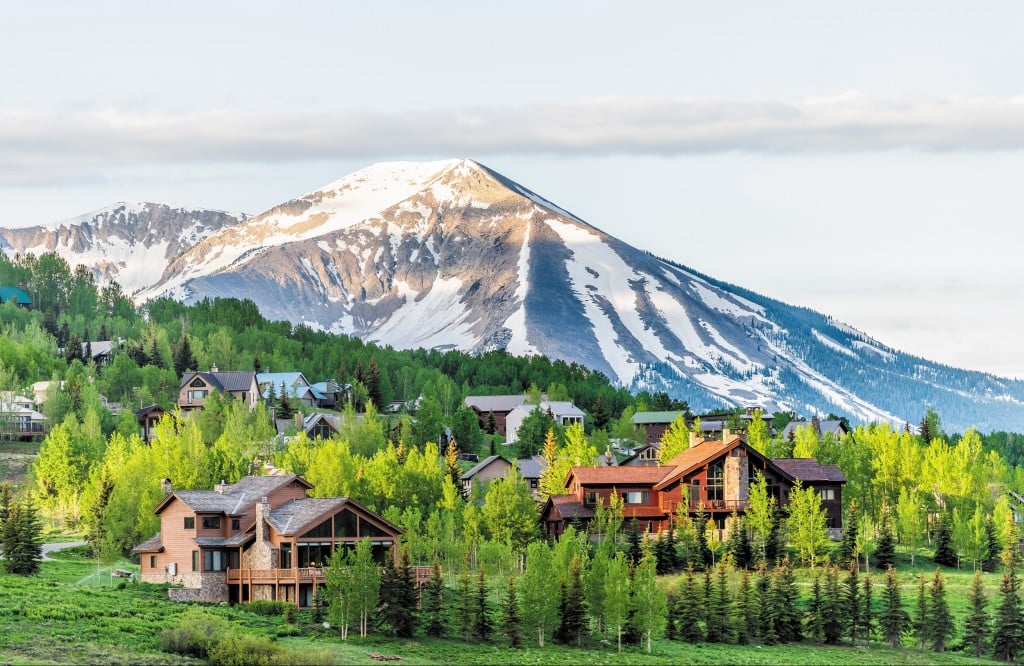 Northwest Florida offers visitors disparate experiences, depending on exactly where they stay. The Emerald Coast is distinct from the Forgotten Coast as to accommodations, dining options, retail shops and the relative concentrations of people who go there. In the course of a bicycle ride along Scenic Highway 30A in South Walton County, a tourist will encounter communities with unique identities and histories, some relatively long, another that didn't begin until Robert Davis had a vision.
Colorado, too, presents contrasting settlements. On one side of the Maroon Bells in the Elk Mountains lies ritzy Aspen and on the other, Mt. Crested Butte. Both destinations offer world-class skiing in the winter and breathtaking hiking throughout the rest of the year for anyone seeking a Rocky Mountain high. But whereas you will find long rows of luxury private jets at Aspen's airport, Crested Butte is more low-key and laid-back.
Leaving behind heat and humidity, my wife and I arrived in the Rockies just as the leaves were turning brilliant yellows, oranges and reds. We stayed in a beautiful mountainside home overlooking ski slopes and the quaint village of Mt. Crested Butte, which aligns with the St. George Island experience.
We flew into Colorado Springs and enjoyed a three-hour scenic drive along the Arkansas River, crossing the Continental Divide at Monarch Pass and rolling into town in time to grab groceries before heading up to Cinnamon House, owned by Blair and Fred Garth of Pensacola. Blair is an accomplished artist and has filled the four-story home with her creations, many of them three-dimensional, making for a museum with a view.
From green to black
Travel magazines have dubbed Crested Butte the "Last Great Ski Town in Colorado." Slopes range from the gentle to the extreme. There are plenty of beginner and intermediate runs appropriate for the whole family. Among 16 lifts, 80 percent service "green" and "blue" slopes. The other 20 percent carry adventurers to the tops of runs challenging enough to get the most radical of skiers stoked.
The craggy North Face offers a plethora of "double-black-diamond" chutes, cliffs and descents and usually opens in late January or February, depending on snowfall. Banana Peel, Teocalli Bowl and plenty of other black runs are enough to keep the adrenaline flowing in the most experienced skiers.
If you're not into high-speed airtime, Paradise Bowl and the runs served by the Red Lady lift offer consistently blissful, machine-manicured "groomers." There, three outstanding on-mountain restaurant/bars serve hot adult beverages and delicious food. Photography bugs will find spectacular views just about everywhere. A stunning panoramic view awaits those who head up Painter Boy lift to the Umbrella Bar.
Crested Butte may not have the sprawling terrain of Vail or ready access to Denver, but it has its own advantages. Locals refer to skiing as doing laps because the lift lines are usually sparse, ensuring that you have more "down time" and less wait time.
Rocky Mountain chill
On our trip, we were into a different kind of downtime. Each day, we took our time reading and relaxing before heading out for the day.
On a Sunday, we took the 10-minute drive to town to catch the final day of the Summer Street Marketplace. It was packed with local vendors selling their crafts and food items. We walked the main drag and strayed into residential areas where we met many welcoming locals who relish their simple, healthy lifestyle, far removed from urban chaos.
When in the course of our stay we felt like we had adjusted somewhat to high altitude, we resolved to go hiking. We had many trails to choose from of varying degrees of difficulty. We opted to hike up to the Umbrella Bar, and while it took us two hours to reach the peak, the view from there made the effort — and the tight legs to come — worthwhile.
Outfitters in Crested Butte offers biking, hiking, rafting, fly-fishing and horseback riding day trips, all customized to your interests and abilities.
Cinnamon House was a welcome sight at the end of each day. Mostly, we ate in, taking advantage of a fully equipped gourmet kitchen. On an outdoor grill, we prepared steaks that we had purchased at the marketplace. And, yes, there is a big difference between fresh, grass-fed beef and the cuts you get at the grocery store.
Our week in Crested Butte passed quickly. On the last day, I spent an hour in a hammock listening to the mountain breezes and the rustling of yellow aspen leaves. I savored the last moments of daylight before the sun disappeared behind the mountain across the valley, and I told myself that I would be back.
Learn more about Cinnamon House on Mt. Crested Butte at VRBO.com/336001.
Crested Butte
Coal Country The Town of Crested Butte, known as "The Gateway to the Elk Mountains," sits at an elevation of 8,885 feet and is located 28 miles north of the city of Gunnison. The area was originally home to the Ute Indians. The town was incorporated in 1880 with a population of just 400 people but grew and became a center of coal mining following the arrival of a railroad. With the closing of Big Mine in 1952, the era of coal came to an end in Crested Butte. Then in 1960, Dick Eflin and Fred Rice purchased the Malensek Ranch three miles northeast of town and, in the winter of 1962, opened a ski area. Tourism was about to become Crested Butte's lifeblood.