Ashton Hayward's Latest Career Move
Former Pensacola mayor now heads up Andrews Research & Education Foundation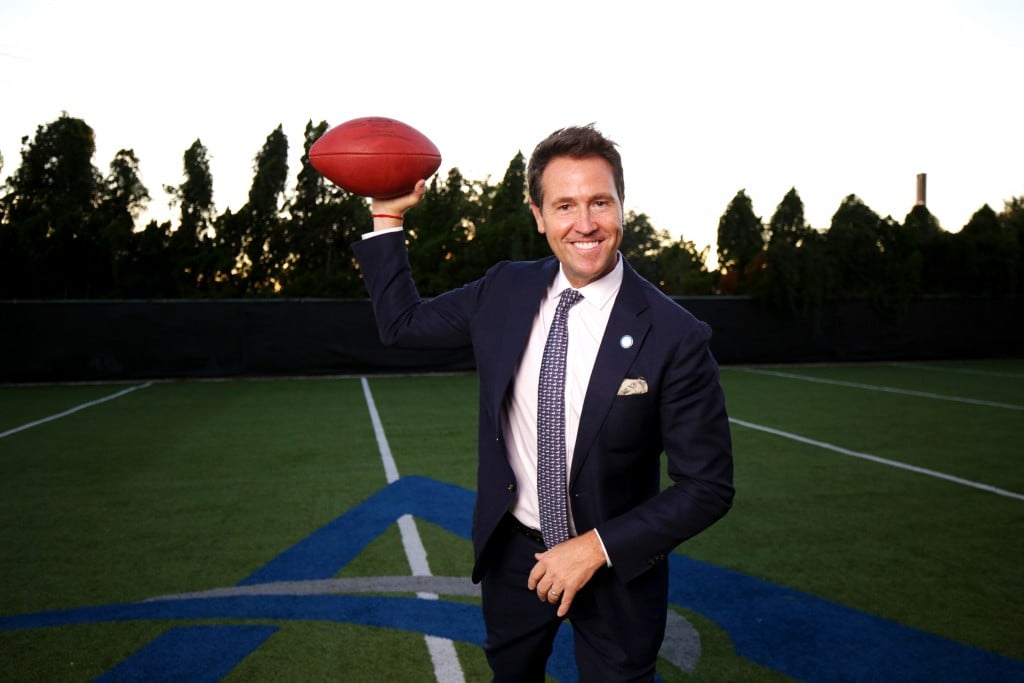 Pensacola-born Ashton Hayward has always been a man on the move — changing careers, shifting direction and perpetually looking for the next challenge to take on.
"I'm one of those folks that's pretty driven," he said.
The highly regarded former Pensacola mayor, who served two terms from 2011–2018, made his first big move when he left his Panhandle hometown for New York City in the early '90s after graduating from Florida State University. En route, he lived briefly in Miami, where he met An, his wife now of 25 years. In New York, he worked as an executive for AT&T and then as an ad director for the Financial Times.
"Being from Pensacola and living in Manhattan for a decade was kind of a culture shock," Hayward said.
But those 10 years up north helped to instill in him a broader understanding of what makes a vibrant city vibrant. "Living in New York, working in corporate America and taking the subway to work every morning, you're around so many cultures in the most diverse city in the world," he said. "I was around a lot of sophisticated people and a lot of everyday people. It allowed me to look at things through a different lens and gave me a picture of what could be."
When Hayward returned to Pensacola in 2003, he helped found a real estate development firm and also served as vice president of marketing and business development for the World Alliance of Mixed Martial Arts before deciding to run for mayor. At that point, the city had adopted a "strong mayor" form of government, establishing the mayor as its chief executive instead of a ceremonial ribbon cutter. He would call upon his experience as a big-city dweller to help transform his city of 50,000.
Ashton streamlined city operations, cut taxes, improved city services, reduced crime, led the transition of public vehicle fleets to compressed natural gas, oversaw an expansion of services and opportunities at Pensacola International Airport, and reformed the city's pension programs.
"I spent a lot of time and energy on the airport because it's someone's first impression of the community," Hayward said. "And pension reform was also a big deal. We had a big unfunded liability when I came into office. We renegotiated a lot of union contracts — police, fire, general employees. You have to get a handle on that stuff. I know we did a really good job getting that under control. Now, we have the Rolls Royce of pension plans.
"But the biggest accomplishment is that we changed the culture in Pensacola," Hayward continued. "We began to think of Pensacola as a city on the rise. A city that could be creative and walkable and bikeable with an urban lifestyle. A smart city, where talent wants to come and stay, an environment where entrepreneurs want to take risks and invest in our community."
Hayward is a fan of new urbanism and its live, work, play model.
"All the things that I experienced before I ran for office I wanted to bring to our community. I feel from 2010–2018 we really set the stage to have some very positive growth in Pensacola and Northwest Florida. We're a town of winners, now. And we're just getting started. Our better days are ahead."
Why would a successful politician decide to walk away from a certain third term?
"I got us where we needed to go, and it was time for me to go and do something else," Hayward said matter-of-factly. "I gave it all I had and then some, and it was time to move on."
Almost immediately, Hayward went from City Hall to the next big thing — becoming president of the Andrews Research & Education Foundation (AREF), an international leader in the fields of sports medicine and musculoskeletal research and education.
"I had the good fortune of knowing Dr. (James) Andrews for 18-plus years, and I know a lot of physicians out here," Hayward said. "I was given the opportunity to work with one of the greatest orthopedic surgeons of all time, and I would have been a fool not to go. I want to learn as much as I can from him, not just from the health care side, but how he impacts other people as a leader. It's an honor to work with someone like that. I always want to be around people of honesty and integrity who can help make me a better me."
Will Hayward's path ever lead him back to elective office?
"I don't think about it too much," he demurred. "Don't get me wrong. I loved it, and I love people. I'm still involved in the community, and I've got a lot left in the tank. I do enjoy politics, and we'll see what the future holds for me."