The Measures of a Man
In odd time, Jimbo Thornton combats memories with music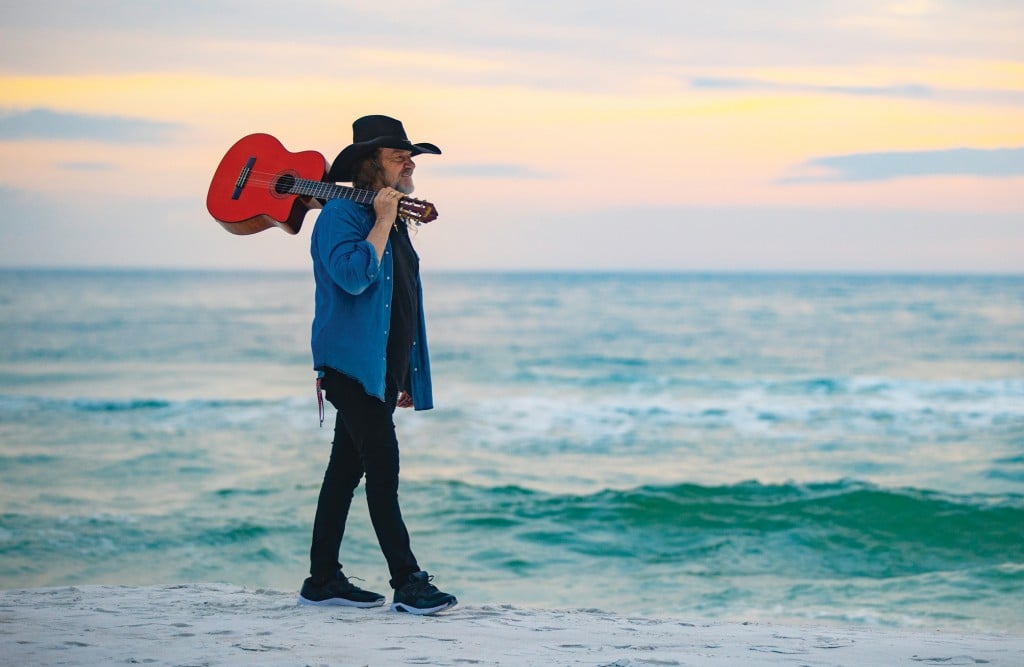 In May 1966, Jimbo Thornton had a band called the Strange Bedfellows on St. Simons Island where it had come out on top in a 23-entry Battle of the Bands and attracted the attention of Mercury Records. Under contract, it recorded a song about pills, Mother's Little Helper, that had been written by Mick Jagger of the Rolling Stones and was getting airtime.
Folks lined up to see the Bedfellows who, wearing pajamas, would pop out of a bed as the stage lights came up. Thornton was on a good roll. Then, he learned that he had been drafted by the U.S. Army. Mercury pulled the song back in, the Stones themselves recorded it, and it topped out at No. 8 on the Billboard Hot 100 singles charts.
Thornton went to Vietnam.
"I didn't run," Thornton said. "Boys were coming home in body bags, not on foot. Who would sign up for that? I said that if they wanted me, they were gonna have to draft me, and they sure did. Draftees were running to Canada. The guys in the band encouraged me to shoot myself in the foot. I told them no. I was going."
He served on the front lines as a member of the 173rd Airborne Brigade, known to people close to it as The Herd. He was an infantryman and paratrooper who came to be surrounded by young men who were convinced that we were going to die in that country. They were right, mostly. Early on, they had been told that the Army needed "bullet stoppers."
"Not me," Thornton said. "I told 'em I was going home."
Thornton made it out physically intact. His tour of duty in Vietnam complete, he flew into Seattle at night. The hour notwithstanding, he was greeted by anti-war protestors who spat at him and called him a baby killer.
Thornton has written a song, Prisoners of War, inspired by his time in Vietnam and its aftereffects. You can find it on Spotify or on YouTube where it is accompanied by Thornton's painting of the Hamburger Hill battle site.
The song is not intended to be just about America's failed fight against North Vietnam and the Vietcong but instead to speak to a universal truth: The experience of war leaves combatants in all conflicts with images and memories and questions that don't much go away.
They trained me to kill a man
they called the enemy,
But I don't know him
and he sure don't know me.
One thing for sure, just trying to endure
this place where we don't want to be.
We are prisoners of war
trying to close an open door.
Prisoners of war,
in our minds stuck on a foreign shore.
In a photo that he keeps on his phone, Thornton is seen feeding a child of about 4 or 5 in Vietnam. The boy had approached an American camp and gestured, pointing first to his stomach and then to his mouth.
"Sometimes, they would send kids into camp with explosives strapped to them," Thornton said. "But this boy had been checked out. I wish they had put that photo on the cover of Time magazine. Maybe then, perceptions would have been different; maybe people wouldn't have called us baby killers."
Saw three old soldiers
living on the street downtown today.
Dressed in dirty old fatigues.
As I handed them a twenty,
I wondered just how many
were lost in the wars of yesterday.
Lookin' tired and worn,
but somehow still goin',
It took me back to a troubled time in history.
Much to my surprise,
when I looked into their eyes,
I come to realize one of them was me.
Thornton has attended classes for Vietnam veterans with PTSD. Teachers decades younger than he have told him that it should be possible for him to compartmentalize his thinking, tuck thoughts of Vietnam away so that he no longer will be bothered by them. One counselor suggested that he take a folding chair into the woods and sit and look at kudzu vines as if he might win a stare-down with the vegetation and cause the jungle to recede from his consciousness.
"I wanted to tell them that they had surely lost their minds," Thornton said.
We are prisoners of war
trying to close an open door.
Prisoners of war and in our minds
still stuck on a foreign shore.
Misshapen by trauma, the door cannot be shut.
"I wish no one would have to go to war," Thornton said. "But war just seems to be inevitable."
Inescapable, too, was Thornton's emergence as a musician.
He was born in Colquitt, Georgia, in the southwestern corner of the state, and moved a few miles up State 45 to Arlington at age 5. Three years later, the family moved again to Albany where Thornton went to school with Paula Hiers, later TV personality and restaurateur Paula Deen, and with Eddie Middleton, a founding member of the Christian band NewSong.
"Dad was a guitar player, mom was a singer and I had an uncle who played guitar and mandolin," Thornton said. "We didn't have a TV until I was in the ninth grade, didn't even have a phone. So, after supper, we used to get on the front porch at Grandma's house and play guitar and dance and sing."
He studied music for two years at Kennesaw College on the GI bill after returning from Vietnam but is otherwise without formal training.
Thornton, 74, lived in Atlanta for more than 40 years. His wife, Lady Dale, whose mother owned a real estate company, was born there.
"I married way up," Thornton said. "Way up."
In Atlanta, Thornton's band, Kudzu, played the city's hottest 1970s nightspots — Funochio's, the Agora Ballroom, The Headrest, Richard's. At the time, the experimental musician/songwriter and free-speech advocate Frank Zappa, he of the monster soul patch, was cruising those clubs looking for players.
"He had flipped out over the Allman Brothers," Thornton said, "and he wanted to play some Southern rock and blues."
Zappa liked how Kudzu played in odd time, 11/4. When his bass player broke a finger, he snapped up Birdlegs Youmans from Kudzu. Not long thereafter, he convinced Thornton to join him and play slide guitar.
Thornton admired Zappa, but the relationship was short-lived. Zappa wanted him to move to Los Angeles, and Thornton was unwilling to move his family across the country.
"Zappa carried around a collapsible coffee pot, grounds and creamer and a cup in an old violin case," Thornton said. "I never saw him smoke a joint or snort anything, and coffee was the only thing I ever saw him drink."
Countless times, Thornton has bumped up against music greats.
Strange Bedfellows opened for Roy Orbison. Later, Kudzu opened for acts including ZZ Top, Lynyrd Skynyrd, Steely Dan, Little Feat and the Atlanta Rhythm Section. In 2002 and 2003, Thornton toured England and France with a band, Rats In The Attic, and recorded a live double CD at the Cavern Club, home of the Beatles, in Liverpool, England.
In Atlanta, Jimbo and the Peachtree Posse, as the house band at the Rainbow Music Hall, warmed up audiences for an all-star lineup of performers: George Jones, George Strait, Mel Tillis, Waylon Jennings, John Conlee, Con Hunley, The Judds, The Marshall Tucker Band, David Allan Coe, Johnny Lee, Delbert McClinton and John Anderson. The list goes on.
Thornton was inducted into the Atlanta Country Music Hall of Fame in 2013.
He appeared in a 1978 film, They Went That-A-Way & That-A-Way, a comedy written by Tim Conway and featuring a cast that included Chuck McCann, Ben Jones and Richard Kiel.
After 5 ½ years as lead guitarist for Restoring Hope Church in Nashville, home of the Crabb family, Thornton and Lady Dale moved in 2018 to Panama City Beach.
Going on three years, Thornton has performed regularly at a Panama City Beach restaurant, Dat Cajun Place. He's made appearances at other Bay County spots such as the Salty Goat, Sharky's, Barracuda Beach Bar & Grill, House of Bourbon, Bayou on the Bay, Alibi and Lorrie Morgan's Chicken Coop. On Sundays, he plays guitar at Gulf Beach Baptist Church.
"This place is just right for us," Thornton said of his home on the coast. "Lemme play one more for you."
It's a song about a wild woman who's never gonna change.
At times, sadly and at times thankfully, some things never do.